Axe throwing is a popular sport, hobby, leisure activity, party game, and bonding activity that has a long and rich history.
No matter your skill level or experience, you can have a lot of fun whipping axes into a wooden board. So, you have your axes, but what about the board?
You can't just go throwing axes into your neighbor's fence, so here are the three best axe throwing targets to start you off, along with some DIY target ideas.
The 3 Best Axe Throwing Targets
Tomahawk Ax Throwing Board

Made from high quality lumber
Tough and durable
Excellent customer support from brand

View On AmazonView On Etsy

BigShot Ax Throwing Board

Heavy duty plywood backed target
Includes hanging chain hardware
Meets official sizing

View On AmazonView On Etsy

Viking Culture Axe Target

Pine hatchet and axe target
For all sizes of throwing ax
Official size: 35.5" x 27.5"

View On AmazonView On Etsy
Here are the top axe throwing targets that you can buy and have delivered to your home quickly.
If you still need your throwing tools, check out our round-up of the best throwing axes for sale – there's a range there that is suitable for competition or recreation.
Lumber prices are up right now, so it might be cheaper and easier to buy one that's already made up and ready to go. These top picks include the best overall, best budget-friendly option, and the most durable target on the market.
1. Tomahawk Foldable Wooden Axe Board
This is the best throwing axe target. It comes with everything, has multiple functions, and looks great.
The Tomahawk Target is upgraded to use premium wood. Customers suggested a chain in wood, so the company has changed suppliers to ensure they use only the best wood for axe throwing targets (the image pictured on Amazon has knots and dark spots, but newer boards do not).
Besides using premium wood that has incredible longevity, the Tomahawk Targets have some nifty features. The target axe throwing board can be removed from the frame and replaced when they wear down.
The frame also has four carrying handles on the sides for easy transport. Above the handles are two hooks (one on each side) to store your axes when you are not actively using them.
Additionally, the board can be hung or propped up. The stand in the back is hinged to make storage and transportation easier. The target is also hand-painted. It looks professional yet rustic.
Pros:
High-quality wood
Carrying handles
Fold-out stand
Interchangeable target boards
Hand-painted design
Axe hooks
Cons:
Previous issues with lower quality wood
---
2. Bigshot Wooden Axe Throwing Target
35.8×29.7×3.4 inches
38.4 pounds
The best option for those looking for a durable and affordable axe throwing target is Bigshot's target.
This simple axe throwing board is perfect for axe throwing at home. The boards are heavy-duty with pine plywood as a backing. It comes with a chain and all the hardware you will need to hang it up.
The board is easy to transport, move, and set up. A fun and frivolous feature unique to Bigshot's target is a bottle opener screwed to the side of the target. Remember to avoid drinking when handling sharp objects.
The stamped target is regulation size and easy to see from far away.
Pros:
High contrast target
Heavy-duty boards
Hanging hardware included
Bottle opener
Cons:
Doesn't have the best longevity
---
3. Viking Culture Backyard Axe Target
37×28.5×3 inches
45.6 pounds
If you are looking for the most durable target out there, then you'll want to get the Viking Culture Target. This target is made of strong, blemish-free pine perfect for taking hit after hit. It has dense plywood backing for maximum durability.
The target comes with a hanging chain pre-installed so you can set it up as soon as you get it. It is easy to transport, store, and move this target, too.
The solid, multicolor target lines are crisp and easy to see at any distance. The target is the official IATF standard size with 7, 17, and 27-inch rings.
Pros:
Crisp, clean appearance
Pre-installed hanging chain and hardware
Standard IATF official sizing
Blemish-free pine
Cons:
On the higher end for pricing
---
Best Wood for Axe Throwing Target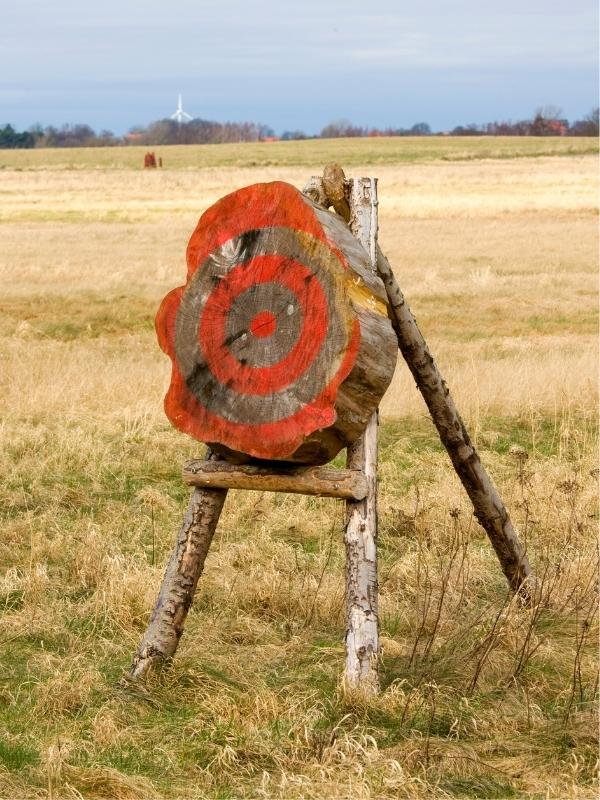 A wood of medium softness is the best for axe throwing targets.
Pine and spruce are good choices as they are soft enough to allow the axe to stick but won't degrade as quickly as other, softer woods.
The best wooden axe throwing targets are devoid of knots, dark spots, and imperfections, as these can affect how well the axe sinks in and may cause the wood to split over time.
The wood grain should run vertically, in line with the edge of the axe head. This will allow the axe to stick well and prevent unnecessary splitting.
How To Build An Axe Throwing Target
These instructions will show you how to make a basic, rectangular target with standard IATF axe throwing target measurements, but you can design your own DIY axe throwing target plans.
Step 1
To start making your own DIY axe throwing target, you'll need to gather materials. Choose the type of wood you want (pine or spruce are good options) and get enough 2×10 inch planks to cut three pieces four feet in length.
You will also need a tape measure, saw, drill and screws, wood glue (optional), hammer and nails, paint or markers, string, and a pencil.
Step 2
To begin, cut your planks down so that you have three pieces that measure 48×9.5×2 inches with the grain running vertically. Screw, nail, or glue the planks together to form a 48×28.5×2 inch board. Make sure to alternate grain directions to avoid warping.
Step 3
Measure and mark the center of the board using the tape measure and pencil. Lightly tap a nail into that point to create an anchor. Tie the string to the nail.
Starting with the littlest ring, tie the pencil to the string at a distance of 3.5 inches from the nail. Draw a circle. This will give you a 7-inch bullseye.
Repeat the process at 8.5 inches to create the 17-inch middle ring and 13.5 inches to create the 27-inch outer ring.
Step 4 (optional)
If you want to add the clutches, measure 5.5 inches out from each seam of the middle board and 40.31 inches from the bottom of the board. With these two points, use the string and pencil to mark out circles with a radius of 1.31 inches.
Step 5
With all the circles marked, it's time to paint or draw the lines. Typically the bullseye is a black ring or dot, the middle ring is red, the outer ring is blue, and the clutches are green dots, but you can fill the lines in however you please.
Some popular ideas include:
making all lines into black rings
painting the axe throwing boards like an archery target
drawing the middle and outer rings with thick black lines
and filling in the bullseye and clutches in red
or filling in the entirety of each ring in a different solid color
Step 6
Now that the board is done, you have to figure out how you want to put it up. You have plenty of options for this step. Many people attach a chain across the back to hang the target on a hook like a painting, while others simply nail it to their fence.
Others still like to make entire frames that make setting up axe throwing in the backyard, cottage, or camping settings easier.
If you want to make a frame, you can follow one of the many tutorials available online to make a complex, free-standing frame, or you can make or buy an easel.
An easel-style frame makes changing out targets much simpler, and it is foldable and easy to store. Just make sure that the frame can take the force of each hit without rocking back or tipping over.
Alternative DIY Target
Alternatively, if you wish to build an end grain axe throwing target, you can cut across the grain to 36 make 5x5x2 inch pieces of wood. Glue them together in a 6×6 grid, alternating grain direction to form a 30x30x2 inch board.
From there simply follow steps 3-6.
You can also just use a cross-section of a trunk as the target so long as it is relatively round and at least 27 inches across. Keep in minder there is no room for clutches when using a round target.
Axe Throwing Safety Tips
For a fun and safe axe throwing experience, be sure to follow all the proper safety regulations.
If you are going to a throwing range, the instructors will tell you what to do and what not to do, but if you plan to do some backyard axe throwing, you'll need to look into safety and rules yourself.
Here are some vital safety tips to get you started:
Ensure all participants are standing farther back than the axe thrower but not directly behind. Do not go too close to the person throwing and never throw an axe if the path to the target is not clear.
Hold and throw the axe only as instructed. Do not try fancy tricks that you don't have the skillset for.
Wear the proper clothes. Safety shoes, or at the very least, closed-toed shoes, are the best option. Do not wear excessively baggy clothing, clothing with fringe or tassels, or long jewelry pieces that may get caught when swinging the axe.
Only throw the axe at the target.
Make sure it is clear before retrieving the axe from the target.
Do not try to participate if you have been drinking, taking drugs, or are otherwise impaired.
Also, make sure you're using axes designed for this sport, as not all axes can be thrown safely. WATL Throwing Axes are a good choice, for example.
Follow these rules to ensure everyone has a fun and safe experience.
Axe Throwing FAQs
How big is the target for axe throwing?
The target must extend 27 inches in diameter to accommodate the largest ring. The next ring down in size is 17 inches in diameter. The bullseye is 7 inches in diameter. The bullseye must be 63 inches off the ground.
What is an axe target called?
In axe throwing, the target is simply referred to as the target. Some people may call it the bullseye, specifically referring to the smallest center ring that is the ultimate goal.
Can you use any axe for throwing?
Though you can technically throw anything you can lift, most people stick to using a small hatchet for axe throwing. A hatchet is a one-handed axe, about a third the size of a normal two-handed axe.
Throwing axes are specifically weighted to be tossed more easily. Check out our post on axes vs mauls and you'll discover why you wouldn't want to start throwing mauls!
How high is the target for axe throwing?
The standard height requirement for an axe throwing target is 63 inches from the ground to the bullseye.
What is the distance for axe throwing?
Standard axe throwing setups that you will find in recreational settings or backyards typically set the target at 12 feet from the throwing line. The distance is optimal to allow the axe to rotate only a single time before hitting the board.
Different leagues in competitive axe throwing set different distances.
Best Axe Throwing Board
Whether you choose to buy or make an axe-throwing target, there is no doubt it will be put to good use.
For amateur axe throwers, buying a target is a good place to start.
Bigshot's target is a good first target as it is affordable. Frequent throwers may want something a little sturdier like Viking Culture's target, and passionate hobbyists will love the style, flare, and convenience of the Tomahawk Target.
Wanting another extreme sport… check out chainsaw juggling!