In 2020, Australian woman Jackie Plummer found a set of old Stihl chromolithographs depicting the first Stihl chainsaw models from 1929 – 1959. This includes Stihl models A, BD, BBU, B 2 Z, KS 45, BL, and BLK.
Chromolithographs are color prints made in the 19th and early 20th centuries using a method based on lithography, where separate stones or plates are prepared for each color.
This technique allowed for the production of vivid multi-color images, popularly used in postcards, labels, advertising, and fine art reproductions. As more efficient printing methods arose in the 20th century, chromolithography became less common.
Jackie shared:
I have had this old Stihl chainsaw folder for over 20 years with chromolithograph pics of chainsaws. They measure 50 cm wide and 37 cm in height.
And:
They have lived in their folder on top of a wardrobe for the 20 odd years I have had them. I wasn't sure if I should get them framed in glass or leave in the folder as that itself has the details. The outside of the cardboard folder is water damaged/dirty but it hasn't effected the pictures at all.
Here are the images, specs, descriptions, and Stihl Chainsaw production years from the set.
1. STIHL A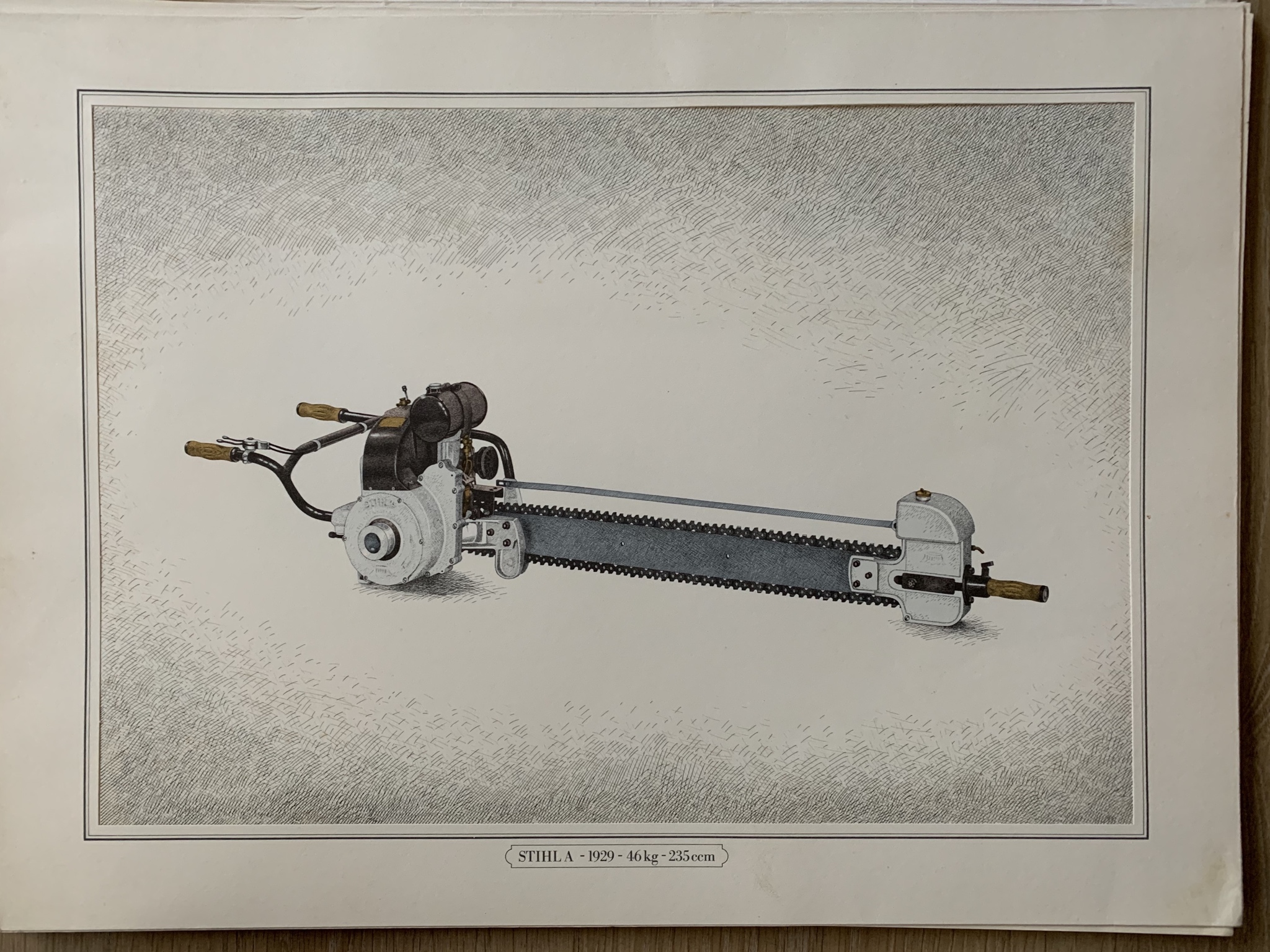 Production: 1929 – 1932
Performance: 6.0 HP
Weight: 46 kg / 101.2 lb
Displacement: 235ccm / 14.3 cu. inches
Cutting capacity: 10 – 100 cm / 24 – 40 inches
During the successful introduction of his two-man electric chain saw, Andreas Stihl conceived the idea of making a chain saw that would not have to depend on electric power.
Stihl felt that this could be accomplished by using a gasoline-powered engine. He also knew that this engine had to be very powerful – yet light in weight.
In 1929 his idea became a reality. An aluminum crankcase that housed the crankshaft and connecting rod solved the weight problem. By supplying the engine with an air/fuel mix from an all-position carburetor and introducing the spark from a chain-driven horseshoe-shaped magneto, he was able to get the power he needed.
This first chain saw utilized a gear-driven transmission with a manual clutch. To start the engine, a leather belt was wrapped around the flywheel and pulled.
A triangular tooth saw chain with three grooves was used and lubricated manually by a simple gravity system located on the helper handle.
2. STIHL BD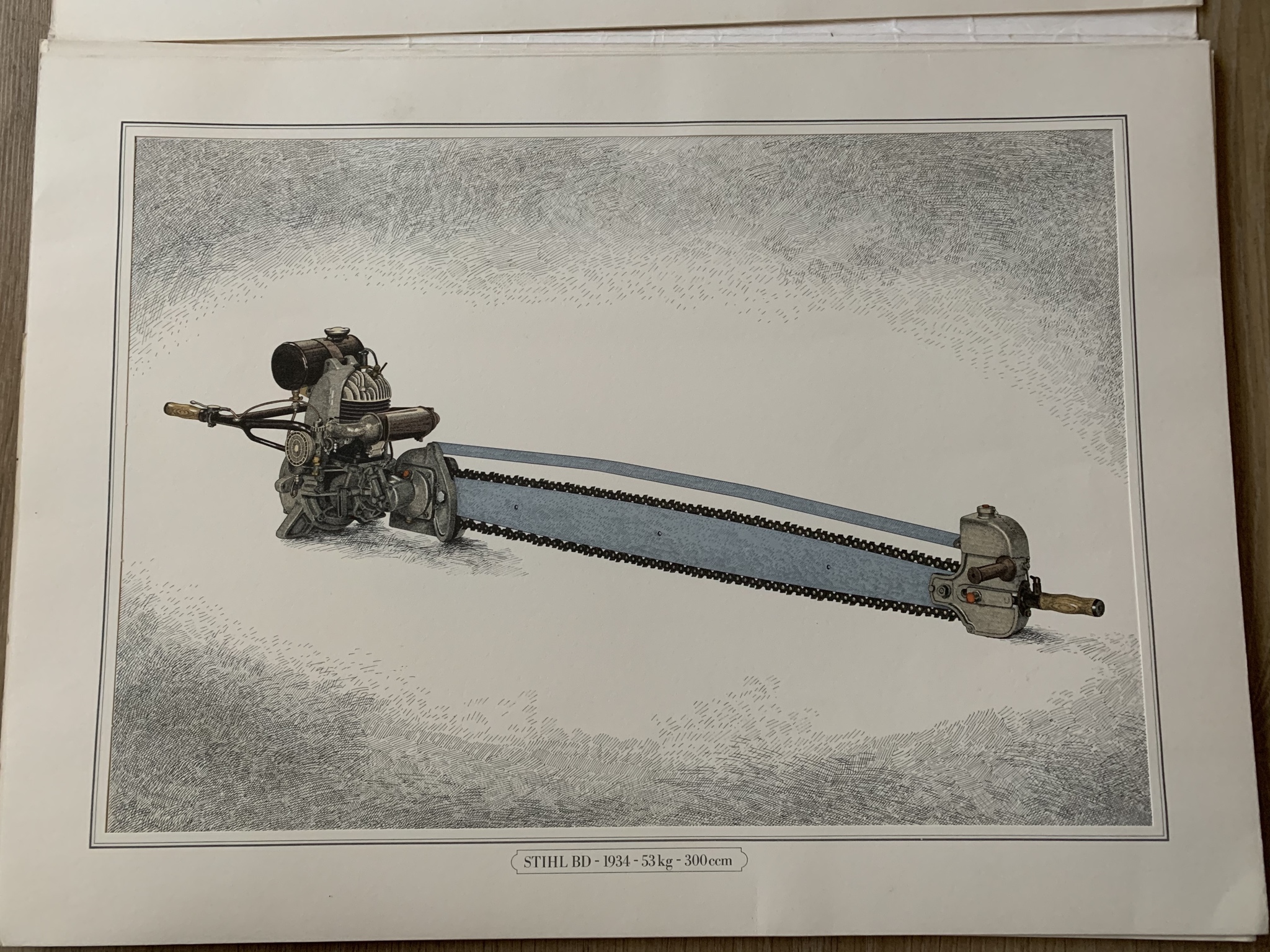 Production: 1934 – 1939
Performance: 8.0 HP
Weight: 46 kg / 121.9 lb
Displacement: 300 ccm / 18.3 cu. inches
Cutting capacity: 85 – 150 cm / 34 – 60 inches
In the model description the "b" stands for gasoline driven and "D" for swivel-mounted gear transmission.
The development of a revolutionary rotating magneto resulted in the elimination of a large bulky flywheel and non-rotating magneto.
The Stihl patented loop charging system for more efficient scavenging and combustion chamber charing increased the power output of the engine dramatically.
A totally new multi-disc clutch replaced the earlier style dog clutch to reduce shocks loads transmitted to the engine.
This model also incorporated a fully automatic chain lubrication system for the first time and was patented by Stihl.
3. STIHL BBU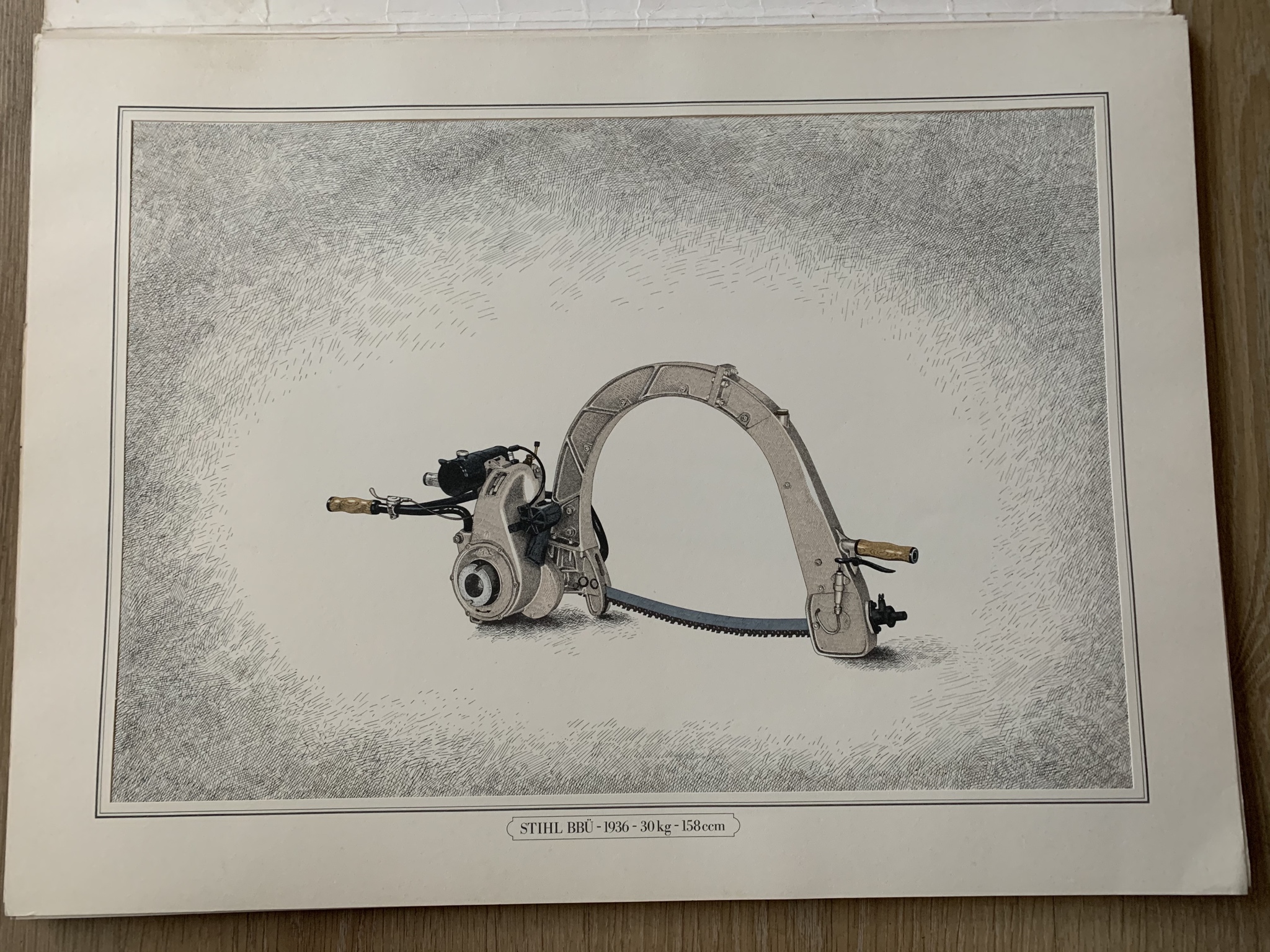 Production: 1936 – 1954
Performance: 4.0 HP
Weight: 30 kg / 66 lb
Displacement: 158 ccm / 9.6 cu. inches
Cutting capacity: 35 and 50 cm / 14 and 20 inches
The model BBU gasoline powered bow saw eliminated the common problem encountered by sawmills for a chainsaw saw that did not stall or jam while cutting.
By providing an overhead guide or track, it allowed that part of the chain not actually cutting wood to move freely and increased the power to that part of the chain doing the cutting. The BK chain saw engine was adapted as the power unit on this model.
The BBU 50 was a two-man bow equipped chain saw complete with helper handle which incorporated a manual chain lubricating system.
The model BBU 35 was the world's first one-man chain saw that also incorporated the first fully automatic chain lubrication system.
4. STIHL B 2 Z
Production: 1937 – 1938
Performance: 10 HP
Weight: 59.8 kg / 131.6 lb
Displacement: 450 ccm / 24.4 cu. inches
Cutting capacity: 150 cm / 60 inches
Worldwide demand for a heavy-duty chain saw with extra long guide bars for felling large timber resulted in the development of the B 2 Z.
A newly developed, two-cylinder engine with twin carburetors powered this powerful new model that also featured a transmission that would swivel 360 degrees. This saw was used primarily in the big timber areas of Western Canada and the Pacific Northwest.
5. STIHL KS 43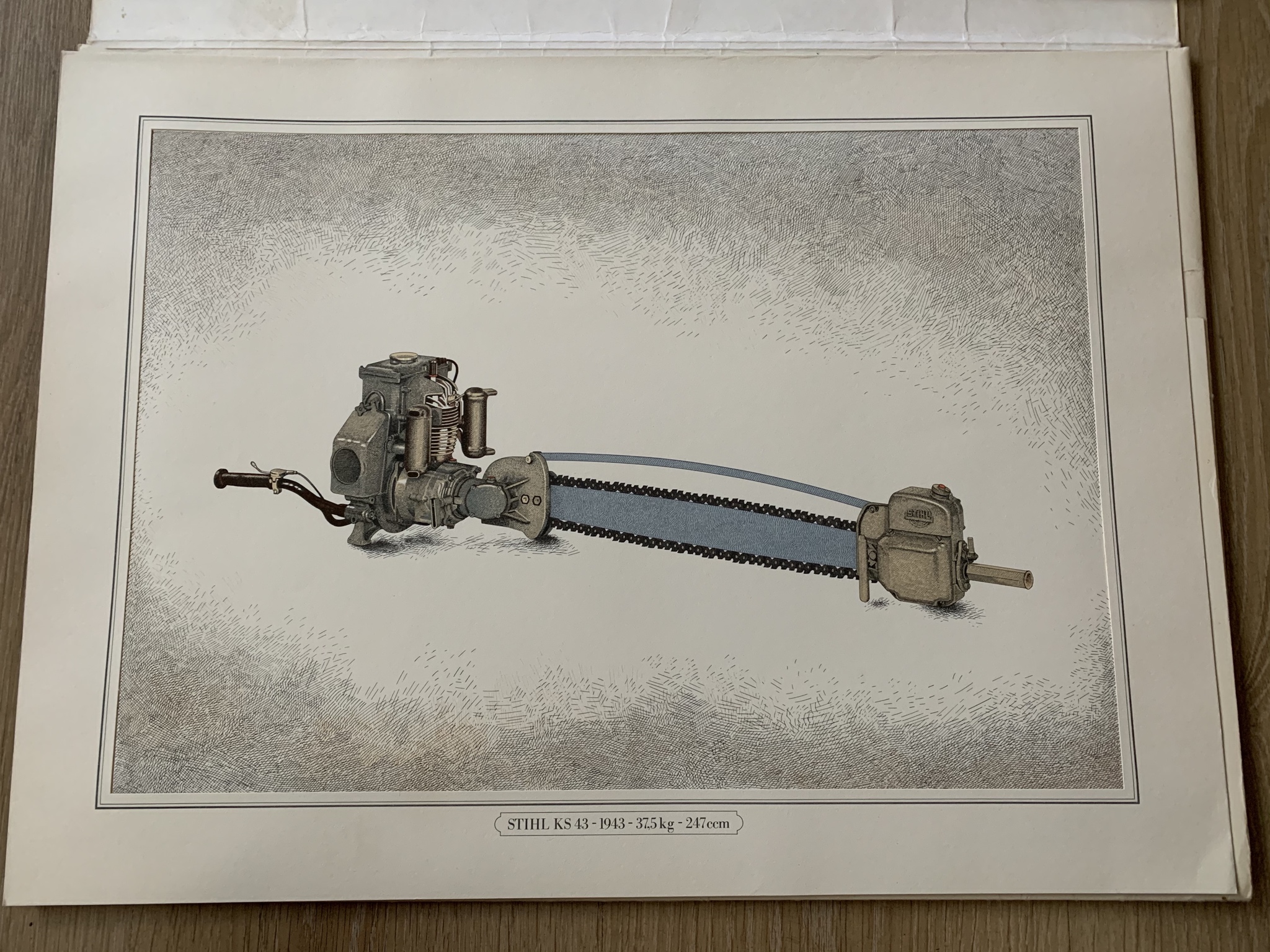 Production: 1943 – 1971
Performance: 8.5 HP
Weight: 37.5 kg / 82.5 lb
Displacement: 247 ccm / 15.1 cu. inches
Cutting capacity: 60 – 250 cm / 24 – 100 inches
During its era, the KS was the world's most technologically advanced Two-Man chain saw. At first experimentally, and then adopted as a production standard, was an aluminum cylinder with a hard chromium plated surface. It was the first chain saw whose structural parts were die cast.
In the first year of production, the KS 43 became standard issue for the German Army Engineer Corps. For this reason, it had to be licensed for production by all German motor saw manufacturers until the end of the war.
6. STIHL BL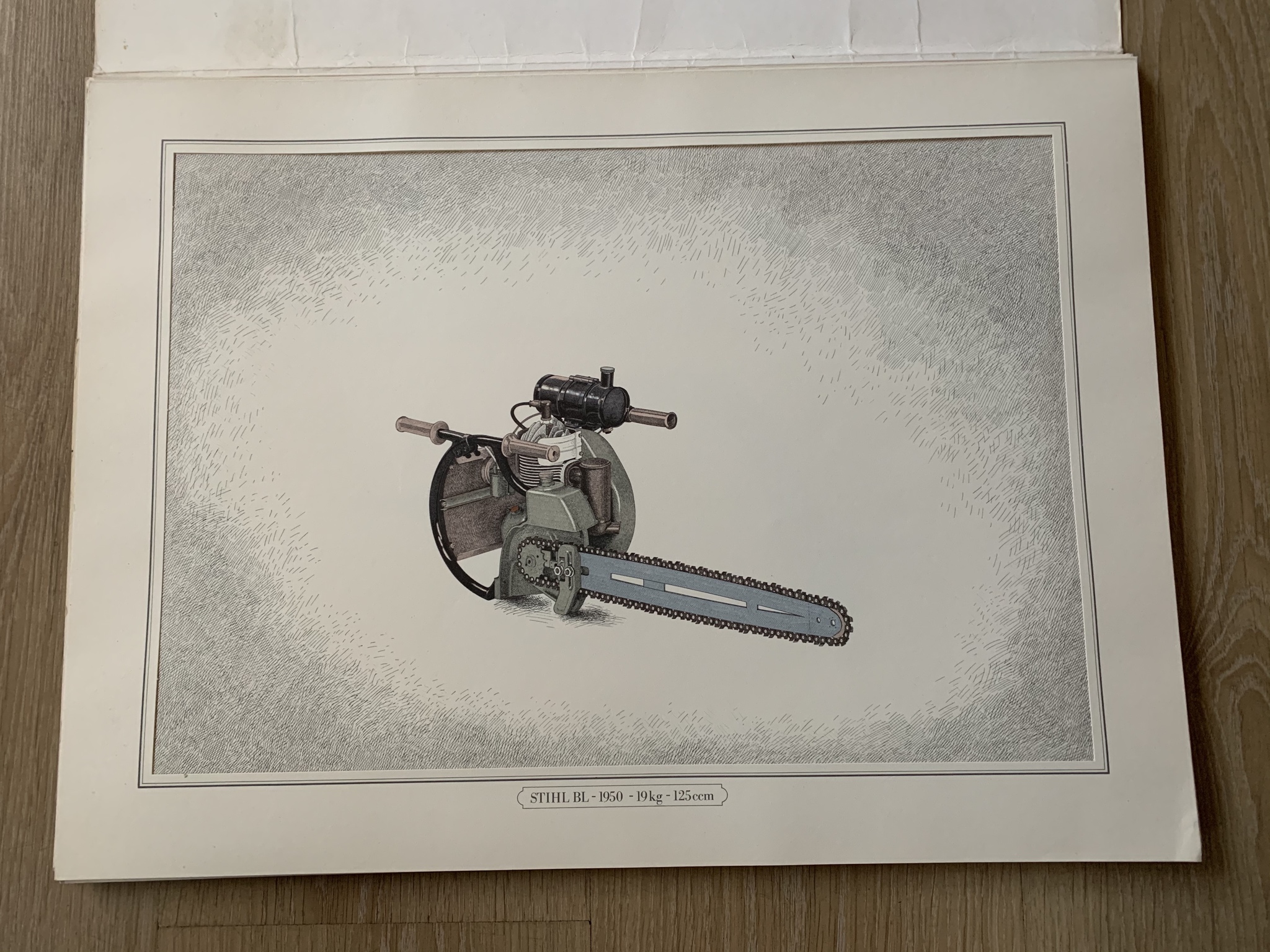 Production: 1950 – 1959
Performance: 4.5 HP
Weight: 19 kg / 41.8 lb
Displacement: 125 ccm / 7.6 cu. inches
Cutting capacity: 40 – 80 cm / 16 – 32 inches
The model BL (gasoline powered) was the first One-Man chainsaw for the forest industry. With its introduction, another step was made toward modernization and humanization of forest work. Performance of the Stihl BL soon overcame any skepticism among loggers against this "light saw".
Because of the variety of sawing positions (felling and bucking), it was necessary to employ an all-position carburetor to ensure constant fuel supply. As a weight consideration, the BL had a light aluminum cylinder with a replaceable steel liner.
The BL chain saw was also equipped with an automatic oiler. The power from the engine to the saw chain was transferred through a centrifugal clutch.
7. STIHL BLK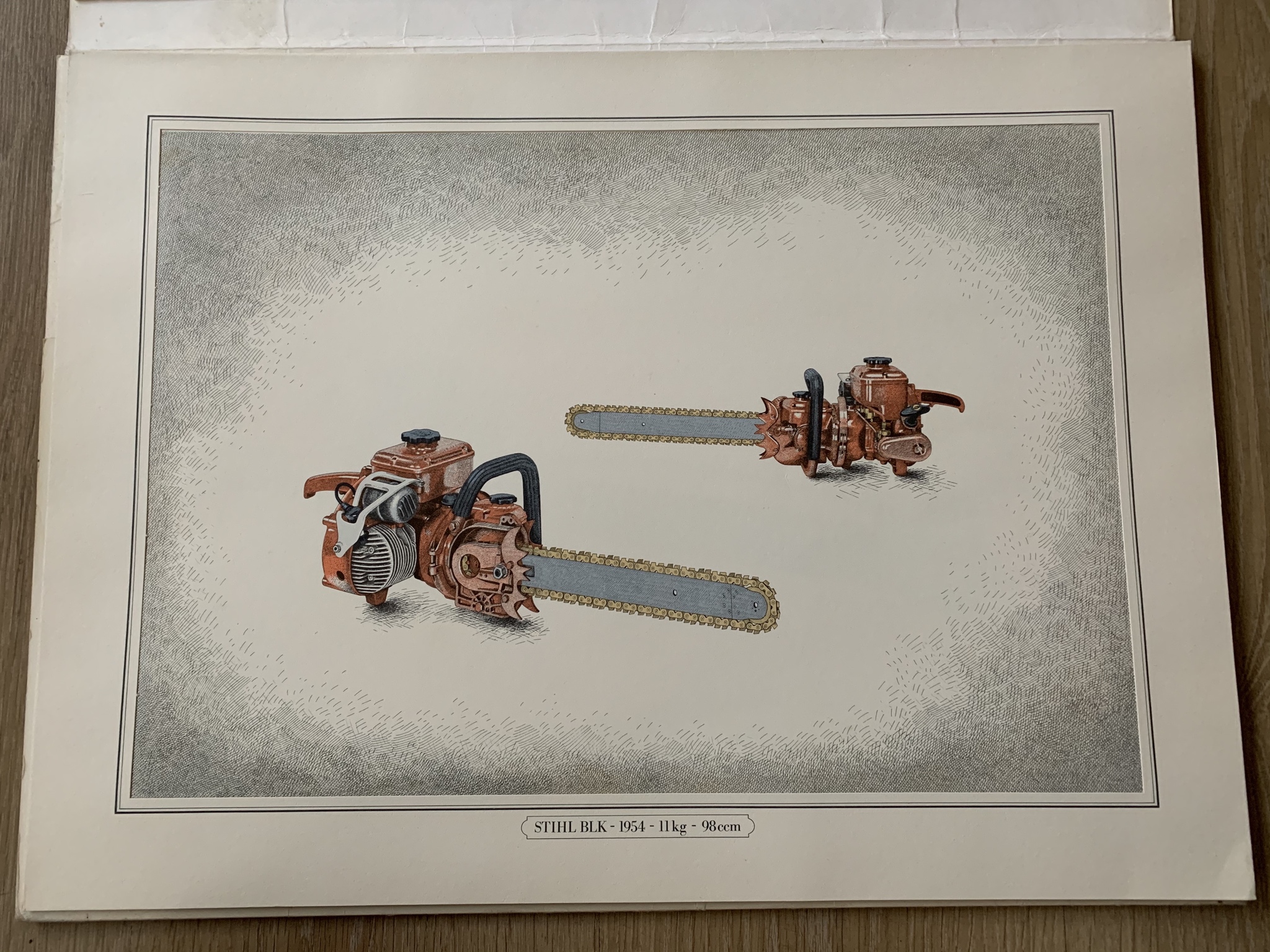 Production: 1954 – 1973
Performance: 3.5 HP
Weight: 11 kg / 24.2 lb
Displacement: 98 ccm / 6.0 cu. inches
Cutting capacity: 30 – 60 cm / 12 – 24 inches
The extraordinary power to weight ratio of the Stihl BLK revolutionized many aspects of forestry techniques. First came the advent of the two-man, and eventually one-man crews. Mechanization was slowly replacing manpower.
The BLK had a verticle cylinder which reduced vibration and therefore, operator fatigue. The unit was equipped with a fully automatic chain oiler and the guide bar included a roller nose. The gear box could also be swiveled making it possible for the bar and chain to cut in all required positions.
The saw too had a fully automatic chain lubrication system.
Oldest Stihl Chainsaws

Those are the earliest and oldest gas-powered Stihl chainsaws, starting with the 1929 Model A through to the 1954 model BLK.
They are all powerful professional logging chainsaws that were designed for forestry workers. While Stihl did not invent the chainsaw, the man and company have been at the forefront of chainsaw improvements and innovations, and these models are a testament to that.
If you know more about these 1929 – 1954 Stihl Chainsaws, let us know in the comment section below!