This April 1st, Stihl announced the much anticipated Stihl MSA 22 AF Dual Bar Battery Chainsaw.
It's a battery chainsaw, much like the MSA200 or 220, but with TWO BARS. It's a world first and continues Stihl's rich history of innovation.
If you haven't already seen it, here's the video…
Stihl MSA 22 AF Chainsaw
They shared:
⭐ The world's first ever Dual Bar Chainsaw is coming!

Introducing the STIHL MSA 22 AF Dual Bar Battery Chainsaw.

That's right – dual bar! Which means twice the power. Twice the performance. And twice the precision. Compact, quiet, lightweight and highly maneuverable, get twice the result for half the effort!

Featuring two low kickback Swiss saw chains, breakthrough OILOMATIC and QuickStop Super Chain Brake technology. Cutting wood is now easy done in half the time.
What did the people think?
Here are some comments from the socials:
I could find a use for this!!! Would be great at cutting out rebates in fence posts!!!
Can't wait, hopefully, the Triple Bar will be ready for April 1st of next year.
I don't see any gain in that! If they were 2 or 300mm apart be perfect for firewood????‍♂️
I want the supreme model, that features the chains running in opposite directions.
Even with 2 chains it still cuts half as good as a Husqvarna.
Stupidity? I am with you, I'd like to see a practical use.
Sorry, I miss the point…what does it achieve? Unless you want a heap of 2-inch cuts.
What a stupid tool so what do you do with the stupid biscuit left in the middle so you can cut the same size wood with a gap of 3 inch wow that makes no sense but wasting material
It's their first new chainsaw after the MS162.
At the end of their post, Stihl shared that you can "Register your interest at: STIHLMSA22AFdualbarbatterychainsaw.com.au."
And those who clicked through saw this notice…
Stihl Dual Bar Battery Chainsaw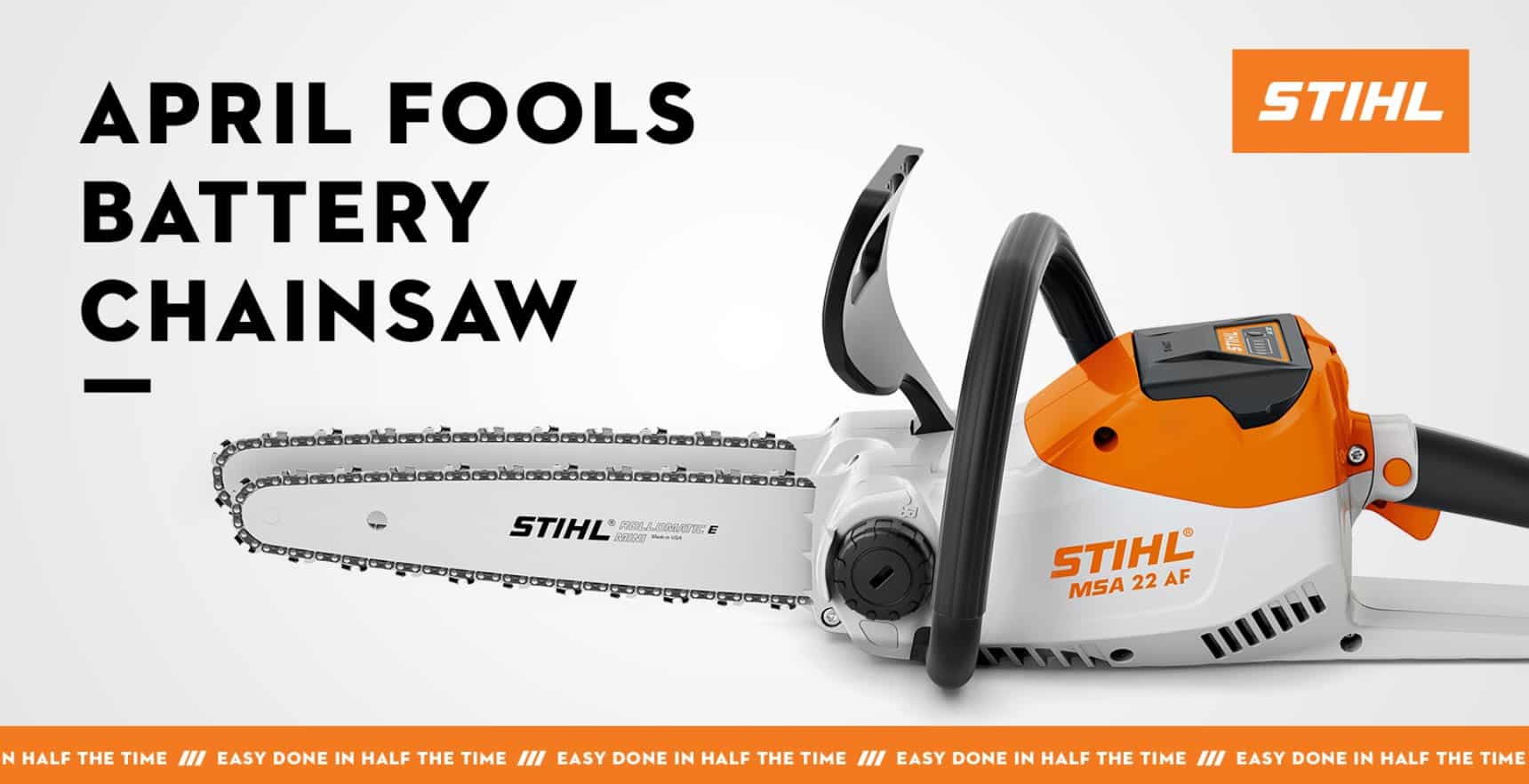 That's right, it's Stihl's April Fools' prank chainsaw, just like the STIHL MSA B-NS1 Bonsai Chainsaw.
They revealed:
You've just taken part in our April Fools promo. But it's all good!

With STIHL German-engineered lithium-ion battery technology, from mowers to trimmers, chainsaws to blowers and more, STIHL battery power is empowering home gardeners, landowners and professionals to get things 'easy done in half the time' – no joke!
While most people knew straight away that this wasn't legit, many did fall for it (as some of the comments above show).
Here is a broader range of comments:
Those saws are great when you have a fresh loaf of bread to cut!
That's well done Sthil, love your work. You'd be quite the fool if you didn't get this saw.
Well played Sthil well played but still I want one for the next zombie apocalypse.
It's not that crazy, if they were closer together and counter-rotating it'd be amazing! And zero kickback.
If it works for razors, it obviously has to work for chainsaws. Chainsaws were self-lubricating long before razor blades, so it's about time they caught up with multiple blades.
I can imagine Leatherface being a fan of this saw.
Stihl April Fools
The MSA 22 AF isn't Stihl's first April Fools joke, and we're sure it won't be their last.
The Stihl MS991 XXL was another one. The "most powerful chainsaw ever made by man," a 599cc, 30 kW saw weighing 118 lbs or 53 kgs.
This makes it the most powerful Stihl chainsaw out there, for sure! Lastly, check out the Stihl Manscaper Kit – Stihl's shave set for men – and the Stihl Gas Powered Coffee Machine – need I say more?