The Husqvarna 40 is a small 40cc chainsaw that was made between 1978 and 1991.
It's not a professional chainsaw but is designed for light homeowner duties. It shouldn't be used with anything over an 18″ bar, and that length is also pushing it. It performs best with a 12 – 16″ bar.
So what is it good for then?
These old Husky 40s are great pruning saws and can be used for light firewood cutting. You don't want to be doing any serious bucking with it, but it is fine for smaller logs.
Nor should you expect to perform well if it's being used all day every day. It's best used for a couple of hours here and there. But when the saw is used appropriately, it's not a bad saw!
Husqvarna 40 Versions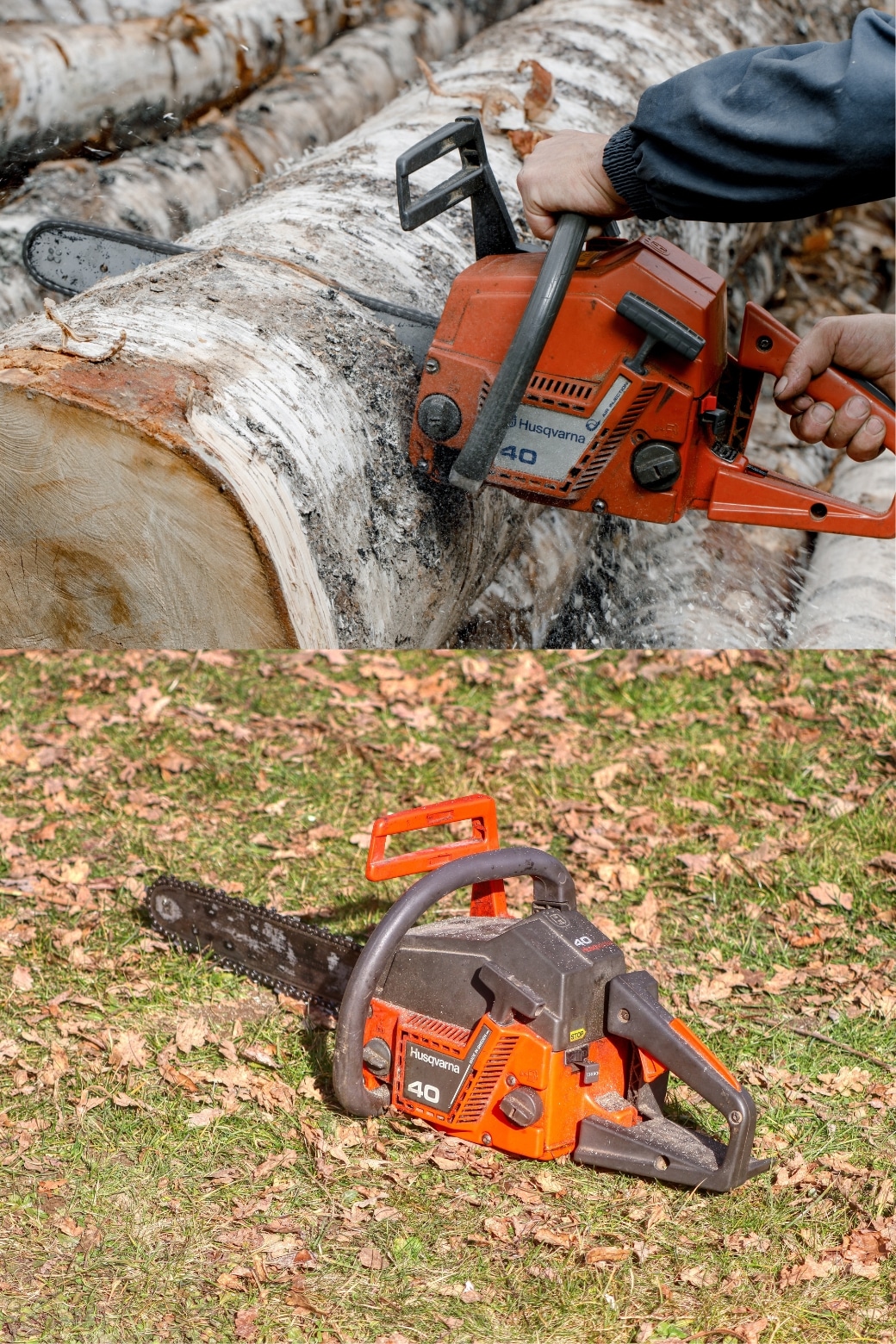 You will notice that the Husqvarna 40 comes in either a black/grey top or orange top.
All this means is that they were made at different times. The black/grey top chainsaws are older, and the orange tops are newer.
There are even white top Husqvarna chainsaws like this 50 Rancher. These are even older than the black/grey top saws.
Many Husky saws have these different versions with different color top covers. The Husqvarna 45 and Husqvarna 51 are two more examples.
Most of the time there are no other differences between the saws whatever the cover color is, though sometimes there might be other cosmetic changes.
Husqvarna 40 Specs And Features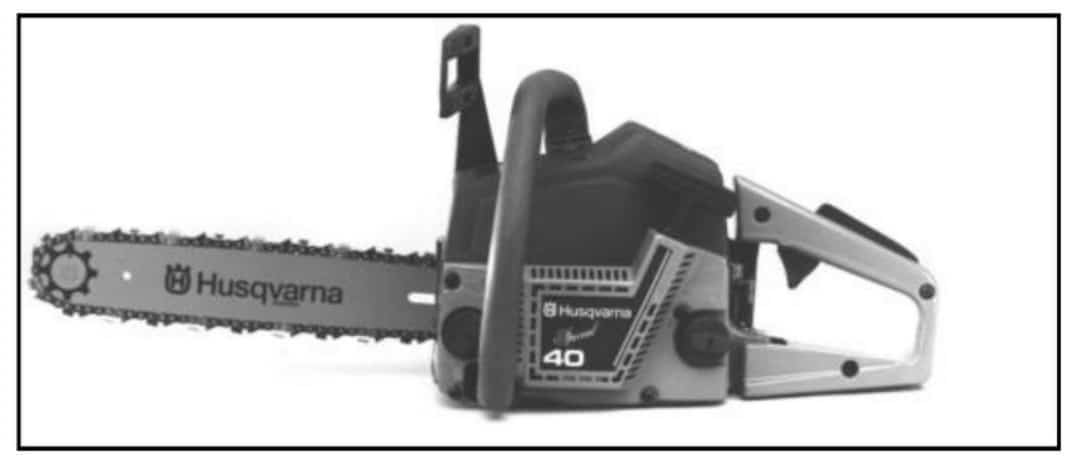 The Husqvarna 40 has a chain brake, anti-vibration system, and automatic oiler.
It also has a magnesium body, something that is now reserved only for professional-level chainsaws. Nowadays, homeowner level chainsaws are made of plastic, but not the 40.
Husqvarna 40 Specs:
40cc, 2.4 cu in
2.5 hp, 1.8 kW
10.3 lbs, 4.7 kgs dry weight
12,500 max rpm, 2,500 idle
Champion RCJ 7Y spark plug
Zama C1Q carb
13, 15, 16, and 18-inch bars are recommended.
Some people want to know if they can use a 20″ bar with the Husqvarna 40, but it's best not to. I have a 20″ bar on my Husqvarna 450, a 50cc saw, and it's even a bit much for that saw really.
The guy in the video below has a 20″ on his 40, but it's best not to. It's too much bar for the saw and she'll bog down a lot more. A 13″ bar is the ideal bar length for this chainsaw.
Husqvarna 40 Review
The Husky 40 is a good little chainsaw.
However, it's nothing special or worth getting too excited about. It's just a decent saw for pruning or cutting thin logs.
The main problem is that some parts are hard to find, given that it's been out of production for over 30 years.
Also, the features are not as good as a new saw. For example, the anti-vibration system is much less effective compared to something like the Husqvarna 550.
If you see a Husqvarna 40 for sale and it's in decent condition, they're definitely worth up to $100. Mostly though, you'd expect to pay $50 – $80 for a well used but running model.
Here are a few comments from users:
I ran a 44 for a long time and it was a good saw after I got it running.
I have one with a 16-inch bar that runs good for firewood.
My Husky 40 hates anything over 8-10".
I'd prefer to get a lot newer and more powerful saw than spend money on these old saws.
It mostly gets positive reviews when you take it for it is; it runs and does what it's supposed to do, but it's just not for tough work.
Pros:
A good runner
Strong magnesium casing
Has a chain brake and other safety features
Plenty of support from the Husqvarna community
Cons:
An old chainsaw that won't run as smoothly as new saws
Parts may be hard to get
Not a powerful saw
Husqvarna 40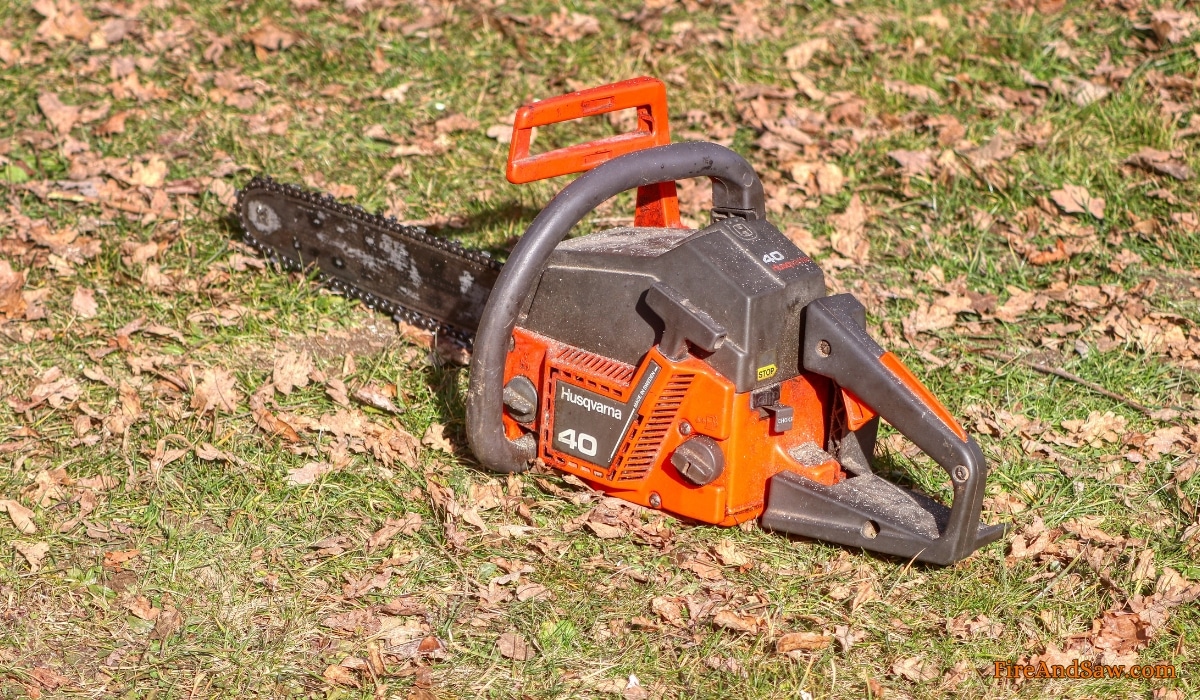 The Husky 40 is a decent little saw that is perfect for those who have the odd job here and there.
If you need to cut down a few small trees or shrubs, it'll be fine. If you want to tidy up and break down branches and other wood debris, it's great for that.
But if you want to buck up enough firewood for an entire winter, it would be better to get a bigger saw. The 460 is Husqvarna's largest saw before getting into the pro range.
Let us know your experiences with the 40 in the comments below!