The Husqvarna 246 is one of the few saws that has both an XP and non-XP version.
At least, that's what I thought when I first started looking into this saw. However, it appears it only has versions with different stickers that have no other major differences.
Are they 246 and 246XP the same?
Let's try and get to the bottom of it…
Husqvarna 246 Vs 246 XP
The Husqvarna 246 G is a slightly different version – this saw has heated handles.
Here is the best information I could find on whether or not the 246 and 246 XP are different.
These comments were on this thread on OPE Forum…
82f100swb said:
These were my dad's production saws.

Left is a 1994 242XPG purchased in 95, right is a 97 246, purchased spring of 98, which started life with XPG labels.

I'm sure it was just badge engineering as I have not found anything different than a standard 246 yet, but I have yet to pull the cylinder.
To which Tor R replied:
Its tricky to know if there was a pure 246XP/XPG or if it was just a badge.

I've seen 246XPG s/n badges in Japan + 246XPG start cover decals + 246XP top cover decal.

In Europe I've never seen them.

It's also difficult to know if there was a difference or not since Husky never got all their part & part numbers printed in any of their IPL's.

There isnt a part number for 246G start cover decals as example, I do own two of them so I know they exist.
The concensus that I've seen in many threads in forums and FB groups is that the 246 and 246 XP are the same saw. The XP is not a true XP, it's just a label that was used for some reason at a particular time or place.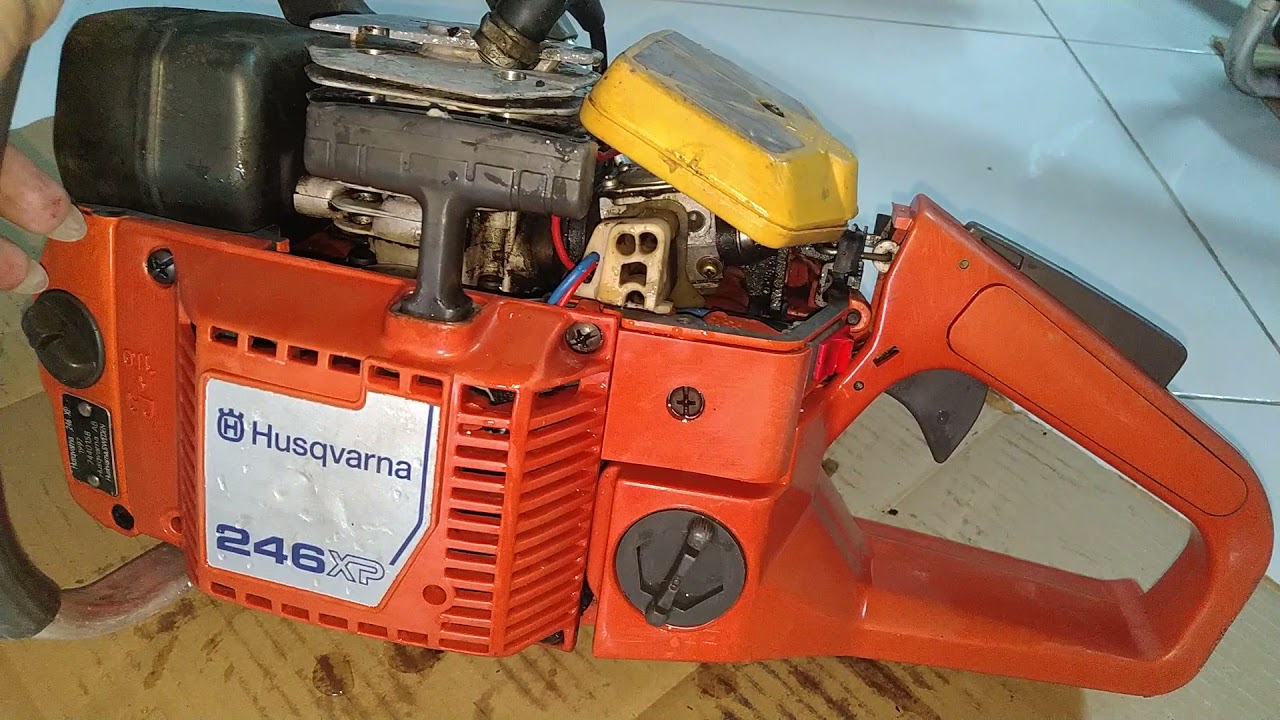 Gary N Carter said in this post on Arborist Site:
Hey Bill, the 246 was not a XP saw but it was close! Hardly a homeowners saw!

Husky made three different models using that same basic case.

The 42 special (2.6ci)
The 246 (2.8ci)
And the 242XP (2.6ci)

The main difference being the 242XP turned 15,500 rpm and the other two were rated at 14,000. The quality of construction was very good and they were the forerunners for todays 346xp. If you can find one in decent shape buy it!!!!!!
It's possible he hasn't seen a 246 XP label.
All of the Husqvarna manuals for the 246 that I have found only have 246, not 246 XP.
My conclusion is that they are essentially the same saw with a few cosmetic/labeling differences (but let me know if I've got that wrong in the comment section below).
Husqvarna 246 Specs
The 246 is a light firewood, pruning, and limbing chainsaw.
It's a reliable saw that, when looked after, will go for years and years. Users report that their saws have even lasted for over a decade of use.
It still has the older style look similar to the Husqvarna 40 or 55, but it is of the next generation, having entered production in 1987.
Specs:
46cc, 3.1 hp, 2.3 kW
10.3 lbs, 4.7 kg dry weight
44 mm bore, 30 mm stroke
15,000 max rpm, 2,700 idle
Nylon mesh air filter
NGK BPMR7A or Champion RCJ7Y spark plug
The 246 has a magnesium build and has those basic features like inertia activated chain brake, auto oiler, and anti-vibe system.
The saw is recommended for use with a 13″ – 18″ bar, though does best with a 16″ bar.
Husqvarna 246 Review
Those who own and run 246s seem to like them.
Here is a comment typical of the 246:
I've owned one for about 7 years.

My favorite saw out of the 8 I have. It's a little powerhouse.

Mine has a 16" bar and not much slows it down. It cuts like a saw twice it's size.

I'd buy another in a heartbeat if the opportunity came along.
And it does well for what is essentially just a small homeowner chainsaw. The common theme from comments is that it punches above its weight.
It shares parts with the 242 and 242 XP, and these seem to be reasonably easy to come by. The 242 is certainly a more commonly found saw, as there doesn't seem to be a huge number of 246s out there.
Pros:
Powerful compared to other 40cc range saws
A good, reliable runner
Useful for a range of tasks from dropping small trees to firewood
Cons:
Not a huge amount of info on this saw out there
Parts are less available than saws still in production
Husqvarna 246 Chainsaw
To me, the most interesting and noteworthy thing about the 246 is the saws with a 246 XP label.
I like the quirky things that every chainsaw out there has. There are no hard and fast rules when it comes to Husqvarna chainsaw designations!
The Husqvarna 550 XP is another saw that is interesting because it is completely different from version to version. Check it out!