What is the best way to clean a brick fireplace?
Whether you have an old or new brick fireplace or wood stove surround, they can scrub up quite nicely. Smoke stains, loose soot and dirt, and even stubborn stains and debris can be removed with a bit of elbow grease.
There are several simple brick cleaning methods that are all worth testing out. Every home is different and one way may work better than another for your brick fireplace.
Can You Clean The Soot Away From A Brick Fireplace?
Quick N Brite Fireplace Cleaner

Best-selling fireplace cleaner and brush
Good for brick, stone, tile
Removes creosote, soot, and grime

View On Amazon

Kevian Brick & Tile Cleaner

Fireplace cleaner made in the USA
Use on brick, stone, tile, rock
Removes ash, soot, and other residue

View On Amazon

CHIMNEYRX Creosote & Ash Cleaner

Paint product onto fireplace and peel off
For tile, stone, brick
Removes soot, creosote, smoke

View On Amazon
Can you clean soot, dirt, ash, and creosote away from a brick fireplace?
Yes, you certainly can completely clean a brick fireplace. You can not only remove dark discoloration and stains, but cleaning may also get rid of smoky odors.
It's the same with both red bare brick and painted brick. However, you will need to be more gentle when cleaning paint. A stiff bristled brush can damage it, and sometimes a quick repaint might be the best way to get things looking new.
Taking the time to clean brick fireplaces thoroughly can be time-consuming and potentially messy, so set aside time to do this.
You will also want to get ready and have the right items on hand.
Methods For Cleaning Fireplace Brick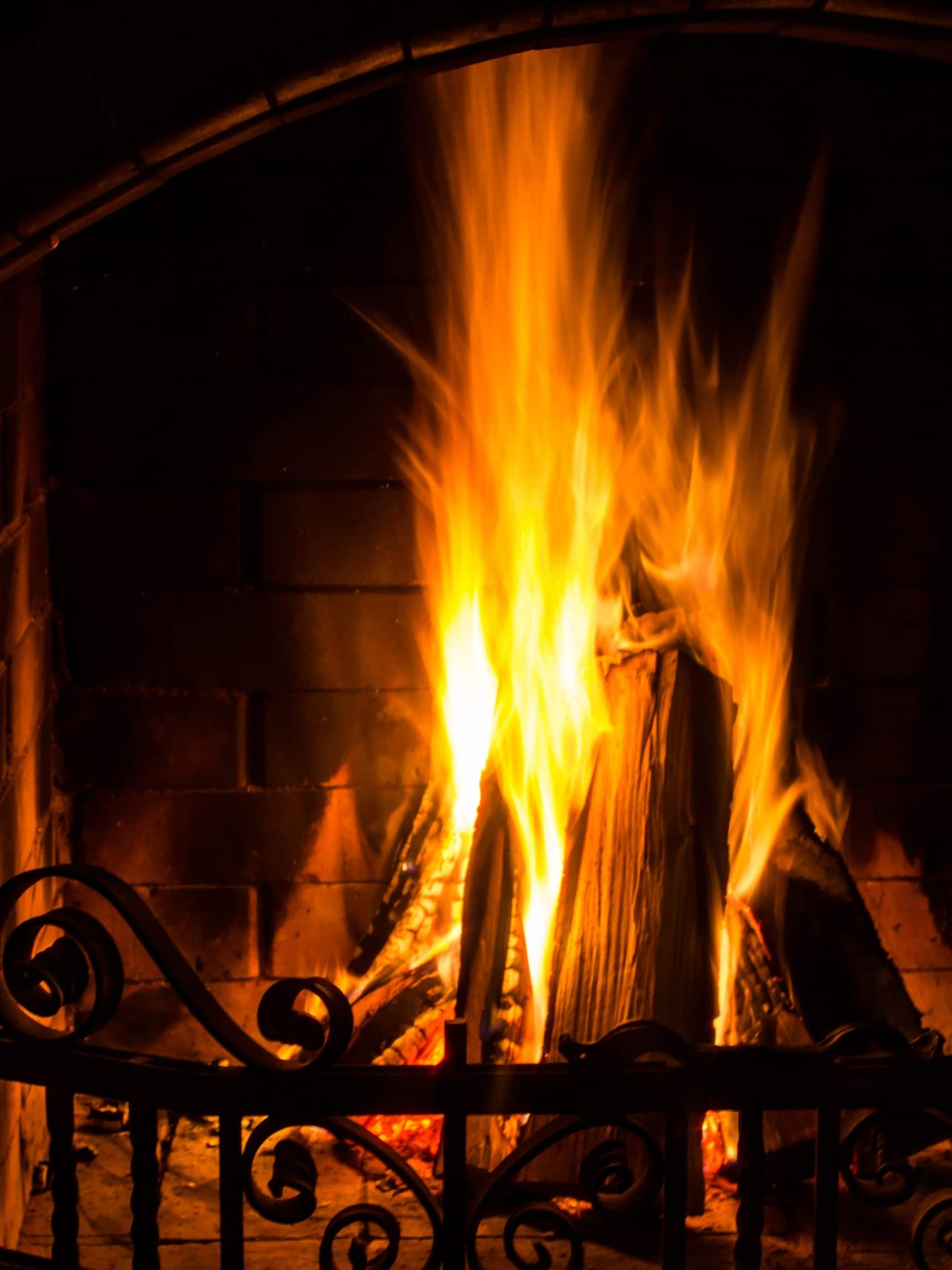 You've got a bit of cleaning to do before you start washing your fireplace with water and cleaner.
Grab your ash bucket and brush and sweep off and collect the loose ash and soot. Don't skip this step. Imagine how messy things will get if you put water on that kind of dirt.
Let the fireplace get cold before you try to clean it.
Once you've made sure it has completely cooled down, remove all ashes you see in the fireplace and on your fireplace brick.
The best way to do this is to use the brush attachment on a vacuum cleaner and a broom. Start by loosening and removing the dry dirt with the broom, and then vacuum it up.
It's best not to use your ordinary home vacuum for this, but if cleaning the fireplace is something you'll do regularly, consider getting a good ash vacuum – these are designed especially for this purpose.
Before beginning any of this, you should cover any surrounding objects and floor with plastic or even an unwanted sheet.
You will need to soak the brick with water as the first step, so get the necessary equipment.
The supply list includes:
A bucket
Masonry sponge
Plastic sheeting
Step 1: Soak the Fireplace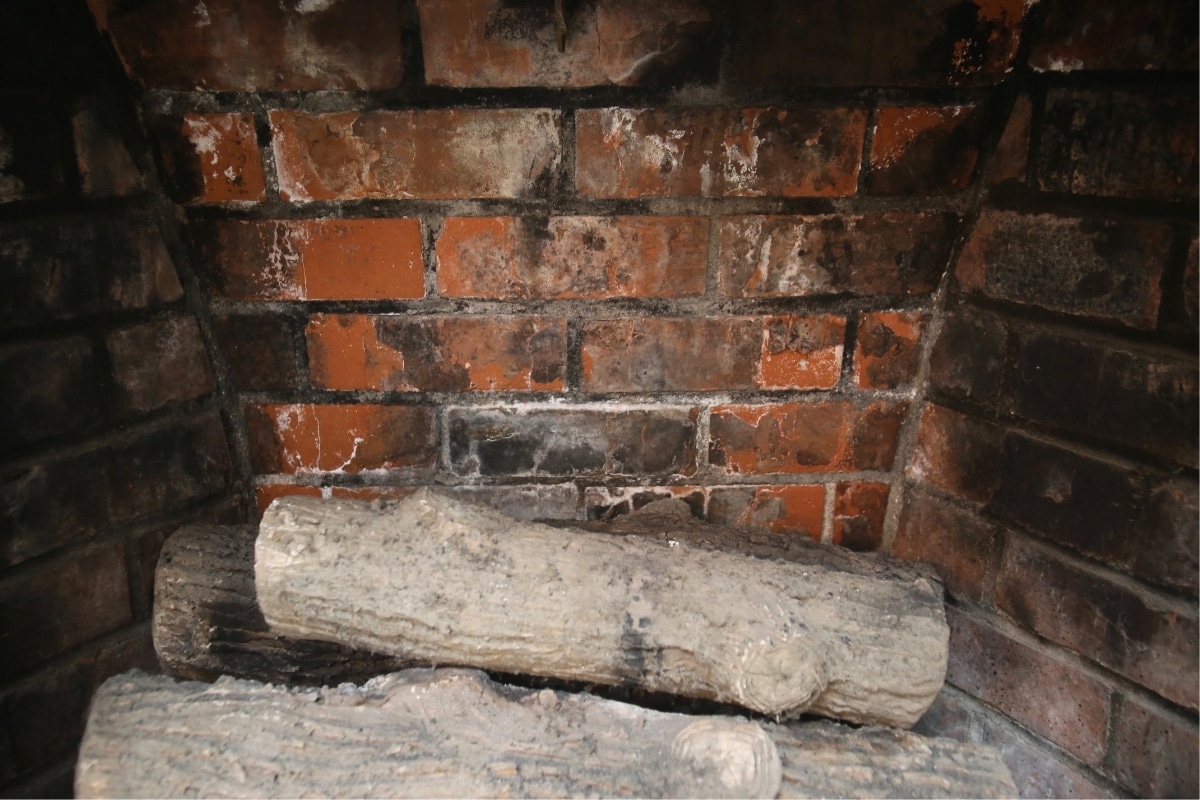 Remember to thoroughly saturate the fireplace brick with water before you try to clean it.
Saturating helps prevent the bricks from absorbing whatever cleaning solution you use.
This step is essential because if the brick absorbs all the cleaner, it cannot remain on the surface where it's needed to tackle the dirt.
It may seem strange, but brick is highly absorbent. Being absorbent means that if it's not already saturated with water, it will quickly absorb the cleaner you apply. The dirt you want to get rid of is on the surface of the brick, not inside it.
You'll want to make special preparations to ensure you don't make a big mess indoors when soaking your fireplace brick.
Get some waterproof plastic sheeting and put it on everything surrounding the fireplace that you want to protect from moisture. Also, get a masonry sponge. You should be able to find these at home improvement stores.
Masonry sponges are perfect for stopping too much dripping as you bring the water to your fireplace brick.
Step 2: Prepare Your Cleaning Solution
Once you've decided on the kind of cleaning solution you will use for cleaning your fireplace brick; you've got to prepare it.
1. How to Clean Bricks with Vinegar
You should only use vinegar on newer fireplaces, specifically fireplaces that are less than 20 years old.
Never use vinegar on older bricks, as it can cause damage.
If you use vinegar to clean a brick fireplace, mix it with warm water in equal parts.
---
2. How to Clean a Brick Fireplace with Dish Soap
If you have an older brick and cannot use vinegar, try dish soap instead.
To use this method, you will need a clear dishwashing detergent that has grease-cutting capability. Mix a quarter cup of dish soap into four cups of clean water.
If your fireplace is especially dirty and stained, you might find that this method isn't enough. In that case, try some of the other methods we talk about here.
Using hot water instead of cold water may also make a difference. Scrubbing bubbles will work better this way.
---
3. How to Clean Soot Off Brick with Baking Soda
You can mix baking soda with some dishwashing liquid to make a paste that will clean your brick.
You'll need half a cup of baking soda with a few tablespoons of dishwashing liquid. Apply a thin layer of this to each part of the brick, and leave it there for about 10 minutes.
Grab your scrubbing brush and remove it, then rinse it off with some warm water.
---
4. How to Clean Brick Fireplace with Quick N Brite
Quick N Brite fireplace cleaner is the top-rated product for removing soot, ash, creosote, and other smoke residues from fireplaces.
It's biodegradable, environmentally friendly, and non-toxic – though you should still use gloves when using it.
You'll need a scrub sponge or stiff brush to use this cleaner (brush included when bought from most retailers)
If you use a sponge, wet it first
Use your chosen applicator to apply a small amount of Quick N Brite to your fireplace brick
Use water in a spray bottle and terry cloth to remove the cleaner and properly rinse your bricks
If you have any especially stubborn stains, go through the process for that specific spot one more time.
Read our complete Quick N Brite Fireplace Cleaner review for more info.
---
5. How to Clean Fireplace Brick with Kevian Clean
Kevian Fireplace Deep Cleaner is a newer product on the market that is similar to Quick N Brite.
It's made in the USA and can be used on most different types of fireplace surfaces, including bricks, tile, and stone.
It comes with a hard bristle brush and will remove ash, soot, creosote, and other smoke residues without including acids or other harsh chemicals.
Apply the product with a wet brush
Let it sit for 10 minutes
Rinse with water or wipe with a damp cloth
And again, if there is grime remaining, repeat the process.
You can see before and after images on the product listing page on Amazon here.
---
6. Paint N Peel Fireplace Brick Cleaner
This paint and peel product from Chimney RX uses a different technique for removing smoke and soot stains from fireplaces.
As you can guess from the name, you literally paint it onto your fireplace brick, tile, or stone and then peel it off once it has dried.
Apply a thick coat to a dry surface
Let it sit and dry for 24 – 48 hours
Peel away in one piece
While not everyone has success with it, you can read the reviews and see the before and after pics here to determine whether or not it might work for you.
---
7. How to Clean Fire Bricks with Spray Nine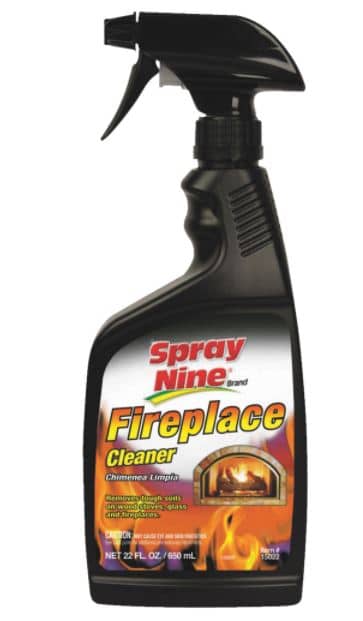 Spray Nine is another good fireplace brick cleaner.
This cleaner is formulated especially to tackle difficult carbon-based dirt and stains. It's ammonia-based and made to be gentle yet highly effective on your bricks.
If you hate scrubbing, Spray Nine is probably the best choice for cleaning your fireplace bricks.
It comes in a convenient spray bottle, making it especially simple and easy to use. This cleaner is a great product to have around the house, as it's not just for fireplaces.
You can also use it on wood stoves and glass.
---
Step 3: Apply And Scrub The Fireplace Bricks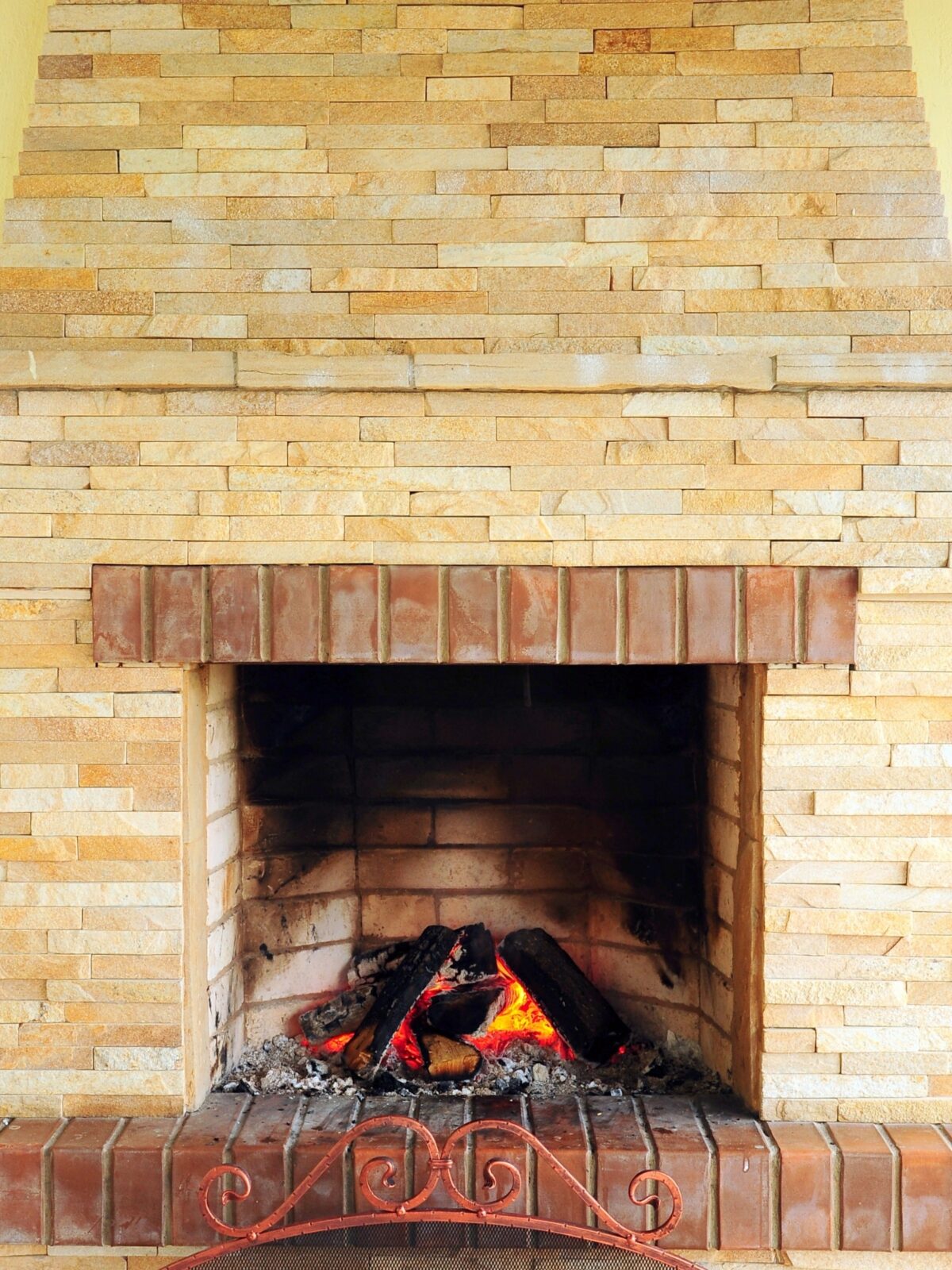 Once you've prepared your chosen solution, apply it and scrub your fireplace bricks.
One easy way to apply the cleaner is with a spray bottle. Another way is to use a paintbrush or a sponge (such as a masonry sponge). The best application method often depends on the solution you use.
Have you ever heard of the expression, clean from top to bottom?
That applies to cleaning fireplace brick. Cleaning and scrubbing from top to bottom will ensure that the dirty liquid falls on areas you have yet to clean—no need to clean things twice if you do it the right way.
Prevent drying out your bricks by scrubbing each small area one at a time.
Scrub in small circles, always keeping that motion and using a scrub brush. With especially stained fireplace bricks, it might help to leave the solution on the soak for a bit before scrubbing again.
Always rinse each tiny area you scrub before you start another. Rinsing will stop any of your bricks from being exposed to cleaner for too long. The rinsing needs to be thorough, so don't just do it once. A great way to rinse is to use a masonry sponge and bucket.
How To Maintain Brick Fireplaces To Keep Them Clean
Spot cleaning your fireplace whenever you see the need will stop big jobs in the future.
One method of spot cleaning is to use a cream of tartar or baking soda paste. Make the paste by mixing the powder you choose with a tiny bit of water until you reach a paste-like consistency.
Leave some of this in the problem area for 5 minutes. After that, use a small scrubbing brush to clean the brick. Don't forget to rinse afterward thoroughly.
Cleaning Fireplace Brick FAQs
Let's take a look at some of the most frequently asked questions about cleaning fireplace brick.
How Do You Make Brick Fireplaces Look New?
Like so many other home elements, cleaning is often the best way of making a brick fireplace look new.
Follow the advice we gave earlier to remove all the grime and stains from your fireplace thoroughly.
If you've thoroughly cleaned your fireplace but are still not happy with how it looks, you could paint it.
Doing this can be much more affordable than you probably think. It is time and labor-intensive, though.
If you do it yourself, you might spend a few hours a day on the project for an entire week. Of course, this depends on the size and condition of your fireplace.
Make sure your fireplace bricks are completely clean before painting them. Properly seal your masonry first with an all-purpose white primer.
After that, apply a single coat of white latex paint. After that is dry, you can use the color of your choice.
What Is The Best Fireplace Brick Cleaner?
Quick N Brite and Kevian Clean are the best fireplace brick cleaners on the market.
Spray Nine has the most convenient format, as the product is housed in a spray bottle. If you want something biodegradable and environmentally friendly, however, you should go with Quick N Brite or Kevian.
Both cleaners are highly effective at removing dirt and stains from fireplace bricks.
Does Vinegar Harm Brick?
Vinegar can be harmful to bricks that are older than 20 years old.
If you have an old fireplace that was built more than two decades ago, avoid vinegar. It can be corrosive and cause damage to your brick.
It's the acidity of vinegar that makes it potentially corrosive.
How Do I Clean My Fireplace Insert Glass?
The best mixture we found after cleaning our wood stove glass was fireplace ash and water rubbed onto the glass with a crumpled brown paper bag.
Fireplace glass cleaner works well as well, but it's not free like our most preferred method.
How Do I Make My Brick Fireplace Shine?
Many homeowners like their brick fireplaces to have a shiny or glossy look.
If this is what you're after, use a high-gloss sealant. This sealant will not only make your fireplace polished but will also give your bricks the necessary protection.
You can use either an oil-based or water-based high-gloss sealant formulation.
Water-based sealants will take longer to dry, but they don't have such a strong smell as you get with oil-based formulas.
Do you want to use an oil-based high-gloss sealant?
If so, make sure to have a bit of paint thinner on hand. If you accidentally spill any oil-based sealant, you will need paint thinner to remove it.
Follow the steps below to make your fireplace bricks shiny or glossy with high-gloss sealant.
This isn't for painting the inside of a fireplace, but the exterior brick. Fireplaces get too hot inside the firebox.
1. Clean the fireplace bricks.
Use a broom, wire brush, and water to get rid of as much dirt on the bricks as you can. Use a fireplace brick cleaner and rinse thoroughly. Give the bricks time to dry completely.
2. Apply the first coat of high-gloss sealant.
Use either a paint roller or a concrete sprayer to apply your high-gloss sealant. If you're only sealing a small area, use the paint roller. The concrete sprayer is necessary for large areas. As you apply the sealant, ensure it goes on evenly and that the whole surface is fully saturated.
3. Let the first coat dry for 30 minutes.
Leave this for a minimum of 30 minutes to dry before you move on to the second coat.
4. Apply the second coat of high-gloss sealant.
After making sure that the first coat is completely dry, proceed with the second coat. Make the strokes go in the opposite direction to what you did in the first coast.
5. Allow the sealant to cure for seven days.
Give your bricks a minimum of seven days to dry before putting anything on them.
Your high-gloss sealant will harden or cure. Once your sealant has thoroughly dried, you will have a shiny brick fireplace. This look can genuinely upgrade the look of a room, making the fireplace appear higher-end and more impressive.
Should I Seal My Brick Fireplace?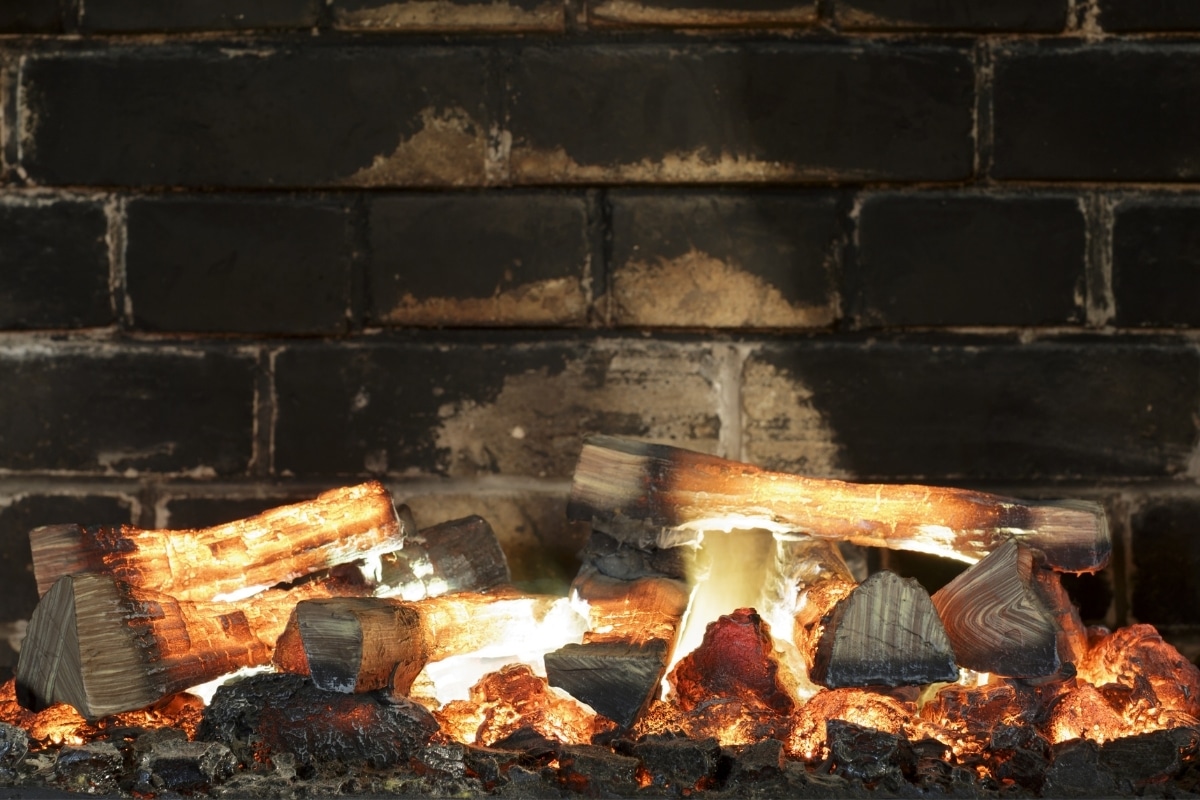 Yes, it is best to seal your brick fireplace.
Remember that brick is porous. That means if you leave it unsealed, it will get incredibly dirty.
Also, if bricks are unsealed, the liquid will be immediately absorbed. So if anything is ever spilled on your fireplace bricks, the stain may be impossible to remove.
Even more importantly, an unsealed brick fireplace is vulnerable to water damage. This damage is especially likely to happen over a long period of time.
If you have ever seen an old fireplace that an owner didn't seal, you know how bricks can crumble when they don't have protection.
If you want your fireplace to be a permanent and beautiful component of your home, you should properly seal it.
Choose a sealant that fits the finished look you desire. For example, select a high-gloss sealant if you want a glossy look.
If you have any further questions about how to clean fireplace brick, let us know in the comments below. These methods will wood for wood stove brick and gas fireplace brick as well.
White fireplace brick is another story, and cleaning brick is hard. As mentioned earlier, it could be better to paint over the dirty fireplace, though make sure you brush away any loose dirt first.
A good electric fireplace insert is one way to avoid the mess and smells of wood-burning fireplaces, but they're not really the same, are they?