There are a lot of good wood splitting mauls on the market.
I've been using a Europe-made Bahco splitting maul for the last few years. It's the one pictured throughout this article, and I've found it to be great for my homeowner level of wood splitting.
Typically, I use a 20-ton log splitter to process larger rounds of firewood and then use the maul later to break pieces up even smaller, if needed. I also use it to split wood for kindling.
The more you think you'll use a maul, the more you should invest. All of these recommended firewood splitting mauls are good – some are just better (and pricier) than others.
Best Splitting Maul
What is a splitting maul?
A splitting maul, though similar to a standard ax, is distinguished by its long, heavy handle and unique head.
The head of a splitting maul has two sides:
One is a dramatically tapered ax blade
The other "butt" side functions like a sledgehammer
Together, all these features create a tool that is perfectly crafted to split wood.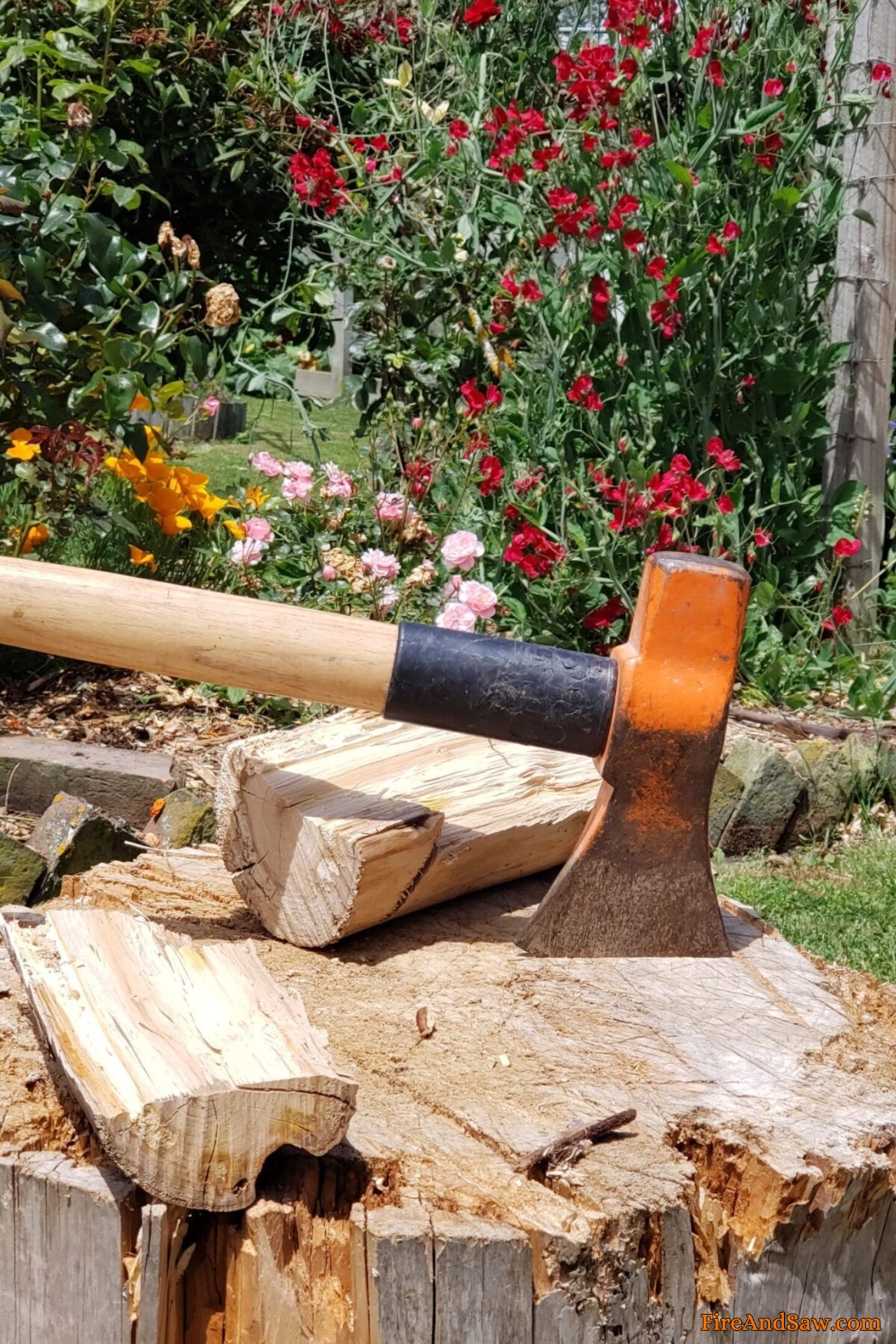 It's different from a splitting axe in that it has a sledge or hammer end and it usually weighs significantly more.
While a splitting maul requires more strength to swing than a smaller, lighter ax, it also leverages this weight to efficiently break apart wood fibers along the grain.
Generally, it's smart to keep both an ax and splitting maul handy when planning to split wood. The maul is particularly useful for handling stubborn blocks.
In fact, for this reason, splitting mauls are also called:
Block busters
Block splitters
Log splitters
When you put in the muscle effort to swing a heavy splitting maul axe, you should be confident in the results. It's critical to consider all the features of a maul before making a decision.
Everything from weight to handle length to materials impacts the performance of your maul. The high-performance features of each of the following seven best splitting mauls helped them make the final cut.
1. Fiskars 8 Lb 36″ Firewood Maul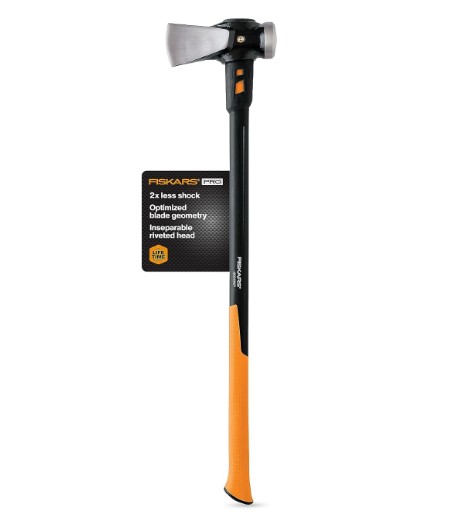 Total weight: 10.4 lbs
Head weight: 8 lbs
Total length: 36 in
Handle: IsoCore Shock Control System
As the heaviest and longest option on this list, the Fiskars log-splitting maul packs a punch. You won't see a 8 lb splitting maul that can compete in terms of durability.
Contributing to the Fiskars' weight is its patented IsoCore, designed to reduce shock vibrations. As an added safety feature, the maul head is riveted into the handle.
The heat-treated and coated steel of the Fiskars maul is complemented by a rubber soft-grip handle, slightly flared at the base to help maintain grip.
The Fiskars is a heavy splitting maul, which makes it a better choice for dealing with particularly stubborn wood for briefer periods.
Pros:
Suitable for splitting knotty wood
Well-balanced heavy-duty maul
Design means less shock
Good heavy head
Cons:
Composite handles can become slippery
Some with QC issues
Can break with extra-heavy use
2. Granfors Bruk Wood Splitting Maul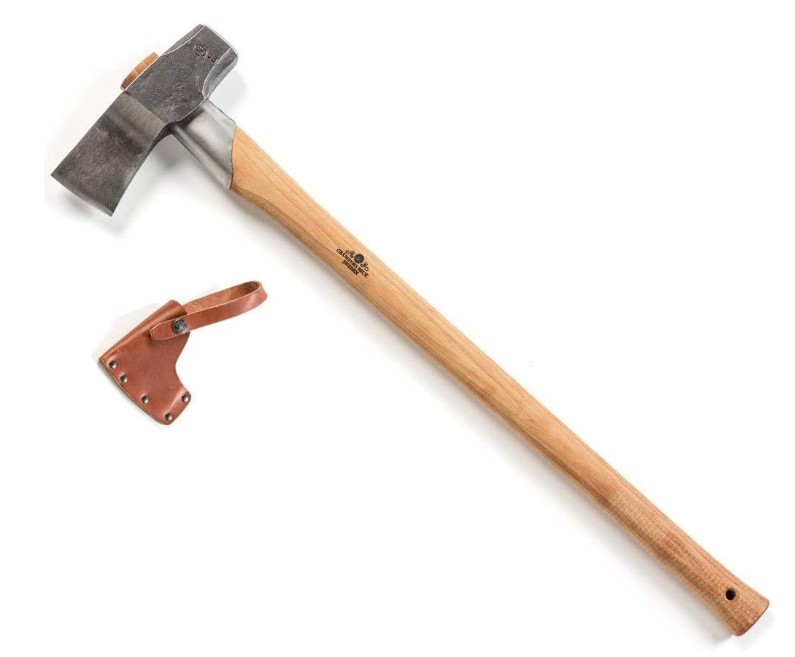 Total weight: 7 lbs
Head weight: 5.5 lbs
Total length: 31.5 in
Handle: Hickory
Made in Sweden, the Granfors Bruk Splitting Maul is composed entirely of wood and steel.
The maul even comes with a 20-year guarantee. A key selling point of this splitting maul is the protective steel guard that covers the upper few inches of the handle from damage.
While handle lengths and weights vary, the Granfors maul's weight will match most users, though shorter individuals might consider looking for a slightly shorter handle.
The only potential downside to the Granfors maul is the price, which is at the higher end of the spectrum as a result of the hardwood handle and overall quality.
As a bonus, this maul comes with a fitted leather sheath and a how-to-use book. Find out more about this brand in our Granfors Bruks Maul Axe review.
Pros:
Well respected brand
Quality handle and head
Steel guard
Comes very sharp
Cons:
More expensive
Rumours that they use recycled steel for the head
3. 1844 Helko Werk Splitting Maul Axe
Total weight: 9 lbs
Head weight: 6.5 lbs
Total length: 36 in
Handle: hickory
In terms of aesthetics, the Helko can't be beaten. With a mid-range price, this multifunctional wood maul is a great deal.
The Helko has the heft of a maul, but the squared-off blade shaping provides the control usually associated with axes. The hickory handle is shaped to accommodate a comfortable grip, too.
The Helko includes a leather blade sheath and oil to protect the carbon steel blade. Of wooden-handled mauls, this is our pick for the best maul for splitting wood.
Also, consider this Helko Werk axe collection – 7 different axes for one reasonable price.
Pros:
Quality professional maul
European-made maul axe
Plenty of weight for splitting logs
Cons:
Pricey
Some users found the handle weak
4. INTERTOOL 36″ Steel Handle Splitting Maul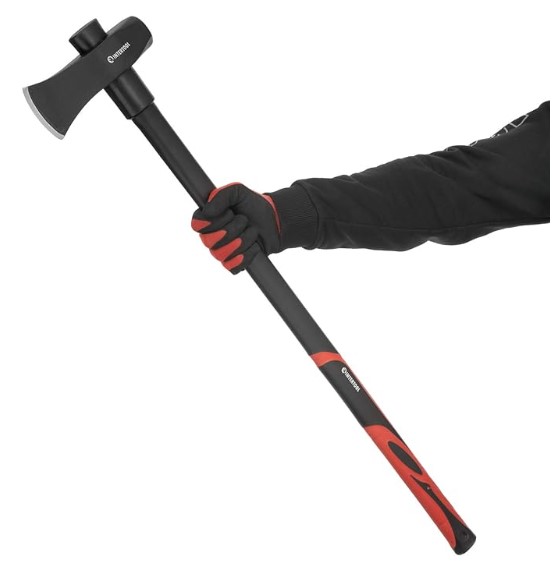 Total weight: 8.5 lbs
Head weight: 6 lbs
Total length: 36.6 in
Handle: fiberglass
Built to last from fiberglass and heat-treated coated carbon steel, the INTERTOOL splitting maul is the go-to option for longer wood-splitting sessions.
The extended handle provides additional leverage to take more of the strain off of your muscles. The straight handle is also covered in a durable, non-slip rubberized coating.
Moreover, the handle is narrower than many other mauls, making it much easier to maintain a secure grip.
The extra inches on the INTERTOOL's handle might prove unbalanced for shorter individuals, though the leaner head on this wood-splitting maul helps counteract this issue.
The Cold Steel ax is one of the lightest options on this list, making it ideal for smaller individuals, though the handle length is comparable with other mauls.
Pros:
Affordable maul for wood
Weighty for large logs
Strong fiberglass handle
Cons:
Not ultra durable
Some users say it feels cheap (which it is, comparatively)
5. Estwing 8 Lb Wood Splitting Maul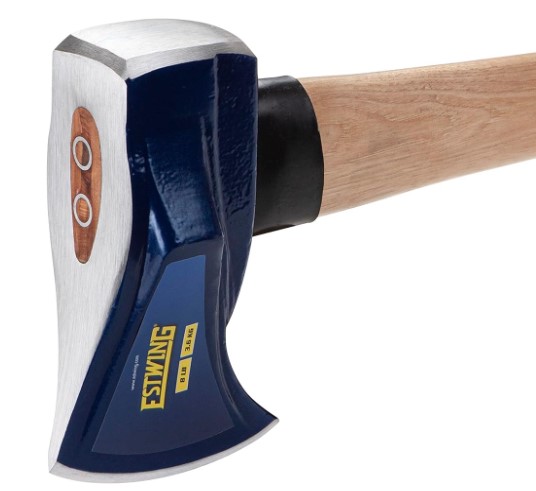 Total weight: 9.5 lbs
Head weight: 8 lbs
Total length: 36 in
Handle: Hickory or Fiberglass
The Estwing Maul features a European-style head and blade with a hickory wood OR fiberglass handle.
It's another very affordable maul that can be picked up for next to nothing when on sale. Estwing mauls and axes are best sellers because of the good value for money.
Pros:
Really cheap and light
Good for splitting stringy or knotty wood
Suitable for hardwoods
Cons:
Description says 'Made in the USA' but some people receive a version made in India
6. Husky Home Depot Splitting Maul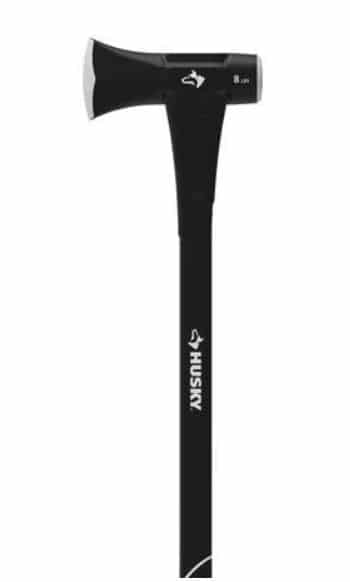 Total weight: 9.5 lbs
Head weight: 8 lbs
Total length: 36 in
Handle: fiberglass
This splitting maul is built to last, with a forged and heat-treated steel blade and double injection fiberglass handle.
Anyone who tends to suffer from blisters should consider the Husky's soft grip. This maul combines durability, comfort, and affordability for the total package.
The Husky maul comes with an unbeatable lifetime warranty.
In addition, the fiberglass construction reduces jarring vibrations. However, this quality construction does not increase the cost of the Husky Splitting Maul – it's one of the cheapest.
Husky axes and mauls should not be confused with the Germany-based Husqvarna chainsaw brand (which is also often referred to as Husky).
Pros:
Heavy duty
Comfortable grip
Good heavy head for easier splitting
Cons:
Some don't think it's sharp enough
7. Fiskars 36″ Super Splitting Axe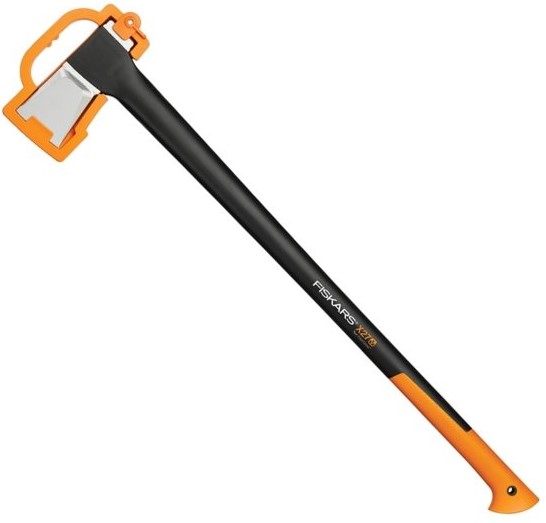 Total weight: 4 lbs
Head weight: 6.3 lbs
Total length: 36 in
Handle: fiberglass handle
This splitting maul axe is one of the best choices for taller individuals.
The X27 unites the length of the longest mauls with a more manageable weight. Splitting wood with a maul is already enough work. A maul that fits your height will reduce the risk of pulling muscles and increase comfort.
The X27's slightly thicker handle lends itself to a comfortable grip for bigger hands. The base of the handle on this steel splitting maul is flared and rubber-coated to prevent slipping, too.
However, unlike other, more expensive mauls, this synthetic handle is not composed of fiberglass. Though effective for occasional use, the X27 may not be the best option for heavy-duty use.
Pros:
Long handle
Finnish made maul
Lifetime warranty
Cons:
What To Look For In A Splitting Maul
When you start looking for a splitting maul, it's smart to consider more than just your budget.
The functionality of the tool you choose will depend on your situation. Basically, finding the best maul for you involves considering sizing and how you will use the maul.
Someone who splits wood daily for a wood-burning stove will have different demands than someone who only uses a maul occasionally to create kindling.
Someone over 6 feet tall will require a longer handle to comfortably use a wood maul.
Choosing the right tool for the right job is just as important as correct sizing.
Splitting mauls work best for splitting tough or knotted wood. For chopping through branches or taking down trunks, on the other hand, a lighter ax is more suited to the task.
Best Wood Maul Features
In terms of comfort and durability, materials make all the difference.
Anyone with a tendency to blister should consider splitting mauls with rubberized handle grips that are easier on the hands, like the Fiskars maul, for instance.
Fiberglass handles also absorb vibration and help reduce the overall weight of a maul. Of course, more sophisticated materials can also ratchet up the price of your maul.
Ideal Weight
Wood mauls generally weigh between 6 and 10 lbs.
When choosing your own maul, keep in mind the repetitive motion required to split wood. You will need to repeatedly lift and swing your maul.
For most people, a firewood maul around 8 lbs. provides the weight needed to drive through tough blocks of wood while minimizing muscle strain.
Ideal Length
Even the highest quality splitting maul handle won't be right for you if it isn't the correct length for your size.
To match an ax or maul to you, measure your arm from the armpit to the palm. The total length of the maul should match this length as closely as possible.
Handles
In general, wooden or fiberglass handles provide a more comfortable grip and heft than heavier steel options.
For the least vibration, a fiberglass handle with a rubberized coating is the best option.
However, a quality hardwood handle will also hold up over time for a much lower cost, in comes the Granfors Bruk.
Some wood-splitting mauls claim to be nearly indestructible and reduce the risk of the head detaching from the handle by shaping an additional steel handle core around the head.
However, this feature is not essential to a well-functioning maul.
Splitting Maul Vs Splitting Axe
The primary differences between splitting mauls and splitting axes involve the:
Handle length
Total weight
Shape of the head
Mauls tend to have longer handles and thicker, more robust heads that increase leverage when brought down on top of a block of wood.
The maul blade is a fatter wedge designed to force pieces of wood apart along the grain.
Another key difference is that a maul is designed with a sledgehammer-like butt on one side of the head for tapping unruly blocks of wood.
A splitting ax tends to be slightly lighter with a shorter handle that allows for more control. They are designed to be easier to swing for long periods and can generally handle smaller pieces of wood or dry blocks that split easily.
When it comes to choosing a maul or axe, a maul is better for splitting hardwood and tough knotty logs.
Wood Splitting Maul FAQs
Is a maul or ax better for splitting wood?
A maul for splitting wood is better for tough, knotted, or green wood, while a splitting ax is effective for most dry wood.
What's the difference between an ax and a maul?
Mauls are distinguished by longer handles, heavier wedge-shaped blades, and a sledgehammer butt.
What is the purpose of a splitting maul?
A splitting maul is used to split blocks of firewood along the grain, especially when the wood is tough to split because of knots.
Can a splitting maul be used as a sledgehammer?
Yes. Though the butt of a splitting maul head is shaped like a sledgehammer, it should be used carefully when the blade on the other side of the head is exposed.
Is a maul good for splitting wood?
A wood chopping maul is a good choice for splitting wood.
What is the heaviest splitting maul?
The heaviest splitting mauls can weigh over 10 lbs. Maul wood and steel handles can increase weight.
Can you fell a tree with a maul?
You could fell a tree with a maul, but it will be hard work. A quality felling axe is the best option for dropping trees.
Better yet, when it comes to an axe vs a chainsaw, a chainsaw will win every time.
Splitting Maul Reviews
Each of these seven splitting mauls offers features to match a variety of demands, whether you split wood from sunup to sundown or only when a tree limb comes down.
Of the seven best splitting mauls, the Fiskars Splitting Maul is the overall best wood splitting maul for its combination of functionality and durability.
Of course, while not the most expensive maul on this list, Fiskars still isn't super cheap, so it will depend on your budget.
For a splitting maul with a quality wooden handle, the Granfors Bruk maul leads the pack with its sleek design and ease of use.
But whichever handle you prefer, be sure to measure your maul to fit your height before heading out to the woodshed.
If you want to make your wood splitting task even easier, consider one of these great wood splitters from Tractor Supply.