Released in 2014, the STIHL TSA 230 Cut-Off Machine was the first of its kind to be battery-powered, rather than powered by a gas engine.
While this might put some people off, there are plenty of benefits to battery-powered over gas – especially if you aren't using the tool a lot. You don't need to buy and mix fuel and oil; you don't need to clean air filters; there's less noise and no exhaust fumes; just to name a few!
However, what's most important is "Does it work? Will it get the job done?"
Let's find out.
*Check the latest price on Northern Tool.
Stihl TSA 230 Saw
The most viewed video on Stihl's YouTube channel is the TSA 230 promo video.
It's described by Stihl like this:
The STIHL TSA 230 is the first cordless cut-off machine with a 230-mm cutting wheel in the market. Weighing in at a mere 3.9 kg (without the battery), it is also especially lightweight and compact.

Thanks to emissions-free battery technology, the STIHL TSA 230 is suitable for indoor and outdoor use, delivering clean results each and every time with a cut depth of up to 70 mm.

The water connection, which comes as standard, and the perfect accessories for attaching to a vacuum ensure effective dust control when cutting.
The tool is suitable for cutting:
Steel bars (rebar)
Stainless steel rods and sheets
Aluminum profiles and sheets
Copper pipes and sheets
Brass rods and sheets
Iron pipes and profiles
Concrete blocks or slabs
Bricks
Ceramic tiles
Masonry
Granite and marble
Hard plastic profiles or pipes
Fiberglass rods or sheets
Cast iron
Ductile iron
The universal diamond cutting wheel for the TSA 230 is listed as an "Extremely fast universal cutting wheel for cutting brick, concrete, clinker, granite, and ductile cast iron pipes. Extremely robust, temperature-resistant composition. Suitable for cutting construction steel up to 10 mm thick."
Specs And Features
| | |
| --- | --- |
| POWER SOURCE | Battery |
| WEIGHT | 8.6 lbs. |
| MAXIMUM CUTTING DEPTH | 2.75 in. |
| MAXIMUM WHEEL SIZE | 9 in. |
| ARBOR SIZE | 7/8 in. |
| BATTERY SYSTEM | AP System |
| RUN TIME (w/ AP 200) Up to | 14 min. |
| RUN TIME (w/ AP 100) Up to | 7 min. |
| RUN TIME (w/ AP 300 S) Up to | 22 min. |
| RUN TIME (w/ AP 300) Up to | 18 min. |
| VOLTAGE | 36 volt |
Features:
Protected Control Unit: Enhanced with sealing for better resistance to water, especially during wet-cutting operations.
Guard Made of Magnesium: The shield for the cutting wheel is crafted from magnesium, ensuring it's not only lightweight but also durable, leading to better handling.
Wheel Lock Feature: Comes with a spindle lock to secure wheel rotation, simplifying the wheel replacement process.
Integrated Water Port: Equipped with a water inlet that includes a shut-off valve and a quick-connect feature.
STIHL's Brushless Motor: This brushless DC motor is not only maintenance-free but also operates quietly and has minimal vibration.
Enclosed Belt Drive: Features a sealed belt drive that requires no regular maintenance.
Electronic Brake System: Designed to halt the wheel swiftly after usage.
Designed for Easy Handling: Its lightweight design ensures excellent portability, making it ideal for prolonged use and easy maneuvering.
This battery-powered cut-off machine not only ensures immediate start-up but also offers impressive maneuverability, given its compact and lightweight design. The device features an integrated dust suppression system and a user-friendly wheel lock for easy maintenance.
Notably, the absence of an air filter simplifies upkeep, and it's priced more competitively than its gasoline-driven counterparts. Truly a blend of state-of-the-art technology and refined engineering.
Stihl TSA 230 Reviews
There are a lot of good reviews and videos of the tool in action on Instagram:
Most people are using the TSA 230 for quick short tasks rather than using it for long periods. Most users are happy with how the MSA 230 performs, but some haven't found it sufficient for everything.
The Northern Tool listing has a lot of helpful reviews, and this negative one is worth reading:
Insufficient power

Had it 10 days and returned it. Not enough power to zip through 1.5 inch aluminum. Motor would stall- likely for self protection. Battery lasts about 12 min under hard use.

Great concept but needs more power by FAR. Not a substitute for gas powered cut off saws.

I own lots of Stihl stuff including battery powered pole saw and their chain saw. Those are excellent products. This cut off saw misses the mark in my opinion.

Would work ok for light corrugated tin cutting or pvc pipe or other thin material. NOT for hard jobs.
Other cons/negative reviews:
"I love this product but they need to come out with a larger blade. This product is perfect for cutting pavers. I can not cut retaining wall caps which are only 4 inches thick. Drives me crazy."
"This thing runs strong and after thousands of cuts still runs like it did when I first bought it. But I just wish I could say the same about the batteries."
"Unfortunately the shroud was designed in a fixed position. This limits the use of the blade immensely. An adjustable shroud would make this an almost perfect tool."
But most users rate the machine highly. The TSA 300 consistently earns 5-star reviews.
Professionals in construction, equipment rental, and masonry, among others, rave about its convenience, underscoring how its battery-powered design means immediate start-up at the push of a button, bypassing the traditional hassles associated with gas-powered tools.
One of the recurrent praises revolves around its lightweight and compact nature, allowing for effortless maneuverability on job sites. This, combined with its commendable battery life, sets it apart. In fact, many users were pleasantly surprised by how infrequently they needed to resort to the spare battery.
Its performance in cutting through various materials, from cobblestones to metals, hasn't gone unnoticed. Many even hail it as a game-changer in the realm of cut-off machines.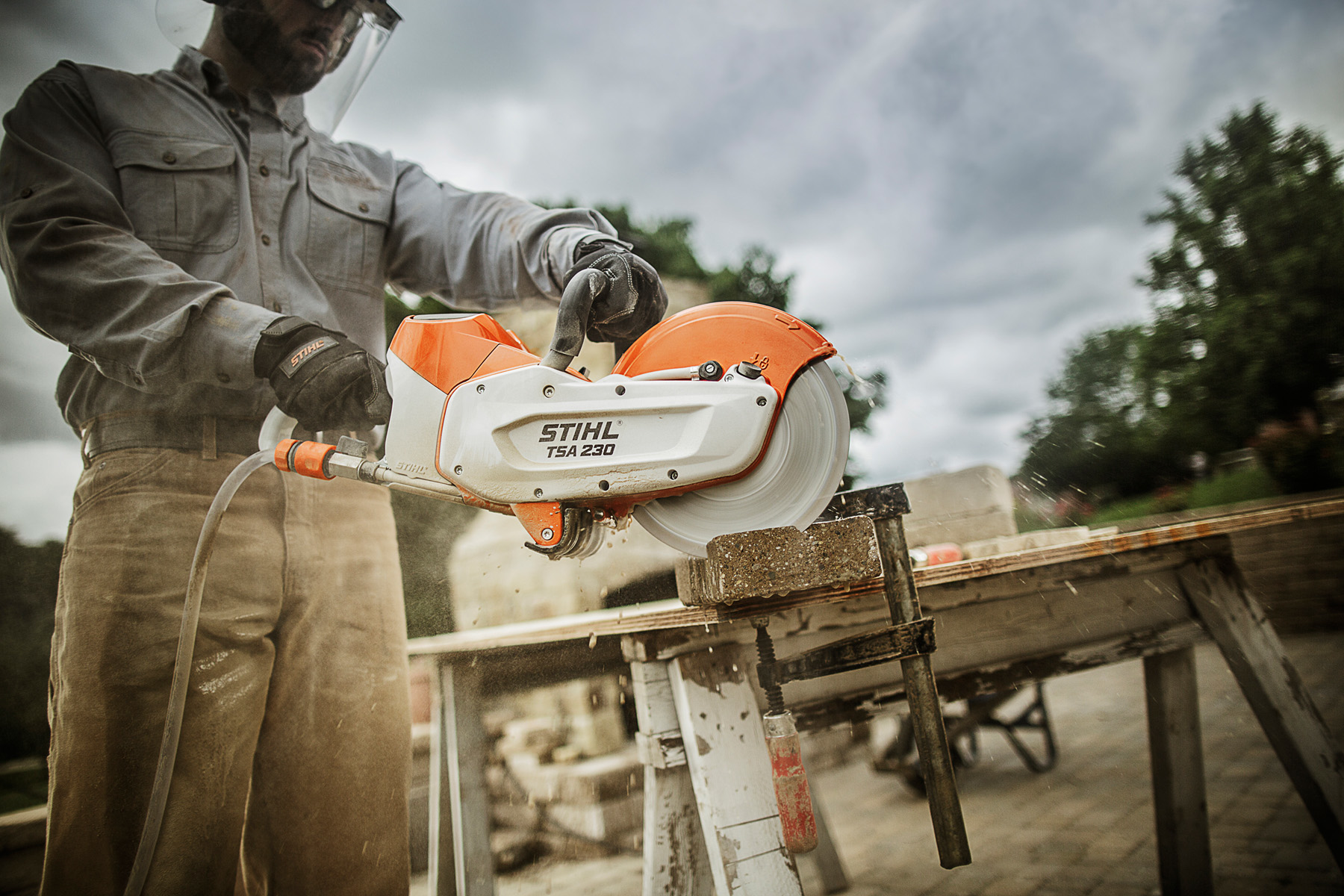 However, what's perhaps most telling of its capabilities is its frequent use over other traditional tools. A chimney builder vouched for its longevity, having relied on the same three batteries for around three years, making it his go-to tool.
Users from different domains, be it hardscaping or general construction, shared similar sentiments, expressing their reliance on the TSA 300 for a vast majority of their tasks. While the majority of the feedback skews positively, highlighting attributes like its reliability, lightness, and ease of use, a few users pointed out some drawbacks, such as it being slightly heavy or occasionally challenging to maintain.
Yet, even with these minor hitches, the overarching consensus is that the TSA 300 has proven itself to be a robust and efficient tool, making it a valuable addition to any professional's toolkit.
Pros:
Immediate Start-Up: With its battery-powered design, it starts immediately at the push of a button.
Lightweight Design: Its compact and lightweight nature makes it easy to handle.
Strong Battery Life: The machine's battery life is impressive, with some users noting that they rarely needed the backup battery.
Effective Cutting: It can efficiently cut through a variety of materials, from cobblestones to metals.
Maneuverability: Its design allows for easy maneuverability on job sites.
Low Noise: Compared to other cut-off machines, it operates with significantly less noise.
Reliability: Many users found it to be a reliable tool that consistently performs well.
Easy to Maintain: For the most part, users found it easy to clean and maintain.
Cost-Effective: Given its performance and battery life, many users felt it offered great value for its price.
Safety: Some users felt it was one of the safest concrete saws they've ever used.
Durability: Instances of the machine falling or being subjected to rough usage but still functioning perfectly indicate its robustness.
Cons:
Insufficient Power: Some users felt the machine lacked the necessary power to cut through thicker materials effectively.
Short Battery Life under Hard Use: Battery longevity was a concern when the machine was used intensively, with one user noting it lasted only 12 minutes.
Fixed Shroud Design: The inability to adjust the shroud limited the use of the blade, restricting its flexibility in various applications.
Battery Durability: Concerns arose about the longevity of the batteries over extended use.
Limited Cutting Capacity: While great for cutting pavers, it struggled with thicker materials like retaining wall caps.
Needs a Larger Blade: Some users expressed the need for a larger blade to enhance its cutting capacity.
Weight Issues: A few users, despite the general consensus of it being lightweight, found it to be on the heavier side.
Maintenance Challenges: A couple of users found it to be occasionally challenging to maintain.
It's essential to consider these drawbacks in context, as many of the reviews were overwhelmingly positive, and individual experiences may vary.
STIHL Battery Cut Off Machine
The STIHL TSA 230 stands out as a notable innovation in the realm of cut-off machines, bridging the gap between traditional power and modern convenience.
With its battery-powered mechanism, it offers users an eco-friendly, quieter alternative to its gasoline-driven counterparts without a significant compromise on performance.
The majority of users have lauded its lightweight design, impressive battery life, and easy-to-use features. While some concerns about power and battery durability have been raised, they seem to be in the minority when set against the 5-star reviews.
For those seeking a reliable, efficient, and environmentally-conscious cutting tool for their job sites, the STIHL TSA 230 is undeniably worth considering. As with any tool, it's essential to evaluate individual needs and ensure it aligns with specific job requirements.