A fireplace hearth is an area in front of a fireplace that is safe for sparks and embers to land on. In the case of wood stoves, they sit on the hearth for the same purpose.
The hearth is also symbolic of where you gather with family and friends to warm up by the fire on cold winter nights and has been for thousands of years. A beautiful hearth gives your home its personality.
Although the words 'fireplace' and 'hearth' can be used interchangeably, they have very different meanings. A fireplace (or firebox) or wood-burning stove is a structure that houses a fire. Hearths are the floor areas beneath them that serve as barriers to the heat.
Read on to learn more about the types of hearths and the style they add to your home.
Hearth Styles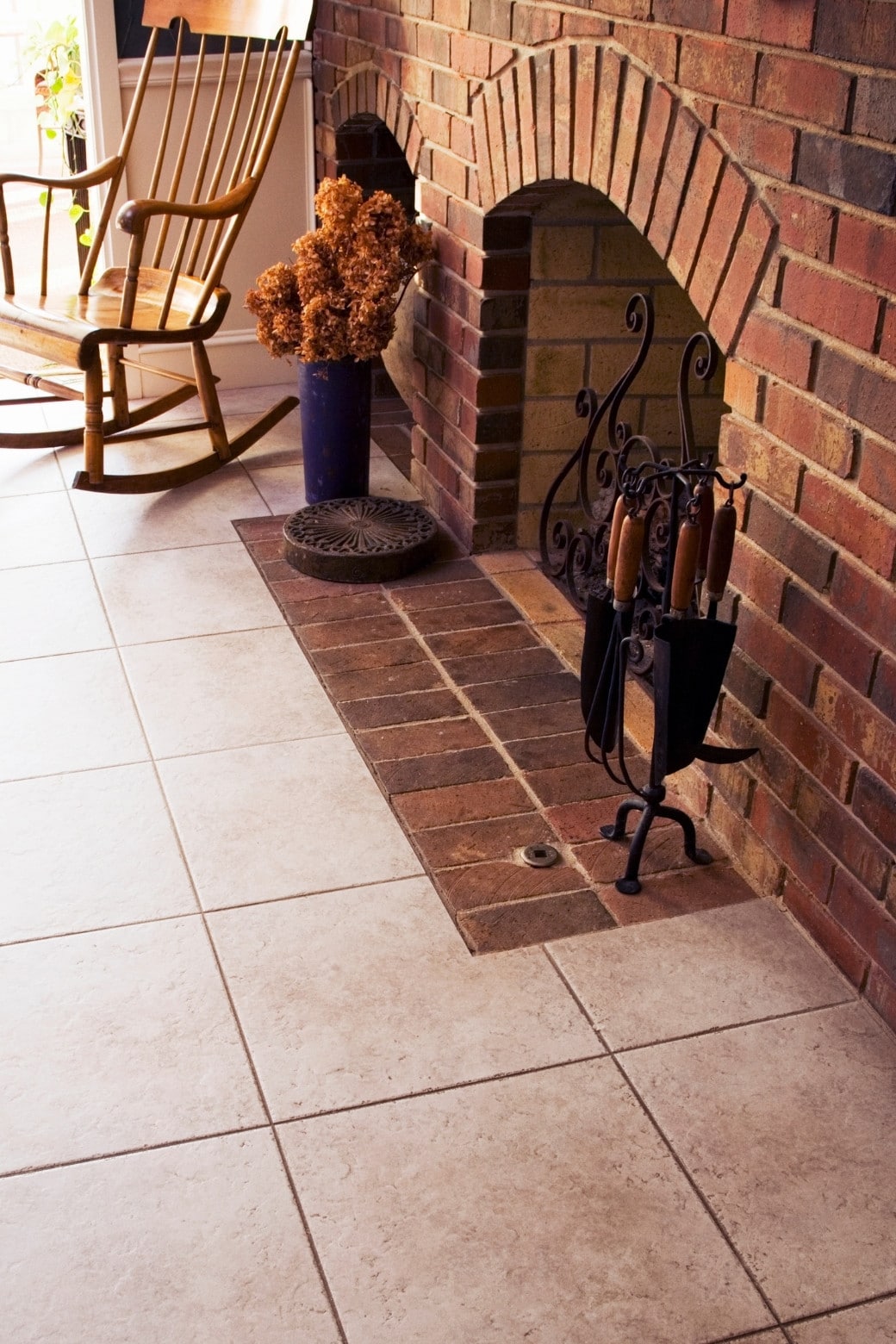 Hearth styles can divide into four basic types:
Raised hearth
Flush hearth
No hearth
Raised firebox
We will focus on the benefits and drawbacks of each.
1. Raised Hearth
Raised hearths are the most traditional style of the hearth.
This hearth adds an extra dimension to your fireplace that makes it stand out from the rest of the room.
Raised hearths extend from 16 to 18 inches (on average) into your room and sit 12 to 18 inches off the ground. Raised hearths can be made from many materials, including stone, brick, or tile.
A raised brick or stone hearth separates the open firebox from your living space. The raised hearth, made of non-combustible materials, prevents the flames from spreading to other parts of the house.
Hearths are especially useful in homes with wooden floors, which can easily catch fire if exposed to open flames for too long.
2. Flush Hearth
Flush hearths sit flush with the floor—they do not protrude above it.
Flush hearths are often used in modern homes because they provide a clean and sleek look that complements contemporary design styles well.
Flush hearth slabs are usually made of stone because it's durable and easy to clean. They are also made of other materials such as ceramic, porcelain, or concrete.
The flush hearth is also a popular choice for fireplaces that are in basements or other areas with low ceilings.
This type of hearth works well in new construction and remodeling projects because it offers homeowners a lot of flexibility when it comes to choosing materials and designs.
3. No Hearth Fireplace
A no-hearth fireplace has no additional materials around its opening (such as bricks).
A hearth-less fireplace also called a "hole-in-the-wall" fireplace, has no surrounds to contain the firebox.
4. Raised Firebox
A raised firebox design contains the fire a few inches above the floor.
This style has a fireplace hearth sitting below the firebox that extends several inches into the room.
The raised firebox design also has a mantel, but it's typically shorter than its raised hearth counterpart.
Small Vs Large Hearth
The size of your hearth impacts the overall look of your fireplace.
A large hearth will give you more space for decorating, but it can also make the room feel smaller. If you have a small fireplace or mini wood stove, consider using a smaller hearth to keep it from looking out of proportion with the rest of the space.
The size of your fireplace will also impact how much work it takes to maintain.
Larger fireplaces are more difficult to clean and may require a professional chimney sweep.

Smaller fireplaces tend to be easier to clean because they're smaller in size, but they can still require some maintenance if you don't want any ash or soot buildup.
The cost of your fireplace installation will depend on the size of the hearth and fireplace you want and how much labor is required to install it. The price can range from several hundred dollars for a small fireplace insert up to several thousand dollars for a large brick fireplace.
The size of the hearth dictates how much heat is radiated into a room. For those seeking more than an aesthetic use for their fireplace, this may be important.
Stone hearths conduct heat, and a larger hearth will radiate more heat into the room.
A smaller hearth conducts less heat and may not be enough to heat the room.
Hearth Materials
When choosing a hearth material, you want something that will stand up to all the activity in your home—something durable, beautiful, and unique.
But you also want something that will complement the rest of your home design while still being practical enough for everyday use.
It's important to keep your hearth material in mind when choosing which type of fireplace you will use.
Wood-burning fires tend to get hotter and crack some materials, whereas gas or electric fireplaces ones are more controlled—so most types can handle them.
Hearth materials come in an array of options to match any style or budget.
1. Concrete
Concrete hearths are the perfect DIY project for anyone looking to add a durable, affordable fireplace to their home.
You can pour concrete onto brick or stone for a classic look that will last for decades. Or you can mix up some color with paint or stain and make your hearth stand out from the rest of your decor!
Concrete is easy to work with and doesn't require any special tools or skills—just some patience and creativity! You'll be surprised by how quickly you get the hang of it, and before long, you'll be able to create your dream fireplace without breaking the bank.
Pros:
Inexpensive and durable
Good for DIY
Cons:
More functional than aesthetically pleasing
2. Ceramic
Ceramic and porcelain hearths are the perfect addition to any home.
Available in a wide range of patterns and colors, these hearths can bring the warmth of a fireplace into any room.
With a ceramic hearth, you can choose from wood, electric, or gas heating options. They're easy to clean and very heat resistant—so even if you use them every day, they'll last for years to come!
Pros:
Lots of colors
Use wood, electric, or gas
Cons:
Designs may look dated after time
3. Granite
Granite hearths are a great option for your home if you want to add some style and elegance.
They're also a good choice if you want a material that's safe for wood-burning.
The cost of granite is mid-range, compared to other materials like marble. It's also available in a variety of colors, so you can choose the one that matches your home decor best.
Pros:
Mid-range price point
Lots of colors and designs
Cons:
4. Marble
When you're looking for a hearth that can handle all the heat, look no further than marble.
Marble is formed from limestone, which means it's more heat-resistant than limestone and can be used with wood, gas, or electric fireplaces. It has a soft texture, so it may chip or scratch with use.
Available in a wide range of colors, this product will add a touch of luxury to your home while keeping the room warm and cozy.
Pros:
Luxurious look and feel
Use wood, electric, or gas
Cons:
Soft texture may scratch
More expensive
5. Limestone
Think of limestone as the affordable, modern alternative to granite.
If you're looking for a modern, affordable, and easy-to-install hearth for your gas or electric fireplace, limestone is the way to go!
Limestone is a beautiful and durable material that works well with both natural gas and propane fireplaces. Its neutral color palette will complement any interior design style.
Limestone is not recommended for wood-burning fireplaces because it can crack when exposed to excessive heat. However, it can be used with any other type of fireplace that uses gas or electricity.
Pros:
Affordable and easy to install
Neutral colors
Cons:
6. Slate
Slate hearths are a wonderful way to add character to your fireplace.
They come in many colors and patterns, from red and blue to black and green.
They're not for use with wood-burning fireplaces because they crack if the temperature gets too high. Prevent cracking by installing slate plates.
Slate hearths are best for gas or electric fireplaces, as there is no risk of overheating or cracking.
Pros:
Variety of colors
Plate design for installation
Cons:
7. Soapstone
Soapstone is a dense rock that forms when high pressure and heat work their magic on certain types of sedimentary rocks.
The result?
A solid, smooth stone with a texture that resembles soap—hence its name.
Soapstone comes in shades of gray and green and is relatively heat resistant. However, over time it may crack if exposed to too much heat. Electric or gas fireplace hookups are recommended for use with soapstone.
Pros:
Natural look and soft feel
Neutral colors
Cons:
Hearth Ideas
View this post on Instagram

A white tiled wrap-around hearth takes a new look at traditional brick-and-mortar fireplaces.
The raised hearth allows room for plants and candles, making this gas fireplace a perfect addition to any home.
View this post on Instagram

A flush tile hearth made of decorative ceramic tile brings together a black and white brick fireplace.
View this post on Instagram

A traditional brick, raised hearth feels cozy decorated with pillows and candles.
Fireplace brick can also be cleaned well with the right products.
View this post on Instagram

This electric fireplace features a lifted slab hearth and open firebox for visual intrigue.
The elegant marble surround of this gas fireplace is a great example of how a simple design can be made more visually appealing by using stone.
View this post on Instagram

This homeowner installed a flush hearth made of wood beside their electric or gas fireplace to give it a more traditional feel.
View this post on Instagram

This electric fireplace is a beautiful example of style and function. The raised firebox allows decorative wood placement underneath.
View this post on Instagram

This gas fireplace has a brick and black marble surround, giving it the polished appearance of an old-fashioned hearth.
View this post on Instagram

This fireplace features a raised firebox and raised stone slab hearth. Stone exterior walls and a raised stone hearth make this fireplace look like something seen in a cabin.
View this post on Instagram

The owners of this home have installed a wood-burning stove inside a brick firebox. They used heat-resistant ceramic tiles for the flush hearth floor.
Hearth FAQS
These are some commonly asked questions by those installing fireplace hearths.
What kind of stone can be used for a fireplace hearth?
There's a wide variety of stones available, including granite, marble, and limestone.
Granite is the most popular option for a fireplace hearth because it's durable and has a natural appearance that can be customized to fit your home's style.
Marble may be more expensive than granite but offers an elegant look with its high level of detail in the veins of the stone. Limestone is inexpensive but has a relatively plain appearance.
How can a hearth be flush with the floor?
A hearth can be flush with the floor if you do not plan to use it for a wood stove.
Install a heat-resistant slab on top of your subfloor, then install a gas fireplace insert.
How deep should a hearth be?
In the United States, hearths are 16 inches or 20 inches deep.
Never build a fireplace extension that is less than specified in your building code or construction manual.
Should a hearth be raised?
Raising the hearth height can prevent children and pets from getting into it.
A raised hearth will give the appearance of a more elegant fireplace design.
Does a wood stove need a hearth pad?
Yes, you will need a hearth pad.
A wood stove needs much more space than an open fireplace and at least 36 inches of non-combustible material in front of it.
How thick does a hearth need to be for a wood burner?
A hearth for a wood burner must be 12mm thick and made of non-combustible materials.
How much hearth is in front of a wood burner?
A wood burner should extend at least 300mm from the back of the firebox to the front of the hearth.
Do electric and gas fireplaces need a hearth?
Because neither electric nor gas fireplaces use flames, they don't need a hearth.
However, they need something under them to protect your flooring from heat.
Best Type Of Hearth
This article should give you a good idea of fireplace hearths as a focal point of interest and a warm spot to sit. Hearths finish your fireplace installation and make any room cozier.
At the end of the day, the best hearth for your home will depend on your budget, your home's design style, and your personal preference. Let us know if you have any questions down below.
Other common questions about heating appliance installation include 'what should I put behind a wood stove?' or 'what is a zero clearance fireplace?'