The Cubic Cub Mini Wood Stove is one of the smallest wood stoves in the world.
It's the little brother of the Cubic Grizzy Mini Wood Stove and is designed for the smallest of living spaces, including tiny homes, RVs, mobile homes, boats, campers, and small cabins.
The Cubic CUB is suitable for heating spaces under 200 square feet (approx. 20 square meters). This makes it perfect for vans and small RVs, but it could also be fine for larger spaces in warmer climates.
How does it compare to the Grizzly and other small wood-burning stoves? And have users been happy with the CUB?
Let's find out…
Cubic CUB Mini Wood Stove
Cubic Mini Wood Stoves are well known in the realm of tiny, mini, and small wood stoves.
That's because their products are well-produced, easy to install, efficient, useful, and affordable. And let's not forget that they look really good too!
The size can be deceptive because they're often much smaller than you even realize – especially the CUB mini wood stove. It really is tiny.
Dimensions are 11″ wide x 12″ high x 10.5″ deep (27.94 cm x 30.48 cm x 26.67 cm). The rail can be removed from around the top giving you a small cooktop of about 5 x 11 inches.
View this post on Instagram

When some people first see the mini CUB wood stove they think it's a joke.
For those who haven't come across a wood burner of this size, it seems ridiculous. I can understand!
However, despite its micro size, it's a super useful and helpful appliance for heating a tiny house, so long as your space is under 200 square feet.
One of the most commonly asked questions is "can the Cubic CUB be kept burning overnight?"
While it's very tricky to achieve these long burn times, you can find out how to best attempt it in our Cubic Mini Wood Stove tips.
Mini CUB Stove Specs And Features
The Cubic Grizzy and the Cubic CUB mini wood stoves are basically the same, the CUB is just smaller.
Here is a comparison of the two Cubic Mini stoves.
| | | |
| --- | --- | --- |
| CUBIC | CUB | GRIZZLY |
| Size | 11″ w x 12″ h x 10.5″ d | 13" W x 15" H x 12" D |
| BTUs | 6000 – 14,000 BTU | 8,000-18,000 BTU |
| Weight | 25 lbs/11 kgs | 39 lbs/17.7 kgs |
| Heating | Up to 200 feet² | Up to 400 feet² |
CUB mini wood stove specs:
Dimensions: 11″ w x 12″ h x 10.5″ d
6000 – 14,000 BTU output
1.75 – 4.1 KWh
3/16″ laser-cut steel top plate
1/8″ laser-cut steel body
1/2″ thick firebrick insulation
3/16″ thick self-cleaning glass
Model #CB-1008
CUB features:
Brass-plated coil handles
Easy to install and operate
Eco-friendly
Lower emissions due to its secondary combustion system
Safer than a diesel or propane cook stove
helps reduce humidity in cabins
Easy to remove the top rail
Damper controls
It's recommended to use seasoned, dry hardwoods as fuel for this wood stove.
You will have a difficult time getting wet or green wood to burn in this small burner.
It's hard enough in a regular wood stove, but even harder in these types. Also, you won't be getting as much heat or burn time out of inappropriate wood, so it's just not worth trying.
The CUB needs to have a 20″ clearance space around it unless you are using proper shielding and mounting – this will reduce the required clearance to only 3″.
CUB Wood Stove Review
This CUB wood stove review comes from the Hay Woods and Wetlands YouTube channel.
I haven't found any real negative reviews, and if you take a look at all the Cubic CUB wood stove reviews on their site (here), you'll see they're overwhelmingly positive.
The only thing that tends to come up is that it doesn't put out as much heat as people were hoping, or that it's a bit too small for a certain home.
If you're on the fence for this reason, you could check out the 5 kW Dwarf Tiny Wood Stove which is better suited for larger spaces or very cold climates.
CUB Pros:
Awesome for small spaces
Great heat output for such a mini stove
Good design and build
Durable and long-lasting
Easy to get replacements parts
Easy to install and use
Good airflow and draw
CUB Cons:
You need to prepare very small pieces of firewood
Not good for anything beyond 200 square feet
Will need to be stoked up and fed wood often
What Else Do You Need?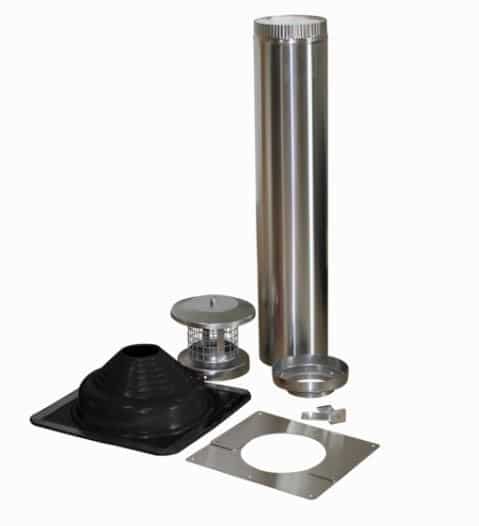 When buying a CUB mini wood stove, remember that you will need to factor in the cost of all the other bits and pieces.
Besides the stove itself, you will also need:
Flue system – flue pipe, insulated pipe, and exit kit
Heat shields – for sides, back, and flue
Mounting – for floor or wall
Woodstove tools – poker, ash shovel, chimney sweep
You also need to make sure you have a good supply of fresh air, especially in confined spaces. The fire can consume a lot of it and Cubic has systems designed to bring fresh air in from outside to supply the fire.
So, while the price of the stove isn't all that much, it starts to add up once you've got everything you need in your cart. However, if you take a look on YouTube, you'll find that many people have found cheaper ways of creating their own heat shields and things like that.
CUB Wood Stove Examples
View this post on Instagram

First up for these ideas on how to install and use the Cubic Mini Cub is this van small install.
You can flick through the images to see how the chimney is installed using two 90-degree elbows out through a boarded-up window. I don't think Cubic Mini recommends using two 90-degree elbows, so talk with them first if this is something you're looking at doing.
Nevertheless, this wood stove looks great. It doesn't have any heat shields as there is enough clearance around it, but is sitting on a kind of hearth.
View this post on Instagram

Next up, check out how this CUB mini wood stove is being installed into this school bus.
The process isn't too complicated and it can be a DIY installation if you're for it, though there are plenty of trades people that can help if needed.
This account shared:
Installation of a American Stove "The Cubic Cub Mini" Wood Stove in an American School Bus ? with 3" single skin flue and a 5" internal to external twin wall also from cubic stoves in ?? supplied by the customer.
I would suggest that this wood stove has too many tile heat shields around it which will prevent the heat from dispersing as well. However, it may be due to the other materials that need to be protected.
View this post on Instagram

The Cubic Mini CUB can even be installed in boats, such as this example. The Sardine Wood Stove is another popular option for boats.
"Cold foggy mornings are great, with a fire!?"
It will heat a small cabin without any trouble, though collecting wood on the high seas may sometimes be a struggle!
View this post on Instagram
For those with a tiny house cat, a CUB wood stove will be a most appreciated addition.
This is actually installed in a skoolie and I think the cat is just visiting!
View this post on Instagram

This account shared:
There are 2 things that keep me alive and going these days…
•
1st. Thing is definitely my woodstove. This thing is a lifesaver and has been the most worthy investment. I spend so much time inside the bus these days and this thing literally runs all day and keeps me warm and cosy ?
•
2nd thing is my special spicy tea. I make about 2 pots a day cooked on the woodstove wich is great for cooking too.
The tea is pretty simple and will keep you warm and healthy.
Cooking on a mini wood stove is a good way to save money on energy.
View this post on Instagram

This post is from the same account – one that is worth following!
They live and travel in a beautiful van in Germany, and they have got their hands on a Cubic CUB. Cubic Mini Stoves are made in Quebec, Canada, but can be shipped around the world for a price.
View this post on Instagram

Lastly, check out this tiny house under construction.
The CUB has been installed and is burning – one of the most important tasks!
Cubic Cub Alternatives
The three best alternatives to the CUB are:
Cubic Grizzly – it's still small but it's the next size up at 13″ w x 15″ h x 12″ d (view here)
Dwarf 3kw wood stove – for under 300 square feet with an output of 7500 – 11500 BTUs (view here)
Dickinson Solid Fuel Heater – affordable option at 7.88" W x 15.63" H x 10" D and 8000 BTUs (view here)
Or see our article on the Dwarf Tiny Stoves Vs Cubic mini stoves for a complete comparison.
The best option for you is really going to depend on the size of your space and your total budget for a wood stove and installation.
CUB Cubic Mini Wood Stove
The CUB Cubic Mini Wood Stove is an excellent little wood-burning stove for tiny spaces and will serve you well if it meets your requirements.
There are a lot of resources to help you install and use it, including plenty of YouTube videos showing how to do it step-by-step. If in doubt, always call in a professional to get the job done correctly and avoid any insurance problems.
Let us know if you have any questions down below.
And, if you're in the set-up stage for your RV, see this post on the best RV mattress – get the right one, couple it with the perfect wood stove, and you'll be sleeping like a baby!