So, you're taking a mental inventory of all your outdoor things and realize that you have no more space.
Your garage can't hold anything else and leaving stuff outside in the elements isn't cutting it. Not to mention that it isn't a pretty sight to see random tools, chainsaws, and gadgets laying around your yard and outside areas.
The Shed Master barn-style shed from Tractor Supply is a catch-all for all of your outdoor storage needs. But, if you're looking for something else, there are some other great options to choose from.
Here are some of the best wooden storage sheds out there – no matter what you need to store!
Best Wood Storage Shed
Those are our three top picks, but make sure you check out the alternatives down below.
Our #7 choice is an interesting alternative!
All of them can be set up yourself if you feel confident with such things, otherwise, call a handy friend to give you some help.
1. Shed Master 10 ft x 12 ft Barn Style Shed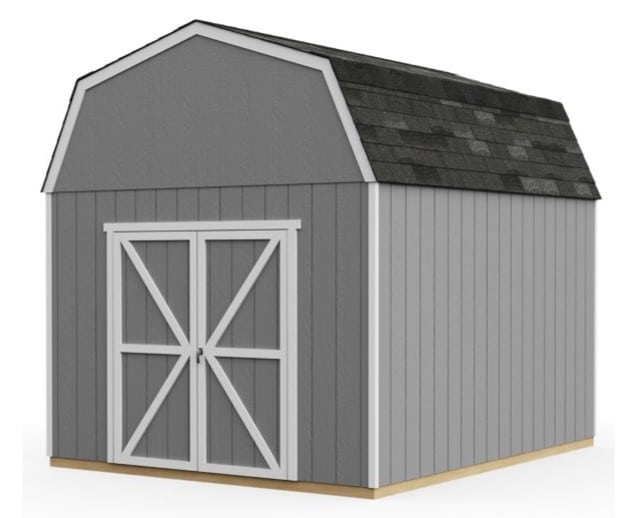 VIEW ON TRACTOR SUPPLY →
Specifications:
10 ft x 12 ft
The walls are 7 ft tall
1,065 cubic feet of storage capacity
This barn-style shed is the best overall due to its large storage capacity and great quality pieces.
It's a DIY shed, so you can expect to easily build it on your own with the help of some illustrated directions.
The shed provides precut, treated wood that is ready to assemble, along with a rust-resistant handle and lock. The shed has galvanized (zinc-coated) steel hinges so it's sure to stay decay-free for years to come.
By the time you finish building this shed, you'll have a beautiful little rustic-looking barn.
Pros:
Sturdy, decay-resistant pieces
You only need simple tools to build it, such as a ladder, hammer, drill, level, and tape measure
Double doors help you fit large objects into the shed with ease
Cons:
It's a little pricey
There is no shelving included
There are no windows
---
2. DIY Princeton 10 ft x 10 ft Shed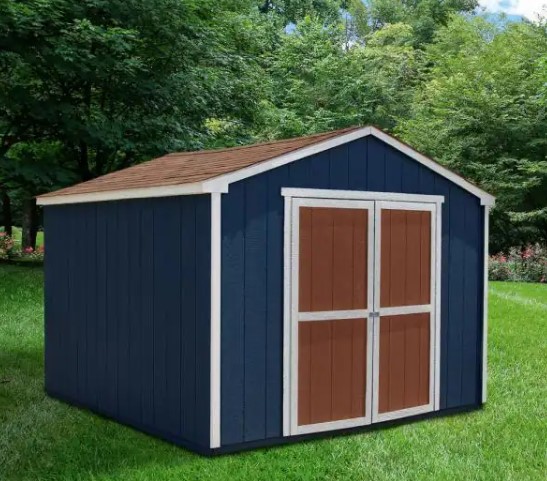 VIEW ON HOME DEPOT →
Specifications:
10 ft x 10 ft
The walls are 6 ft tall
705 cubic feet of storage capacity
The Princeton shed is perfect if you're looking for reasonably-sized outdoor storage while on a budget.
This DIY shed comes with illustrated instructions to help you with your building journey.
The floor frame comes treated, preventing decay. And the shed siding comes primed, so you have the option to customize your shed with paint. Keep in mind that the flooring doesn't come with the kit. Only the floor frame does.
Check out these chainsaw storage ideas for what you could do on the inside!
Pros:
Double doors
Great price for the size of the shed
Double doors allow you to fit large objects into the shed
It can handle inclement weather
Cons:
It doesn't include shingles, hardware, or flooring
No windows
No shelving
It takes a long time to assemble
---
3. Installed Majestic 8 ft x 12 ft Shed
VIEW ON HOME DEPOT →
Specifications:
8 ft x 12 ft
The walls are 7 ft tall
768 cubic feet of storage space
This gable-style shed comes with everything you need, including a professional installation.
The pre-primed siding allows you to have the option to paint it and the doors come pre-assembled to cut building time down. The transom windows let in some lovely sunshine to give your shed a little light when you close the doors.
The extra loft space and shelving provide ample space for large objects and small objects such as tools. You can store your lawnmower and wheelbarrow while still having room for boxes and paint cans on the shelves.
This is almost getting to the size where you could justify putting a shed log burner in and making it a real man cave!
Pros:
Double doors
Professional installation
It comes with shingles, roof felt, and a drip edge
It has extra loft storage and an 8 ft shelf
Cons:
Not a DIY kit
Non-refundable after installation
---
4. Shed Master 10 ft x 8 ft Shed
VIEW ON TRACTOR SUPPLY →
Specifications:
8 ft x 10 ft
The walls are 6 ft tall
542 cubic feet of storage space
This DIY wood yard shed is perfect if you're looking for a shed that will stand up to almost anything.
The Shed Master shed offers precut wood pieces, a full wood floor, and a galvanized metal roof.
All the wood comes pre-primed and treated to prevent decay and insect damage. This allows you to customize the shed with a paint of your choosing. The metal roof is quite tough, which will help keep your things dry and prevent damage.
This could be used for storing a ride-on lawnmower, garden tools (I wouldn't mind hanging my Stihl FS45 trimmer up in something like this), or even as a storage shed for firewood.
If you are good with a hammer and nails, consider building your own. Using a good wood storage shed plans to get things started a little bit faster.
Pros:
Double doors
You can assemble it with household tools
Heavy-duty roof and handles
It comes with a complete wood floor
Cons:
Storing capacity is a little small for a shed
No shelving
---
5. Mcombo Storage Cabinet Shed
Specifics:
1 in x 19.7 in x 63.8 in
The walls are about 5 ft tall
About 40 cubic feet of storage space
Small wooden sheds like the Mcombo storage cabinet are great for housing your outdoor tools and supplies.
The pieces easily fit together, and the kit comes with all of the tools you need!
The raised design will keep the bottom of the shed dry, so there is no decay. And the waterproof asphalt roof will keep water from pooling and ruining whatever is inside.
It's not going to fit a full-sized chainsaw, but it will certainly fit a small handheld chainsaw or three!
Pros:
Double doors
It comes with removable shelves
It has a sloped, waterproof roof
Cons:
Shallow
Only has a 1-year warranty
---
6. B Baijiawei Garden Shed
Specifications:
6 in x 16.5 in x 70.9 in
The main compartment walls are about 4 ft tall
About 17 cubic feet of storage space
The B Baijiawei shed is the perfect wood garden shed for tool storage.
It has two compartments and offers plenty of shelving and hanging options. It's one of the most organized wooden utility sheds you'll ever have.
The outside of the little shed has a protective coating to protect it from the elements and has a raised design to prevent decay on the bottom.
These units are cheap and easy to put together. They don't last forever, especially if they're in a harsher climate, but they'll do the job for a few years.
Pros:
It comes with a folding shelf along with other shelving
It comes with hanging hooks
It comes with the tools you need to build it
It has a waterproof coating and roof
Cons:
Shallow
Small capacity
Only has a 1-year warranty
---
7. SummerCove 11 ft x 11 ft Gazebo
VIEW ON SUNJOY →
Specifications:
11 ft x 11 ft
5 ft tall sides
About 1,137 cubic feet of storage space
While this isn't necessarily a shed, it still provides plenty of coverage for things you want to be safe from the elements.
This gazebo would work well as an outdoor wood storage building for firewood.
This gazebo offers a precut and pre-drilled cedar wood frame, making set-up a breeze. If you need help, customer service is available. It comes with a bar serving shelf, privacy panels, a rail system, anchoring plates, and even a skylight.
This company is also known for the Sunjoy Outdoor Fireplace range.
Pros:
Precut and pre-drilled wooden frame
It has a serving shelf for a bar
It has privacy panels
It has a rail system if you want to attach netting for bugs
Cons:
---
Popular Features For Wooden Sheds
When deciding which shed is best for your personal needs, you'll need to consider a few things.
The first thing on your list should be the size of the shed. You'll have to think about all of the things that you'll be putting in your shed. Think about doors too. You'll need large doorways to fit big objects.
Most large wooden sheds have double doors or large door openings, so they can fit everything inside with ease.
If you're putting large garden appliances such as a riding lawnmower in your shed, you should buy the Shed Master barn-style shed or the SummerCove gazebo. These both have rather large storage capacities.
Even if you don't have anything large to store right now, you might eventually buy something on the larger side that needs a place to stay. It's always better to have extra space rather than not enough.
Another thing to think about is the durability and sturdiness of the shed that you choose.
Waterproof roofs, pitched roofs, and treated wood are great for keeping water out and keeping your things dry. Not only will treated wood help with water damage, but it will help prevent damage from insects such as termites.
Most quality wooden sheds have these features, so your shed won't crack and break down.
Most wooden sheds come with rust-resistant metal pieces, which are a great choice. If your handles and locks aren't rust-resistant, you'll have a difficult time opening those shed doors after a few months of rain or if sprinklers are constantly hitting the shed doors.
Wooden sheds are quite durable. Solid wood can handle a lot of pressure and will stand up to some crazy weather. Wood is one of the best materials you can choose for a shed and you can trust it to keep your things safe.
Lastly, lighting may also need to be a consideration. If you want to avoid getting an electrician in, think about using outdoor solar lights. There are many good choices available that will light up the outside area and can be carried into the shed if needed.
Wood Vs Metal Vs Plastic Sheds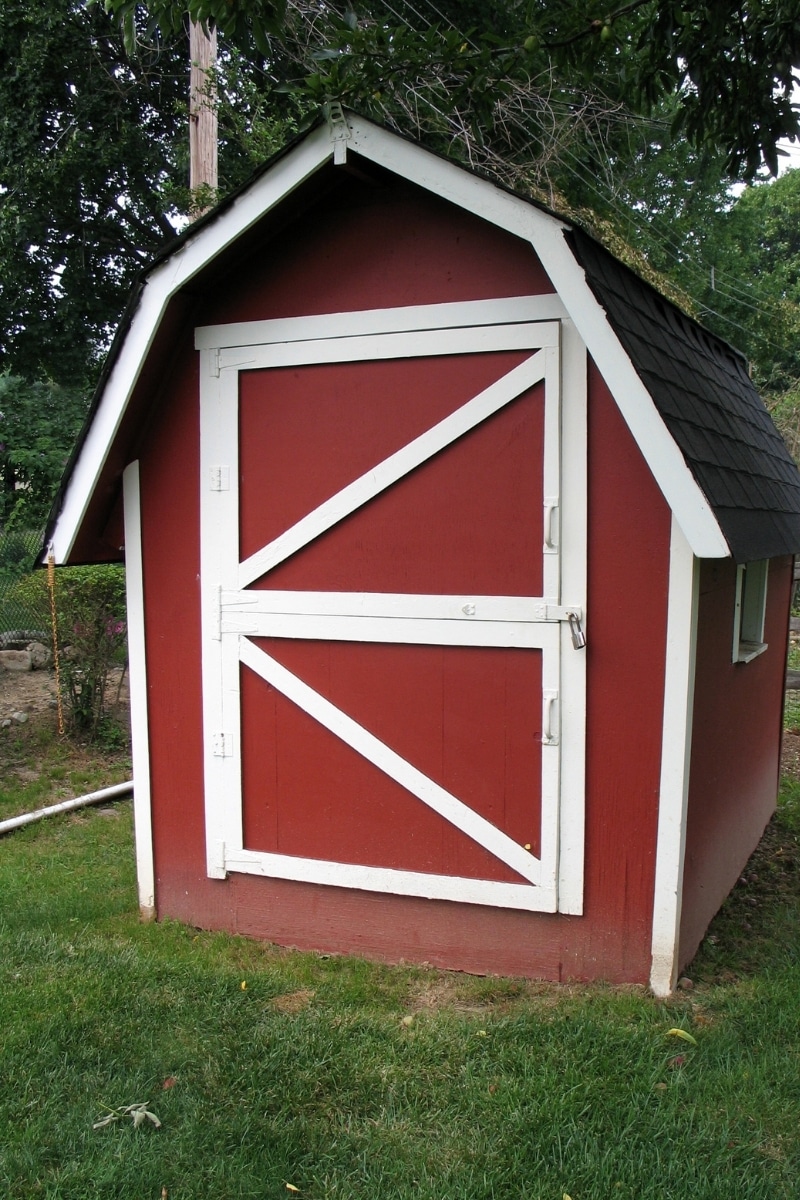 Let's look at a comparison of the different shed materials to see how they stand up to each other.
1. Wood
Not only are wooden sheds durable, but they look great in your yard.
Wood is highly customizable, so if you're looking to match it to your home, you can do that. You can also easily customize the inside of a wooden shed by adding shelving.
It isn't the greatest idea to do this to metal or plastic sheds as drilling into them will cause damage.
Wood doesn't rust, and most wooden sheds use treated wood to prevent damage from nature. High winds and stormy weather are no match for solid wood sheds.
However, if the wooden shed you're building isn't treated, it will be prone to rotting and possible insect damage. Soaking the wood in a preservative will help prevent this.
2. Metal
Metal sheds tend to be the cheaper of your three options, so they are a popular choice.
Metal can be quite durable. However, the metal that these sheds use is usually a little thin. Due to this, heavy objects can dent and break the shed. So, be careful what you put into the shed.
You should also consider severe weather. If you live in an area that gets severe weather, look out for rust. Metal can easily rust, especially if it's in a wet environment for long periods.
It goes without saying, rust will cause faster aging of the shed.
3. Plastic
Plastic sheds are gaining popularity due to their affordable price, easy cleanability, and rust resistance.
Plastic sheds are also much easier to set up compared to wooden or metal sheds. They don't require as much handiwork. Plastic sheds are somewhat durable, but damage can still happen.
Plastic is a light material, meaning that it can't hold extremely heavy objects. So, if you're looking to put your riding lawnmower in it or add shelving, you might want to consider a different material option.
Plastic sheds can easily crack under pressure or due to extreme weather. The fate of your shed all depends on what you plan on using it for.
Wooden Shed FAQs
Here are some common questions that people have when considering getting a shed.
Is it cheaper to build your own shed?
Building a shed from scratch can cost you slightly less than if you bought one. It depends on material prices at the time of building. Shed Hub is a good source of information on building costs, shed styles, and everything else shed related.
Does my shed need a base?
Generally, it is a good idea to put a base or foundation underneath your shed.
This will keep the shed level and prevent water damage. It also gives the frame something solid to be built upon that won't move as much over time.
Are Tractor Supply sheds good?
The wooden sheds from Tractor Supply are well-reviewed.
There are so many options, from small to large, that it's hard to comment on all of them here.
They also greatly vary in price. They have everything from a $15,000 "log garden kit" to basic small wooden sheds for a few hundred dollars.
If you want a cheap wooden shed, it's best to check out the range at Amazon or Home Depot – they have more of those entry level models.
What's cheaper, a metal or wood shed?
Metal sheds are usually cheaper and easier to build. This, of course, also depends on how big the shed is.
A small wooden shed can sometimes cost less than a large metal shed.
How much does it cost to build a wood shed yourself?
Building a shed from scratch will cost about $2,500. You'll notice that this price is similar to some of the sheds on this list.
Can you live in a wood storage shed?
Technically it is possible. But if you wanted to truly live in one, you'd need running water and electricity.
Legally, it depends on your state and town's zoning laws. You'll need to check with your town on whether you can do this.
The Pipsqueak mini wood stove is popular in the UK for this type of thing.
What type of shed lasts the longest?
Wood tends to be the sturdiest of your options, so wood sheds will last the longest.
Wood is heavy and can handle a lot more than metal and plastic sheds. It doesn't rust and stays put in severe weather.
How long will a wooden shed last?
Wooden solid build sheds can last for over 20 years, depending on how well you take care of them.
It might need some new paint during that time, but other than that, it should stay standing.
Are plastic sheds better than wood?
Usually not.
Since wood is heavier, it can usually stand up to more damage than plastic. However, some plastic sheds are more durable than others.
It depends on the thickness of the plastic and the overall craftsmanship of the pieces.
There are also wood composite sheds that have both wood and plastic materials.
Are wood shed kits any good?
It depends on the one you buy. You'll want to look at reviews to see what people have to say about the building process.
There are some unreliable, cheap wood sheds out there, but most of the time, wood shed kits are a good choice.
The ones on this list are good options for the price. Most come with easy instructions and illustrations to guide you through the building process.
What Wood Shed Should You Get?
Figuring out which shed is best for you depends on the purpose you need it for.
Overall, the best wooden shed option is the Shed Master barn-style wooden shed. It has a large storage capacity and sturdy materials.
The second recommendation is the Home Depot storage shed, due to its large storage capacity and intriguing features. However, it doesn't have walls, so it falls just behind the Shed Master barn-style shed.
At the end of the day, it will depend on your budget, the type of style you like, and how big or small you need it to be. There are TONS of other solid build wooden sheds out there as well, but hopefully, this has given you some ideas and inspiration.
For a permanent build, it's best to invest a bit more money into it. Even if you only need a small wood shed, spend a bit more to get or build something that lasts. The best wood shed is one that's constructed with care and quality materials.
Once it's up, you'll have somewhere to store your axe collection!