Is the Stihl MSA 200 C a good chainsaw?
It is Stihl's mid-range battery-powered saw – more powerful than the MSA 161 or MSA 140, and less powerful than the MSA 220 and MSA 300.
The 200 is good for light tasks around the home; pruning, limbing, and light firewood duties. It's also a popular chainsaw for construction sites or chainsaw carvers.
This is what users think of the MS200c…
Stihl MSA 200C Chainsaw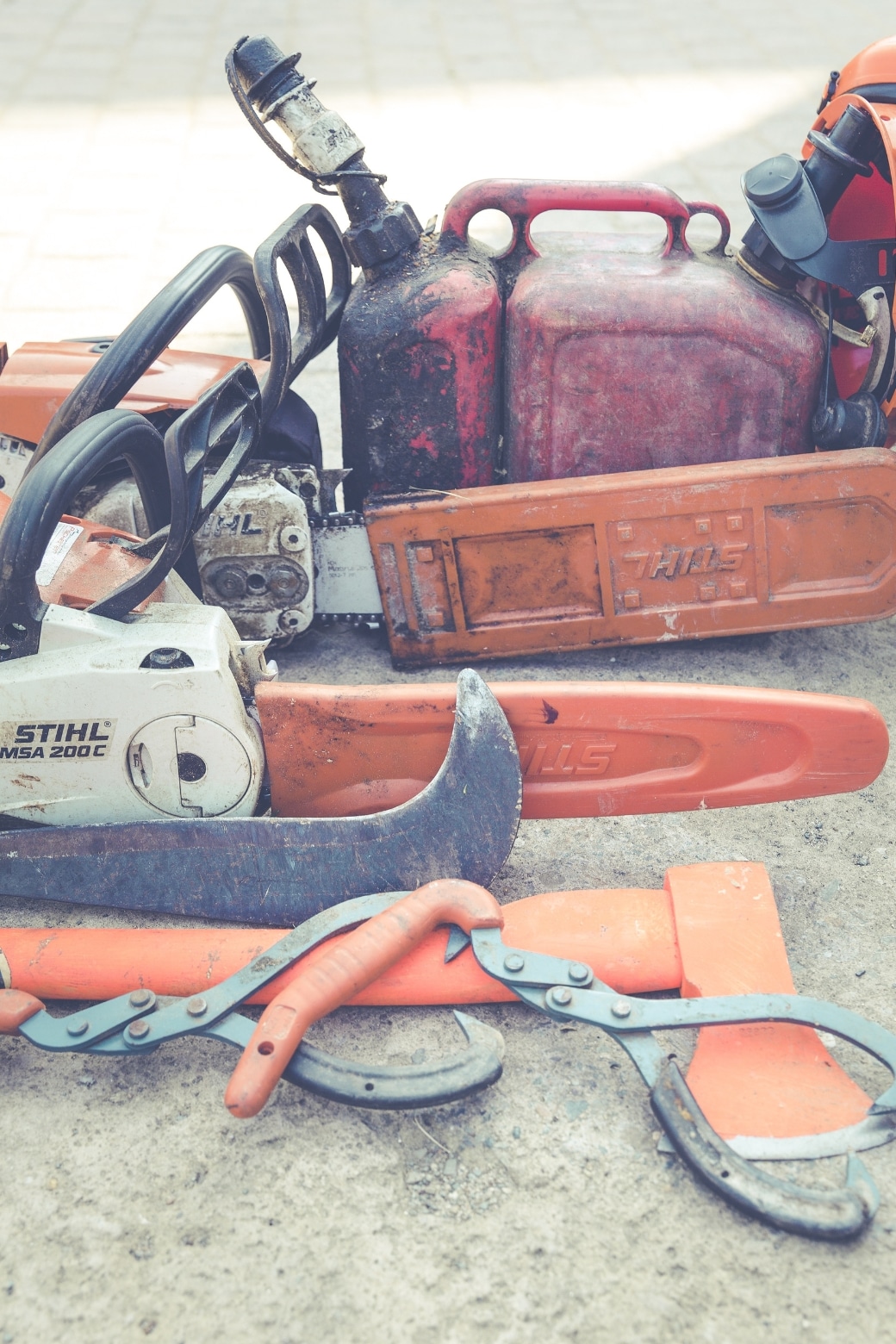 There is only one version of the 200c, but you'll see it listed in different ways.
Most often it's listed as the Stihl MSA 200c, but sometimes you'll see it as 200 C-B – these are the same thing.
The C means it has a comfort feature, while the B is the specific comfort feature. In this case, B = Quick Chain Adjuster, which means you can tighten the chain without tools.
The saw isn't a heavy-use saw but is designed for trimming, pruning, light firewood use, and those sorts of things. It can be kept in your vehicle to remove light branches off the road, and it also makes for a good camping saw (as we'll see below).
Battery-powered chainsaws do not generally make good primary firewood chainsaws – you're much better off getting a good gas-powered saw that will get through things much quicker and easier.
However, battery saws are much better if you want something quiet, light, and that doesn't produce fumes.
Stihl MSA 200 C Reviews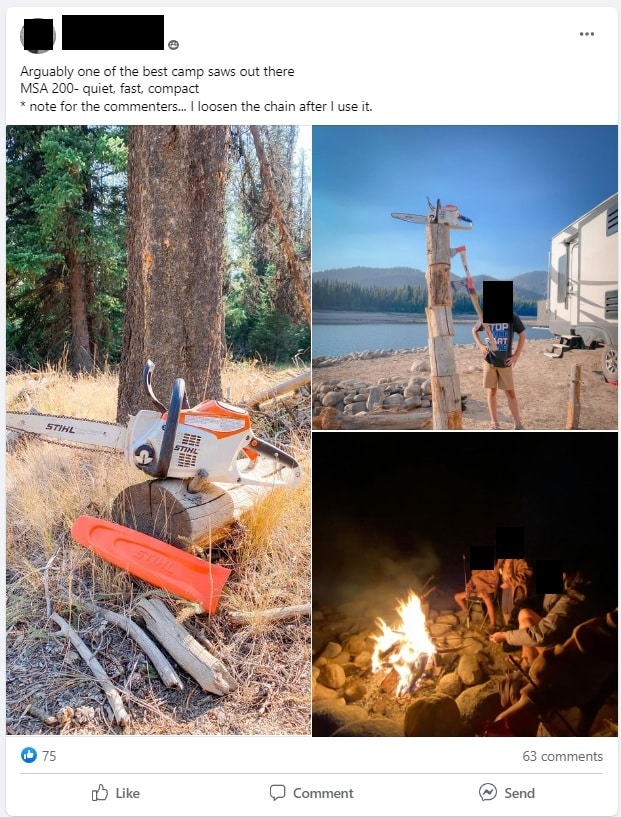 The above post from the Stihl Chainsaw Fans FB group had a lot of useful info on the saw.
The post says:
Arguably one of the best camp saws out there

MSA 200- quiet, fast, compact
Here are some comments about the saw from this post and others.
Pros/agree:
The purpose of THIS saw for me is the quiet operation in the wilderness/hunting areas where I don't want to make my life more difficult with unnecessary sound. That's why I think it's a great camp saw.
I have an MSA 140 at our fire pit. Works great, half the price of the 200 or 220.
I own the MSA200 unit… a great small saw… no fuel smell inside the vehicle or camper… very smooth cutting saw chain… 14" 1/4 pitch saw chain has as many cutters as a 20" 3/8 chain has…
My girlfriend has the MSA 200 C. It works just as well as a small gas saw. It's great for smaller trees and limbs. If you use it pretty steadily, the battery lasts as long as a tank of gas. Definitely recommend the larger battery, and have two batteries. The nice thing is that the same battery system fits the electric pole saw, hedge trimmers, weedeater, leaf blower, and lawnmower.
Gotta admit I really love my 200. Cuts really nice and fast up to like 8″ diameter. I've been limbing up 16″ diameter trees that I've been dropping. Can do it all in one charge too.
Cons/disagree:
Seems like a pain when you run out of gas for your generator to charge the battery. I'd just use my 201 T M-Tronic. I mean for 600 bucks you might as well get a compact climbing saw. That's just my opinion though.
Works great on twigs.
I would hate to have a contingency saw with limited battery life. I'd tote a dry Echo or MS 170 and some sealed fuel. I really like some of my battery tools like a Ryobi blower but there's always a gas backup around lol.
Buy a 170 and toss a skip tooth on it. Small light fuel-efficient run time on one tank. Carry a qt of bar oil and a small pre-mix can and you can run for an afternoon if you have to. Electric saws are trash.
They sound like a sewing machine and are pretty gutless.
This comment comparing the MSA 200 to the MSA 220 is helpful:
I was just reading up on both. The 200 runs a 12 to 14 in. bar whereas the 220 is 14 to 16in. The 220 seems a little better built.

The other thing you need to consider is run time on the battery. I personally would not go any smaller than the AP 300 and on a chainsaw. And I would probably bump up to the next battery size for a longer run time.

The 200 comes with a 1/4 pitch chain, I hate that pathetic little chain. The 220 comes with .50 ga. Picco.

I have only talked to a couple of people that are using these Stihl battery saws and they really like them. I would do some reading and comparing.
Most buyers and users are happy with the 200c.
Not everyone is going to accept them, and that's OK!
There are no true gas-powered equivalents because battery and gas saws are so different, but it's more like the MS 170 or MS 180 (entry-level saws) than anything else.
Specs And Features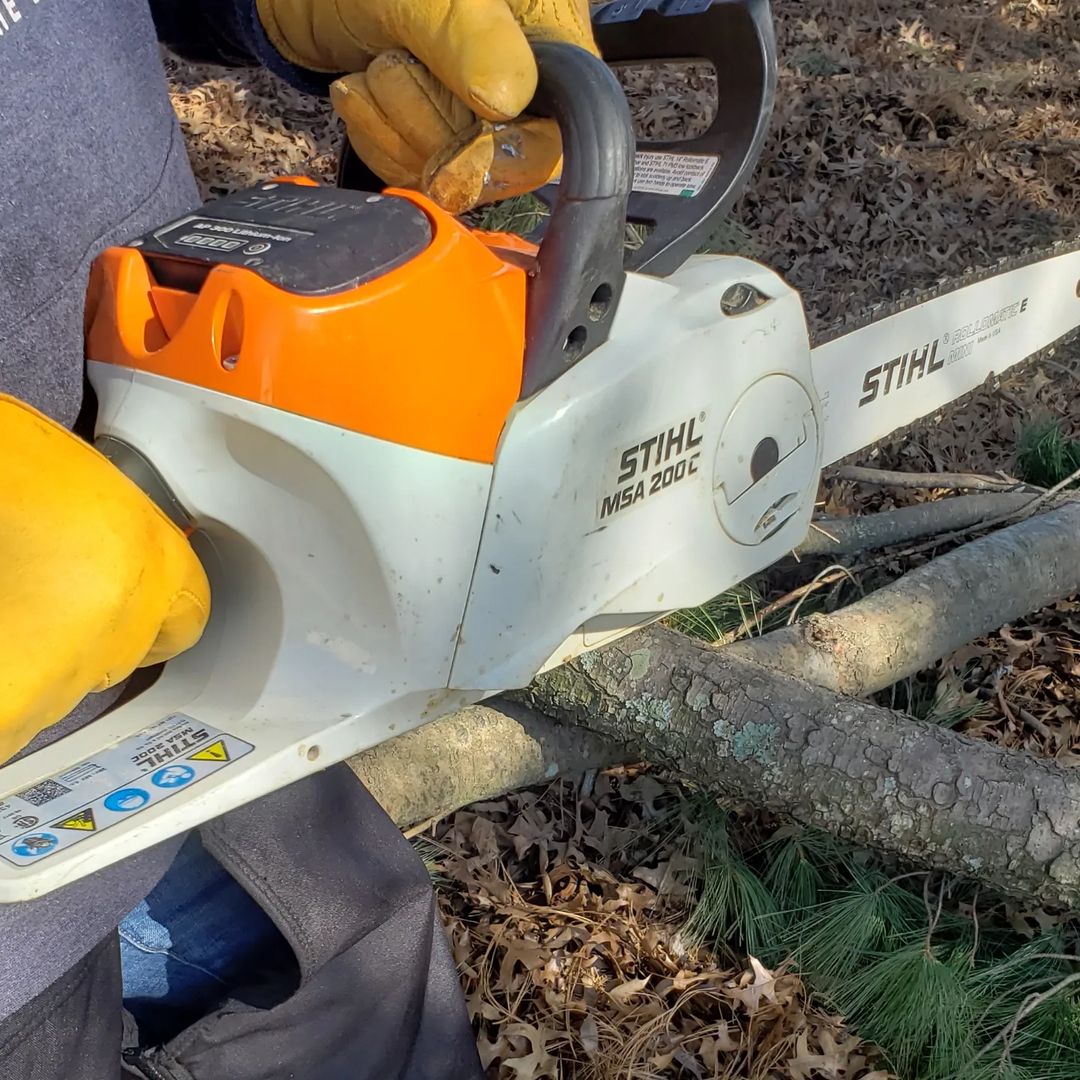 All Stihl battery saws are good when used as they're designed to be used, the difference between them is that they're more or less powerful.
A more powerful chainsaw will let you work faster and allow you to cut through harder and thicker wood. The best Stihl battery saw for you really depends on what you want to use it for (as with everything).
The Stihl MSA200c is a 36v saw weighing 3.3 kgs or 6.4 lbs without the battery. It requires bar oil for lubricating the bar but, obviously, doesn't require engine oil or gas.
It is recommended for use with a 10 – 14-inch bar, and is usually sold with a 14″ (35 cm).
The saw can be used with all the AP model batteries (AP 100, 200, 300, 300s) and the AR backpack batteries (AR 1000, 2000, 3000). The AL series chargers are compatible with these batteries.
The AP300 is the recommended battery for this saw and you will be able to get up to 45 minutes of run time with it. The MSA200c can usually be bought as a bare tool or with a battery and charger.
The battery also works with other AP-compatible chainsaws, pole saws, weed eaters, etc.
Specs:
36 volt
6.4 lbs or 10.2 lb with AP300 battery (recommended)
1/4″ PM3 oilomatic chain
7.1 oz. chain oil capacity
The saw comes with all the standard features – auto oiler, soft rear handle grip, toolless fuel tank cap, and chain brake.
Stihl MSA 200 Chainsaw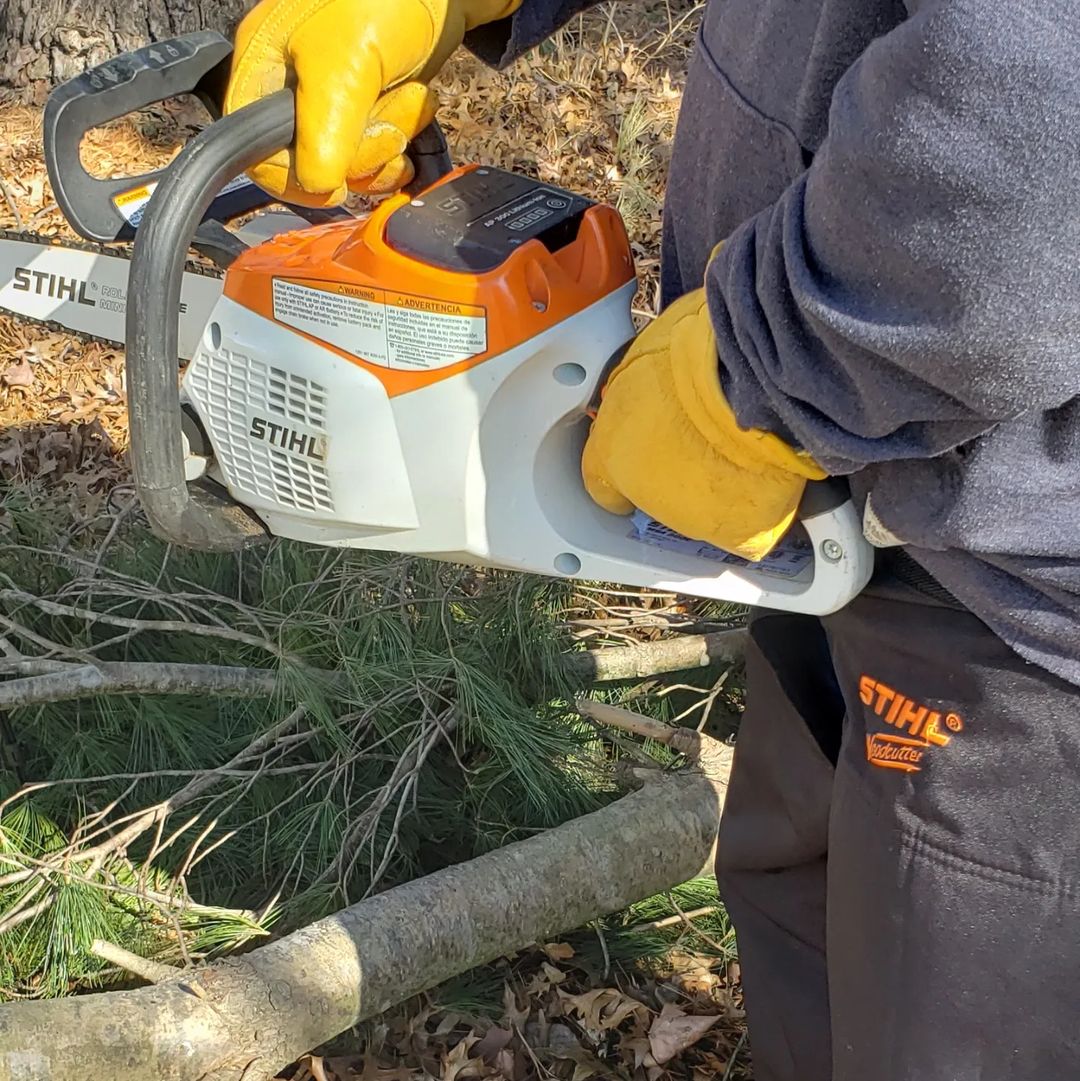 While not everyone is a fan of Stihl battery chainsaws, they certainly have their place.
I like battery chainsaws for short tasks. You just pick them up pull the trigger and away you go. There's no time spent fueling and starting it up.
However, I would never use my battery saws for firewood – they run too slowly and gas-powered saws are superior for this kind of work.
Good gas-powered alternatives to the SA 200 C, for those who are interested, are the MS180, MS230, or MS310.
The MSA200 c price isn't too high, but if you need to buy a battery or two it does start to get a bit steep. Remember, you can use these batteries for other Stihl power tools!
Let us know your thoughts in the comment section below.