Fireman's axes are an essential component of the firefighting toolbox.
They are designed to perform under the most rigorous conditions.
You can choose from three general types:
Flat head
Pick head
Pulaski
The axes are long-handled tools with a wide blade used for cutting through wood, fabrics, and other materials.
Check out the complete list!
Best Fireman's Axe
There are many different types of axes, and the fire axe has to be one of the coolest.
Personally, I really like the firefighter's pick axe over the broad axe, but they each have their place.
Here's more info about these best-selling fireman's axes.
1. Truper 30529 Hickory Handle
Truper 30529 Hickory Handle is a handy axe that is high quality and durable. You can use it for home, sport, recreation and more.
It has a 35 inches wood handle with an ergonomic design that ensures comfortability. The axe is fire-resistant and heavy-duty.
The axe's material is carbon steel. It is sharp and comes with clear plastic to cover the blade. You can purchase it at an affordable price.
Pros
Wood handle with ergonomic design
Fire- resistant
Sharp out of the box
Cons
---
2. Council Tool Forcible Entry Flathead Hickory Handle
Council Tool Forcible Entry Flathead Hickory Handle is one of the best overall fireman's axes.
It has an ergonomic design that improves performance and reduces any fatigue. You can use it for fire fighting, chopping, battering, etc. It can also be used as a felling axe, so you chop larger trees.
Its style is a single-bit axe with a 36 inches curved American hickory handle. The axe has a forged 4140 steelhead, made in the USA.
The axe's head is sharpened and balanced. It is hydraulically seated onto the handle and secured with a wooden and steel wedge. It is a flat-headed tool and it's one of the best fire axes for sale.
Pros:
Ergonomic design
Firefighter multi-tool axe
Curved American hickory handle
Sharpened and balanced head
Firefighter flat-headed axe
Forged 4140 steelhead
Cons:
---
3. 6-Lbs Fireman Axe
This 6-Lb Pickhead Fireman's axe By Council Tool is a fully functional tool made in America.
It is used in numerous fighting applications. And forestry works.
The axe has a big head for cutting and a steel pick incorporated. The axe head is made from forged tool steel.
It is heavy, sharp, and made of high quality. You can choose from two versions, the 32-inch hickory wood handle or the 36-inch wood handle.
This model is a firefighter pick head axe with a 36 inches curved hickory handle.
Pros
Fully functional
Togged tool steelhead
Two versions
Cons
Easily scratches the head of the axe
---
4. United Cutlery Black Savage Firefighter Axe
United Cutlery Black Savage Firefighter Axe is one of the easiest axes to carry without any problem.
This small axe has a stainless steel construction and its overall length is 23 1/2 inches.
The axe has a razor-sharp edge which helps it deal with the most challenging works. It has an extra thick axe head with a rubberized handle to ensure a slip-free grip.
Since it is a small fireman's axe, you can carry it easily wherever you want as a personal fire axe.
The axe's head is compact, making it easier to spill wood.
Pros
Easy to carry
Razor-sharp edge
Extra thick and compact shape head
Rubberized Handle
High quality
Small and lightweight
Cons
Not usable for every work
Heavy head
---
5. Gransfors Bruk Splitting Maul
Gransfors Bruk Splitting Maul is one of the best fireman's axes that you can use to split thick, hard chunks of wood.
It cuts quickly into the wood and then breaks.
This model is high quality and durable. Hard steel and concave grind provide sharpness to the axes. The extra thick axe ensures stability in the most challenging works.
Its weight is 7 pounds, making this model the heaviest axe made by Gransfors Bruk. The length of the handle is 31.5 inches.
The axe is light, easy to use and control, and sharp – all-in-all, a good firewood maul.
Pros
High-quality and durable
Light to use and control
Sharp
Ideal for splitting thick wood into large pieces
Cons
It is not precise and ideal for small pieces
Heavy
High price
---
6. Firefighter Axe, Two Hand Axe
This two-hand firefighter axe is one of the best emergency axes on the market.
Its handle material is wood, blade material, and carbon steel. Its head construction is in carbon steel and forged.
It has been used for more than a century by most firefighters worldwide. You can break down walls, windows, or doors to help those in need get in and out quickly, easily, and safely.
The axe has an approximate length of 35 inches.
This axe chops the axe on one edge and heavy-duty picks on the other. It feels great in hand and gives comfort while working.
It's a perfect gift for a firefighter.
Pros
The high-quality material of wood, blade material, and carbon steel
Comfortable
Sturdy and heavy
Cons
Shipping can take some time
---
7. Firemans Axe Types On eBay
eBay offers a wide range of firefighter axes from different well-known brands. You can choose from used or brand-new axes.
For example, I like the Vintage Custom Fire Tomahawk Fireman Crash axe. Also, consider looking at the USSR Russian Original Mason fireman axe.
You have a lot of used options available also.
Some of the best fireman axes are from these brands:
Vintage fire axe original
Collins
Kelly
---
Best Fireman's Axe Features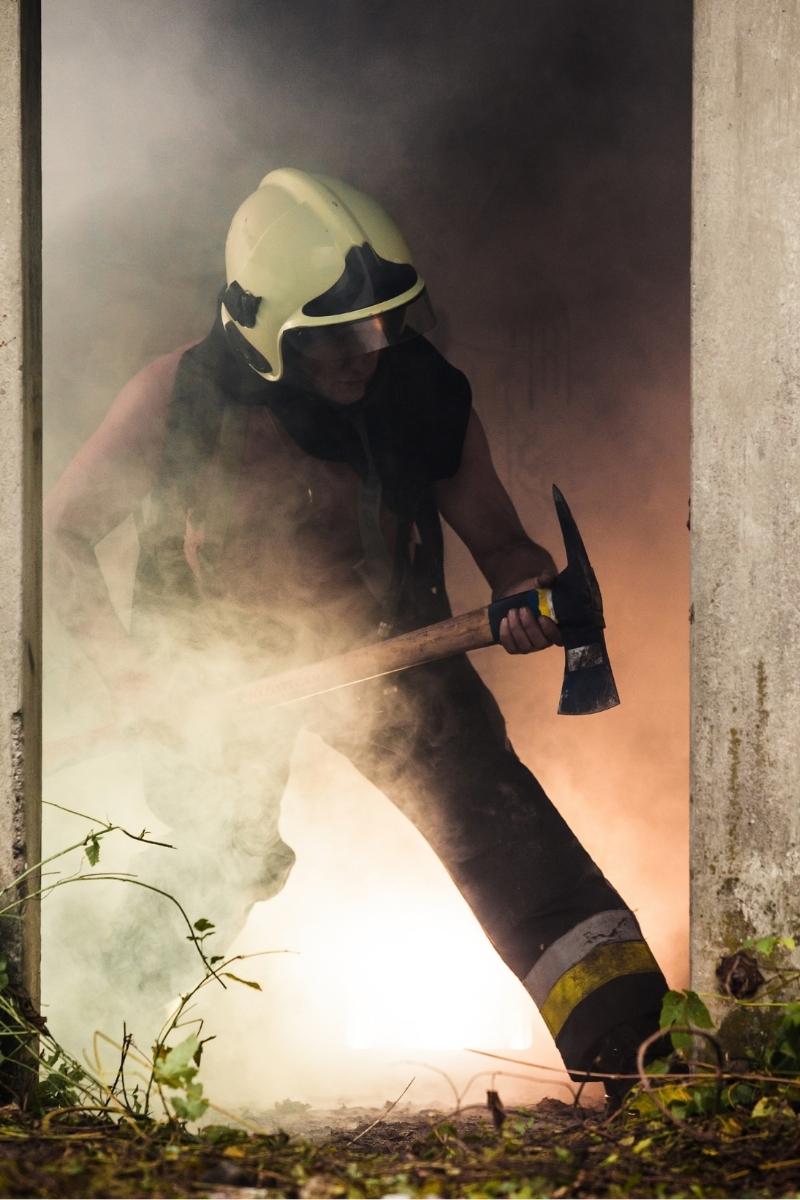 When you think of the best features, consider knowing more about the axe head and the types of axes you can choose from.
Your axe head should be premium quality to have a long lifespan and better overall performance.
The ideal axe head has high-quality steel with the right amount of carbon.
Carbon provides:
Durability
Stability
Strength
Sharpness
After that, another thing to consider is the model. Single or double bit axe head?
The bit means the sharpened edges of the axe, so a single will have only one side, while a double has the blade feature on both sides.
One of the double-bit axe head advantages is that you can use it for two different tasks.
There are three main types of axes:
Felling axes
Splitting axes
Splitting mauls.
You can use felling axes to cut down larger trees.
This axe has a heavy head and a long handle to have more force. If you want to purchase a felling axe, buy it from a well-known brand to avoid any failure.
Splitting axes are helpful tools for splitting wood. This axe is light and easy to use.
Compared to the splitting mauls, this model can be used for different tasks such as fire tending, building applications, etc.
You can use splitting mauls to split logs for firewood. It is heavy and difficult to use if you have low strength.
Choose the option with the features to complete your work.
Firefighter Axe Weight And Length
What weight should I consider the ideal weight for my axe?
Is it heavy? Or lightweight?
The standard weight of the axe is about three pounds, which is manageable for people of upper strength.
The heavier fire axes are five to seven-pound and are mainly used to split wood or in fallen trees.
The weight depends on the usage. So, choose the axe; it helps you with the work.
Choosing the right length is essential to ensure excellent working performance.
Make the right decision by picking up the handle length depending on your length.
If your length is about six feet tall, you should choose a handle 31 inches size. These axes are suitable for log splitting applications.
On the other hand, if you are shorter than six feet, the handle length must be closer to 28 inches.
Fireman's Axe Handles
When looking for the best fire handle axe, consider information about the material construction and design.
Most firefighters go wild and choose hardwood materials for handles. The best materials are hickory and ash, which provides durability, strength, and good overall performance.
The synthetic material is good but might not be comfortable while used since it is more slippery than the wood options. It becomes more challenging to use it when you wear gloves.
Despite the material, it is crucial to check the design of the handles. The ergonomic design provides high comfortability; you can work for hours and not feel tired.
Gift Fireman's Axes
If you are thinking about a present idea for a firefighter, then you must definitely consider the Firefighter Axe-Cherry Wood.
Despite its fantastic design, the outstanding feature is the chance to add your personalization.
Isn't it unique?
Well, it is, and the lucky one that takes this present will thank you a lot.
The axe is handmade, and it is 21 inches long and 9 inches wide. The construction material is cherry, wood, paracord, lacquer, and laser engraving.
It is wrapped up in 550 paracords, and at the top and bottom are Turk's head knots. The color red and black is standard; however, if you want to combine other colors, it is possible.
Perfect gifts are the ones that express your whole life in a second!
Fire Axe FAQs
Here are the most common questions related to purchasing fireman's axes.
What is a fireman's axe?
Fireman's axes are helpful tools used in urgent situations for rescuing purposes.
Depending on your need, fire axes can chop, smash, break, or split.
Are there different types of fireman's axe?
Yes, there are numerous types of fireman's axes. However, the two most well-known are flat head and pick head axe. You can use them to smash a window, door, and more.
Is a pickaxe and fire axe the same?
No, they are not the same.
Pick axe is a useful multifunctional tool for gardeners, and farmers, while the fire axe is explicitly designed for firefighters.
Can you split wood with a fireman's axe?
Yes, you can, but you should choose the right type to perform this process.
There are two methods; you can spill with the splitting axe type or with a maul.
A splitting axe is used to separate the wood fibers. This axe is slim, lightweight, and has a sharpened blade to perform better.
A maul is a heavier, longer-handled tool that splits the wood fibers apart. It has a comprehensive and V-shaped head. The only disadvantage is weight. However, it depends on the person.
What is a pickaxe used for?
It has a wide variety of field uses. The pickaxe is generally used in landscape, farming, ice, tile breaking, or root removal.
You can use it to remove roots by breaking the solid around the tree. Or you can use the Pick axe to break the dry or rocky soils.
How heavy is a fireman's axe?
A pick head axe weighs from 4 pounds to 8 pounds. A flat head fire axe weighs 6 pounds or 8 pounds in comparison.
Why is a Fireman's axe red?
The fire axes have a bright red color to provide more visibility and safety to the people around.
Especially in emergency situations, you want to be able to find it quickly.
It's also similar to why many different chainsaw brands sell orange chainsaws – Stihl and Husqvarna, for example. It means you can easily find them in the woods.
What's the difference between a mattock and a Pulaski?
Mattock is a gardening tool with a two-ended head and shaft. It is used to cut roots, dig and chop.
Pulaski is a multifunctional tool used for digging, gardening, chopping wood, trail construction, etc. Its built-in materials are steel, iron, and carbon steel, making this axe durable and sharp.
Firefighter Axes For Sale
In conclusion, there are many fire axes that you can use for specific actions.
However, the best overall firefighters axe is definitely the Truper Pulaski with a sharp and balanced flat-headed ax.
You can use it for different actions, such as chopping, battering, and fire fighting applications. It has an ergonomic design that improves your performance and reduces any fatigue.
It has a higher built-in quality, ergonomic design, firefighter multi-tool axe, more positive reviews, and higher ratings compared to the other models.
So, get ready to say hello to your new fire axe or maul, or find out more about the differences between axes and mauls!