The Ooni Koda Pizza Oven comes in two sizes – the smaller Koda 12 and the larger Koda 16.
It is a propane gas pizza oven, but it can also be converted for use with natural gas.
It is not considered a multi-fuel oven like the Ooni Pro 16 as it cannot be used with wood pellets, charcoal.
However, as with all of Ooni's pizza ovens, it heats up fast and cooks great pizza.
Here's what you should know about the Ooni Koda range.
Ooni Koda
The Ooni Koda pizza oven has two different sizes.
You can fit 12-inch pizzas into one, and 16-inch pizzas into the other, much like the Karu which also has these two size options.
The main difference between the Karu pizza oven and the Koda is that the Koda only uses gas as its fuel, whereas the Karu is multifuel.
When using propane as fuel, there's obviously no need to have a chimney jutting out of the top of the oven.
Since propane burns without producing smoke or ash, the chimney vent would be useless.
By not having a chimney, there's no chance wind will disrupt the flames or blow ash all over your pizza, which can sometimes happen with wood cookers.
The Ooni Fyra is maybe the most popular wood-burning pizza oven, and it's a great choice for those who prefer that style.
Compared to using wood pellets or charcoal, gas ovens are by far the easiest to care for and clean.
After cooking with charcoal or kindling, I'm always left with ash at the back of my oven.
While wood ash is useful, it can just be a bit of a pain cleaning it out (though totally worth it if you prefer wood fire pizza).
To clean a gas-powered pizza oven, all you need to do is let it cool down completely and wipe off any remaining pizza crumbs.
Both the Koda 12 and 16 come with a built-in ignition system. You can use that to light the gas or you can use a match.
Both sizes are made from the same material, a carbon steel shell that's been coated in a heat-resistant powder finish.
Ooni made sure to insulate the shell too, but it still gets quite warm, especially when it reaches the 950ºF pizza cooking temperature.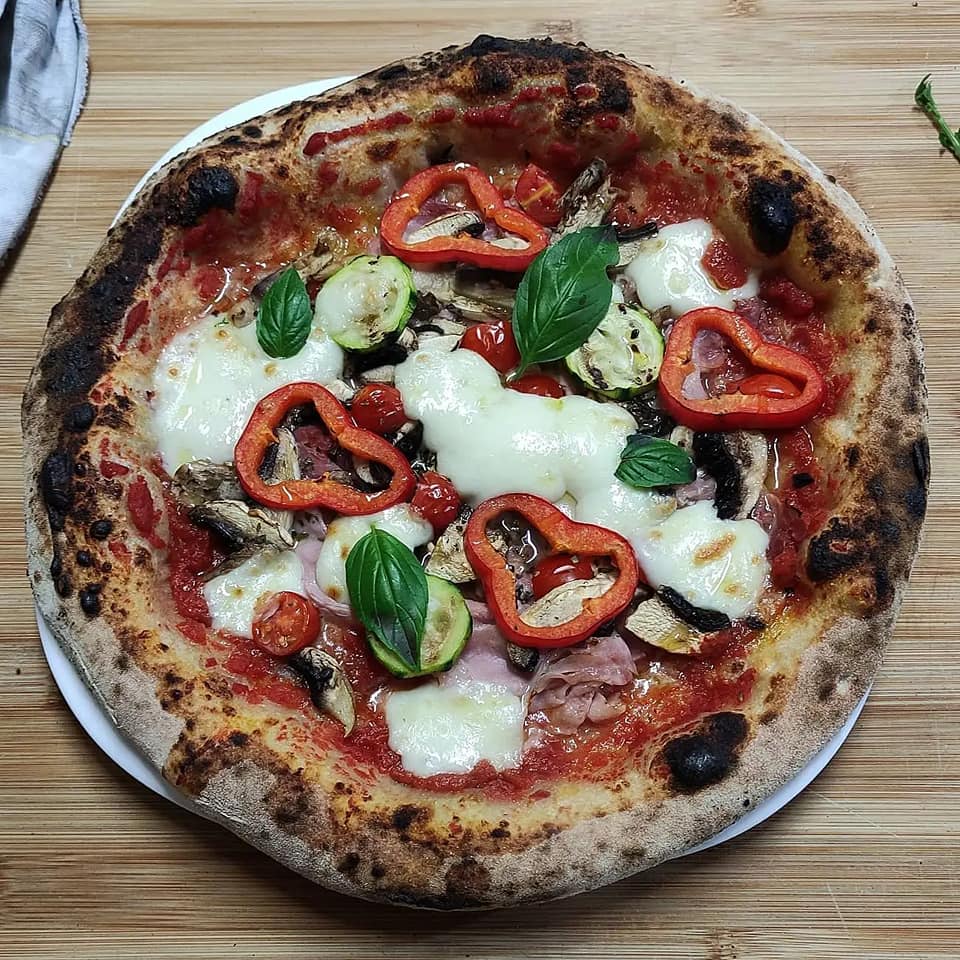 Both the Koda 12 and 16 take approximately 20 minutes to reach internal temperatures of 950ºF.
Once the internal temperature reaches 950ºF, pizzas cook in roughly one minute.
If you're worried that the flames might go out, leaving you with a running gas line, don't stress.
The Koda pizza ovens come equipped with flame safety devices that turn off the gas when the oven senses that the flames have gone out.
One problem I've noticed in both Koda sizes is how close my pizzas get to the flames at the rear of the oven.
To make sure your pizza doesn't burn, you need to watch carefully and rotate every twenty seconds.
Now that I've gone through the attributes these ovens share, let's break down how each of these units is unique.
1. Ooni Koda 12 Pizza Oven
Dimensions: 15.5" width x 24.4" length x 11.75" height
Cooking Surface: 13.2" x 13.2"
Materials: Carbon steel shell and cordierite baking stone
Fuel Type: Propane
Weight: 20.2 pounds
The Koda 12 is the lighter, smaller, and cheaper model in the Koda line.
Coming in at just over 20 pounds, the oven is extremely portable.
As long as you bring a propane tank, you can bring this oven with you anywhere and cook pizzas wherever you desire.
The Koda 12 is compatible with large propane tanks, like the ones you see attached to barbecues and small one-quart bottles of propane.
What You'll Find in the Koda 12 Box:
Ooni Koda 12 pizza oven
Cordierite baking stone
Gas regulator and hose
Ooni has a huge range of accessories that you buy separately, from laser thermometers to the all essential pizza peels.
You can also buy a natural gas conversion kit for use in the US – it's reasonably easy to install and makes sense if you have a fixed natural gas line.
Koda 12 Pros:
Gas flames mean easy clean-up
Large, L-shaped burner
Unbox and ready to use in less than 10 minutes
Gas flames give you more temperature control
Lightweight and portable
No chimney means easier set-up and storage
Oven's sleek finish looks stunning anywhere around your home
Koda 12 Cons:
Legs can be a bit weak
Gas flames singe pizza if you're not careful
Pizza oven shell can get hot
Can take up to 1.5 hours to cool down completely
Who Should Buy The Koda 12
The Koda 12 is perfect for a beginner pizza hobbyist.
Since it uses gas, you can get more exact temperatures.
You'll need to get used to the quick pizza rotations, though – f you don't, you might end up with burned pizza!
The Koda 12 and 16 are also good for anyone who lives in a city with a wood-burning stove ban.
Since the Koda line uses propane as its fuel, you can make pizza even if your city doesn't allow wood-burning ovens, like the Ooni Karu line.
2. Ooni Koda 16 Pizza Oven
Dimensions: 23.2" width x 25" length x 14.7" height
Cooking Surface: 16"
Materials: Carbon steel shell and cordierite stone
Fuel Type: Propane
Weight: 40 pounds
The Koda 16 is almost identical to the Koda 12, except it's much larger.
Weighing almost double the Koda 12, the Koda 16 weighs a total of 40 pounds.
Although you can still pack the oven up and take it on a trip, it isn't the most portable model Ooni offers.
What the Ooni Koda 16 is perfect for is cooking more than just pizza.
Since it's a gas-powered oven, you can safely put a cast iron pan or another safe material in the oven.
From there, you can cook whatever you like, be it roasted vegetables, seared steak, or anything you please!
Unlike the Koda 12, the Koda 16 can only use large, barbecue-sized propane tanks. Small, one-quart bottles of propane won't fit correctly on the regulator.
Make sure you always follow the instructions on gas ovens so you avoid any accidents.
The Koda 16 does have a small downside, though.
In other pizza ovens of this size and price, a thermometer is usually included.
The internal surface area of this oven is so large, it can take a long time to heat up properly.
Because of that, it can be difficult to get an accurate reading on a digital laser thermometer and impossible with a standard meat thermometer.
It would have made the oven significantly better if it included a digital thermometer to measure the ambient temperature inside the oven.
What you'll find in the Koda 16 box:
Ooni Koda 16 pizza oven
Cordierite baking stone
Gas regulator and hose
Extendable match holder
The Koda does have an electric ignition and doesn't need to be lit with a match, but you do have that option if you prefer.
However, I'm not totally sure why anyone would choose to use a match – any ideas?
Pros:
Gas flames don't produce smoke or ash, meaning an easier clean-up
Large, L-shaped burner
Ready to use out of the box, just attach the regulator to the oven and propane tank
Gas flames give you more temperature control
No chimney means easier to store
Sleek finish makes it fit anywhere in your house
Cons:
No thermometer included
Can't use small, camping size propane tanks
Not portable
Must turn pizza regularly to avoid singing
Pizza oven shell can get hot
Who Should Buy The Koda 16
Like the Koda 12, the Koda 16 pizza oven is a good choice for new pizza makers.
Since the oven is so large, beginners can experience the cooking style with a non-pizza dish first.
That way you can see how the high temperature affects the cooking time and how often you need to move items while cooking.
When I test out ovens like this, I usually use a vegetable dish.
Vegetables like bell peppers or carrots will burn relatively quickly if you don't keep an eye on them.
Essentially, this is a good way to train yourself for your first time cooking pizza.
However, there's nothing wrong with diving right in – you'll learn quickly that way!
Ooni Koda Review
The Ooni Koda 12 and 16 are both very good outdoor gas pizza ovens.
While they take a bit of experience to get used to using them, once you know what you're doing it's super easy.
They make delicious pizza that is sure to impress friends and family, and it does it really quickly.
The Ooni Koda pizza oven is well worth it for those who know they want a propane option and have no interest in using wood pellets in the future.
Ooni Koda Outdoor Gas Oven
If you're looking for an outdoor propane gas-fueled pizza oven, the Ooni Koda 16 or 12 makes for an excellent choice.
I hope you were able to watch some of the videos throughout this post showing how to set it up, use it, as well as hear the different feedback from users.
The Koda range is a great way to start cooking pizzas outdoors, and once you start, you'll find it hard to stop!