Back Country Foods is the Invercargill-based company behind Back Country Cuisine freeze-dried meals.
They make single-serve and family-sized freeze-dried meals that are great for tramping, hiking, camping, and hunting. Back Country meals also make for good emergency or survival food.
That's one of the reasons I've spent well over $1000 on these meals over the past year. I do use them for camp meals, but I don't mind buying a dozen at a time because they're good emergency meals to have on hand.
I've tried almost every meal they have on offer, and I can give you the results of my review here:

They're good, and I can recommend them!
They are for sale online and in stores throughout New Zealand, and you can find them in Australia as well. Here's everything you need to know.
Back Country Meals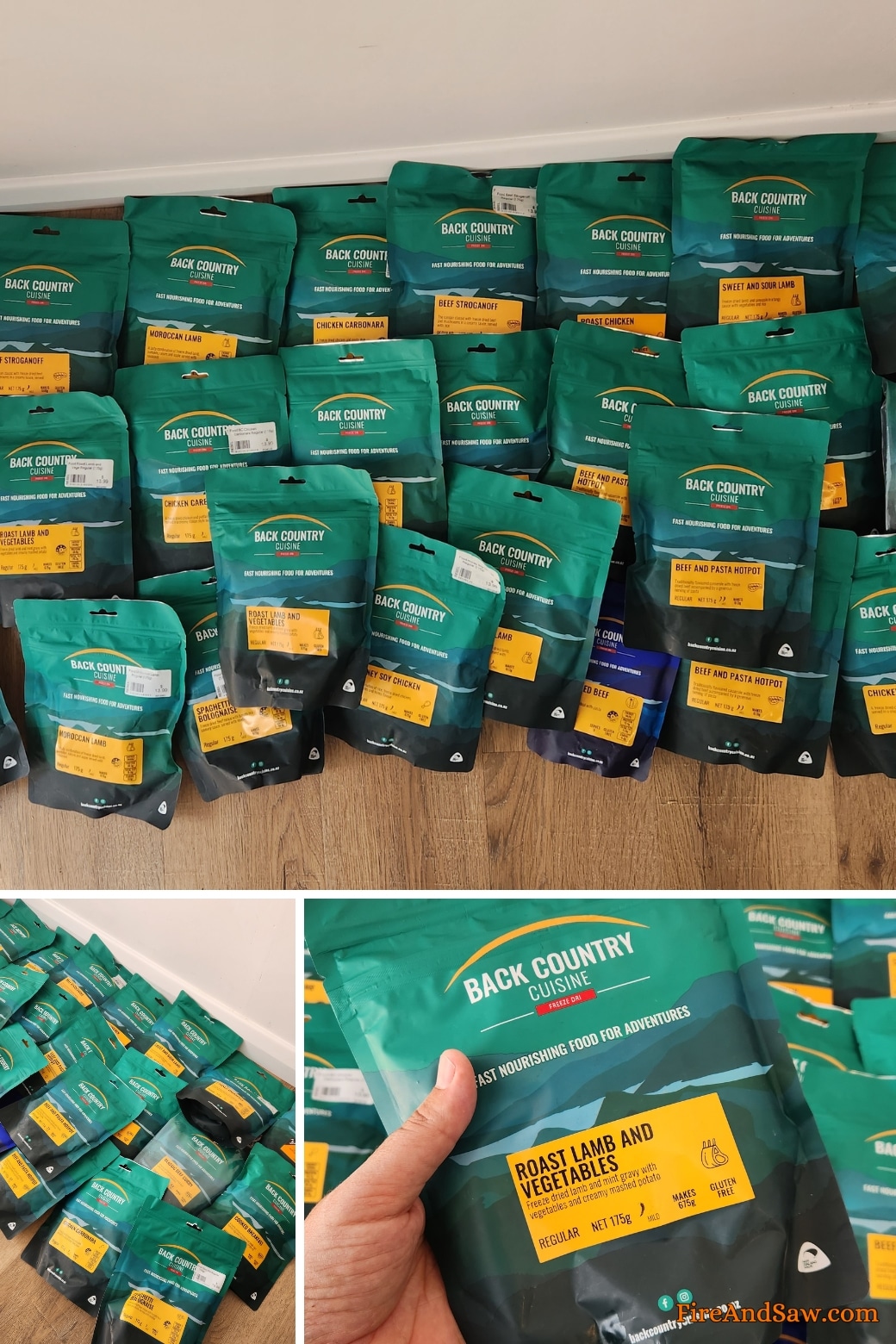 As I'm sure you're aware, there are many different Back Country freeze-dried meals to choose from.
The options include more traditional Kiwi or British food like cottage pie and roast lamb, but also include Indian, Japanese, Morrocan, Indonesian, Thai, and Medditarian meals.
I've tested most of them and they are all pretty good, though some are my favorites, like sweet and sour lamb, and others I don't enjoy as much, like creamy carbonara.
We mostly buy roast meals, pasta meals, and other "plain" meat dishes because our kids aren't into anything spicey or too exotic, unfortunately.
Freeze Dried Food Vs Dehydrated
The food is freeze-dried, not dehydrated.
The difference between the two is that dehydrated food has moisture removed by exposing it to the sun or heat.
Freeze-drying, on the other hand, is a more complex process that involves first freezing the food, then using a vacuum to remove the moisture. This process can take several days and requires specialized equipment.
The benefit of freeze-drying is that it removes most of the moisture from the food, which stops the growth of bacteria and enzymes that can cause spoilage. The result is a light, crispy and crunchy product that can be stored for a long time without refrigeration.
Freeze-dried food also retains its original flavor and nutritional content much better than dehydrated food.
All the flavors:
Beef and pasta hotpot
Beef bourguignon
Beef stroganoff
Beef Teriyaki
Butter chicken
Chicken carbonara
Chicken tikka masala
Classic beef curry
Cooked breakfast
Cottage Pie
Creamy carbonara
Fish pie
Honey soy chicken
Lamb fettuccine
Mediterranian lamb
Mexican chicken
Moroccan lamb
Mushroom and lamb risotto
Mushroom bolognaise
Nasi goreng
Pasta vegetariano
Roast beef and vegetables
Spaghetti bolognaise
Spicey beef nachos
Sweet and sour lamb
Tandoori chicken
Tasty chicken mash
Thai chicken curry
Thai green chicken curry
Vegan lentil dahl
Vegetarian stirfry
Veggie cottage pie
Venison casarecce
As you can see, there's quite a variety.
The only ones I haven't tried and the vegetarian and vegan meals. I don't believe in not having meat in these instances.
How To Use Back Country Cuisine Meals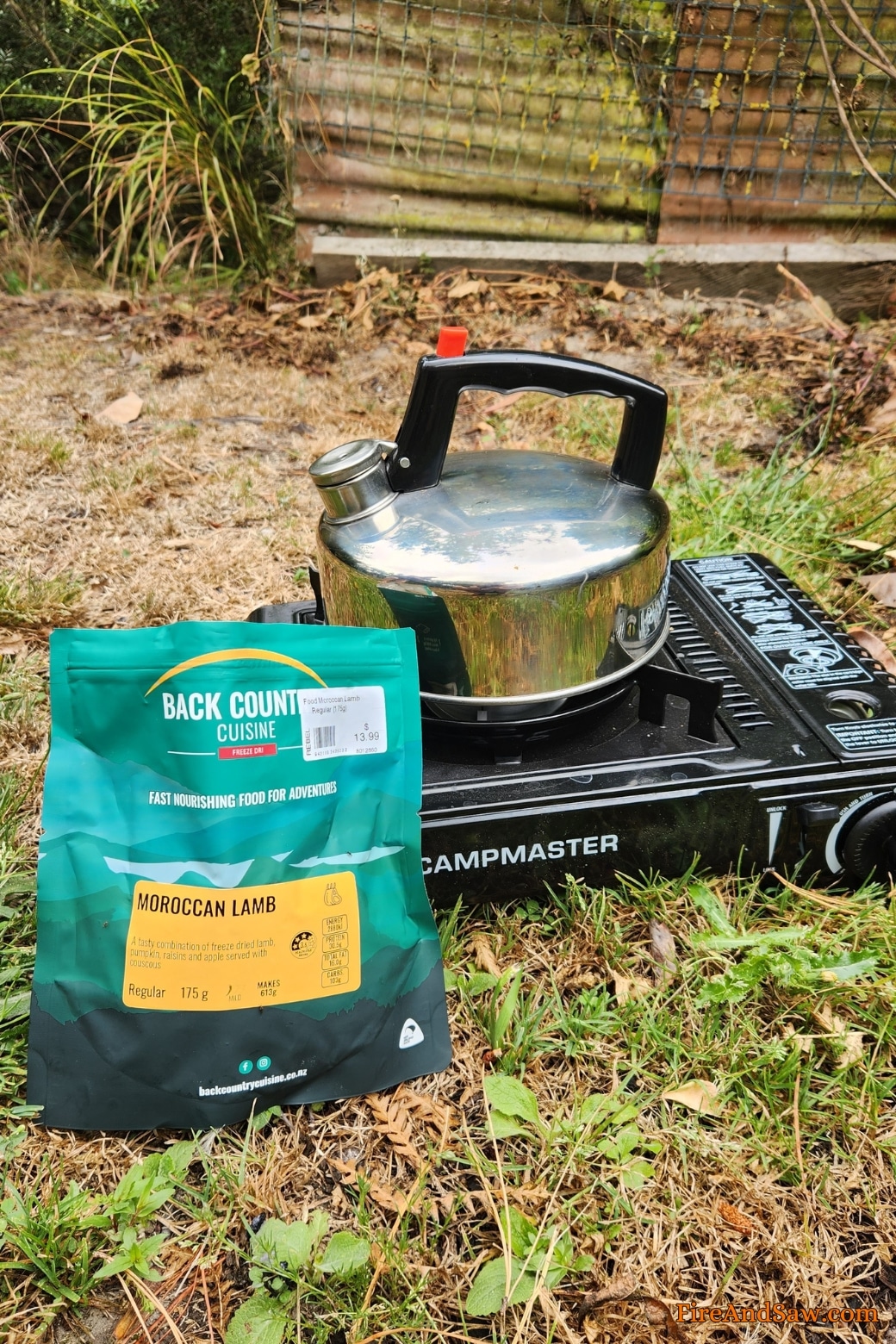 Making a Back Country Cuisine meal really isn't rocket science.
All you need is hot water and something to stir the packet.
I used a small propane gas cooker for this demonstration, but you can boil water on a fire pit, campfire, wood stove, or whatever else.
Once the water is boiled, open the packet and pour the instructed amount in. Each meal requires a different amount of water, but the packet has lines on the back of it to let you know where to go to.
Once the water is in, give it a good stir, making sure you get right into the edges.
Then seal the bag up and let it sit for 10 – 15 minutes – the hardest part!
Back Country Cuisine Review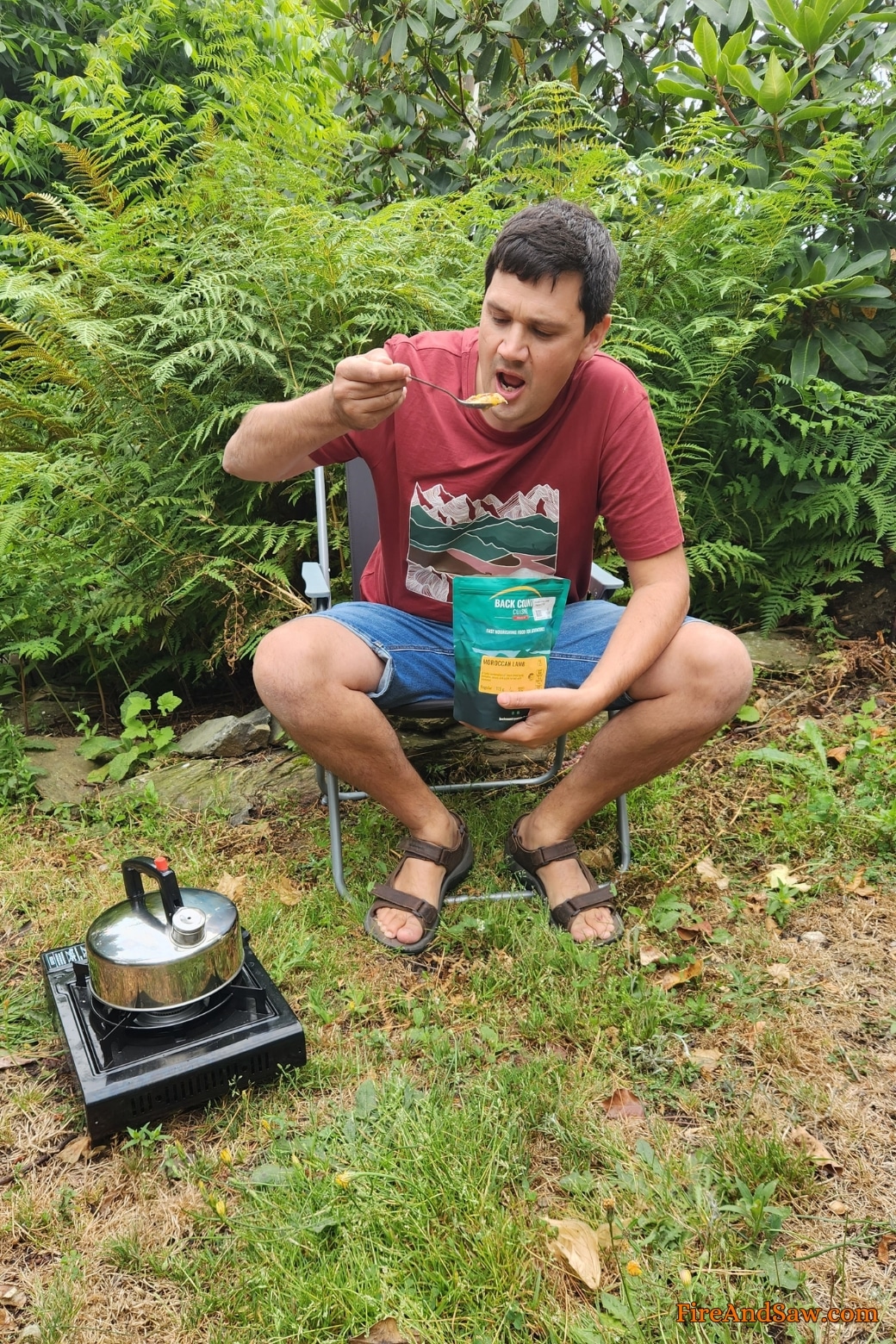 After the meal has been heated and rehydrated, give it another good stir before eating.
I'm having the Morrocan Lamb meal in this picture and it's delicious.
And as I'm sure you know, if you've had a long day hunting or tramping, it tastes even better. It's certainly a better camp meal than a can of baked beans!
Many people use them as make ahead meals for camping, as it saves a lot of planning, food wastage, and time. They're super easy to pack, don't take up a lot of space, and don't weigh much.
However, a bag does fill you up. If you have some bread or salad handy, you can even divide one bag into two portions and share it.
The food is nutritious and you get a good hot meal to warm you up and give you an energy boost to keep going.
Personally, I think the packs are very good, and compared to other freeze-dried or dehydrated meals available in NZ, these are the best.
Pros:
Small, light bags easy to pack and carry
Good-tasting hot meals that are healthy and filling
Easy to prepare and eat the food without creating a mess
A fair price point for a good meal
Cons:
Friends have said they think they're too expensive (I disagree)
You do need hot water, and without that, you can't eat
Freeze Dried Foods NZ
Compared to other freeze-dried foods I've tried, Back Country Cuisine is my favorite meal brand for hiking and camping.
I like keeping a good stash on hand as emergency or survival food in the case of an earthquake, flood, or other natural disasters (or for the next government-created/caused disaster). I wouldn't mind going through the apocalypse eating Back Country Cuisine!
You can pick these meals up at Kathmandu, Bivouac, Macpac, Torpedo 7, or Rebel Sport. They are now for sale at many supermarkets – I've seen them at Countdown, New World, and Pak'nSave.
Share your thoughts on this brand and its food in the comments below. And if you know of other better survival or camping food in NZ, let me know!