A forestry laser is one of the quickest and easiest ways to measure the height of trees.
Whether you need one for logging, forestry, and arborist work, or you just have a lot of trees you want to know the height of, a hypsometer is the tool you need.
As people are still learning about these devices, we have compiled a list of the best forestry lasers on the market today. With all the different brands and specifications, you can pick and choose which option is the best fit for you.
Best Hypsometer For Tree Work
Nikon Forestry Pro II

Measurement Range 8-1, 750 yard range
Functions include actual distance, horizontal distance, height, angle and verticle seperation, three-point measurement
Measurement results are displayed on both internal and external LCD panels

View On AmazonView On Northern Tool

TruPulse 200L Laser Rangefinder

Measures slope distance (SD) + inclination (inc) in degrees or percent
Calculates Horizontal distance (HD) + Vertical distance (vd) + height (ht) + 2D missing line (ml)
Distinguishes desired target from surrounding obstructions with closest + farthest + continuous + filter modes

View On AmazonView On Tractor Supply

Bushnell Hunting Optics Binoculars

Angle Range Compensation accounts for terrain angle, giving you true distance
The Prime LRF updates target distances 4x per second while panning
Coating bonds to exterior lens surfaces, and repels water, oil, fog, dust, and debris

View On AmazonView On Home Depot
*Compare prices with the large range at Cabela's.
If you plug the term into a web search, you will get many results for the best forestry lasers that are available both online and in stores.
Our top three choices are listed below (and in the table above, obviously)!
These picks come after researching what loggers and arborists are actually using in the field, without going into the very expensive high-end models.
1. Nikon Forestry Pro II
VIEW ON AMAZON →
As a brand, Nikon is known for its attention to detail when it comes to cameras.
They are a powerhouse in the market for those types of products, and that extends to forestry measurement tools. With an internal log that is visible through an LCD screen, people can review their previous dimensions at any time.
One of the most excellent perks of the Nikon Forestry Pro II is its ability to adapt to poor lighting conditions. Additionally, as one of the best forestry lasers, you can power it with batteries instead of a charging cable.
With the Nikon Forestry Pro II, you will find the following attributes:
Measurement Range: 750 yards
LCD Panels: Internal and external
Responses: Hyper read, instantaneous
Modes: Actual, horizontal, height, angle, 2-point, 3-point, 1st target priority, and distant target priority
Users appreciate how user-friendly the measurement tool is and that it is lightweight and easy to transport.
Additionally, the bright yellow color of its exterior makes it easy to recognize.
---
2. Laser Technology TruPulse 200L Rangefinder
While the brand Laser Technology isn't as well known as other companies in the industry, they are quickly gaining a positive reputation for the intricate technology they include in its products.
This forestry laser rangefinder is one of their top-selling options.
The TruPulse 200L Rangefinder powerfully delivers with external accessory compatibility, allowing the forestry laser to attach to things like tripods or extenders.
Coming in one color, red, and is extremely lightweight at only half a pound.
Measurement Range: 3,280 yards
LCD Panels: None
Responses: Instantaneous
Modes: Horizontal, vertical, height, 2D missing line, slope, incline
While no accessories come packaged with the device, there aren't many items needed to operate it appropriately.
Powered by two AA batteries, it doesn't require any charging cables and also functions as a hypsometer forestry tool.
---
3. Bushnell LP1300SBL Hunting Optics Binoculars
People will quickly recognize the Bushnell brand name even if they aren't outdoor enthusiasts.
With the company consistently turning out quality products, you will often find its items at the forefront of store shelves.
While not a forestry rangefinder, the Bushnell LP1300SBL Hunting Optics Binoculars are made of an aluminum exterior and an ergonomic design that makes it easy to handle and juggle with other items.
This Bushnell model also comes with a special coating that protects the device from debris and dust.
Measurement Range: 1,300 yards
LCD Panels: Internal
Responses: Instantaneous
Modes: Terrain, scan, brush, bullseye, slope
With a simple interface and a carrying case included in your purchase, it's a definite top choice as one of the best forestry lasers on the market.
---
Laser Rangefinder FAQs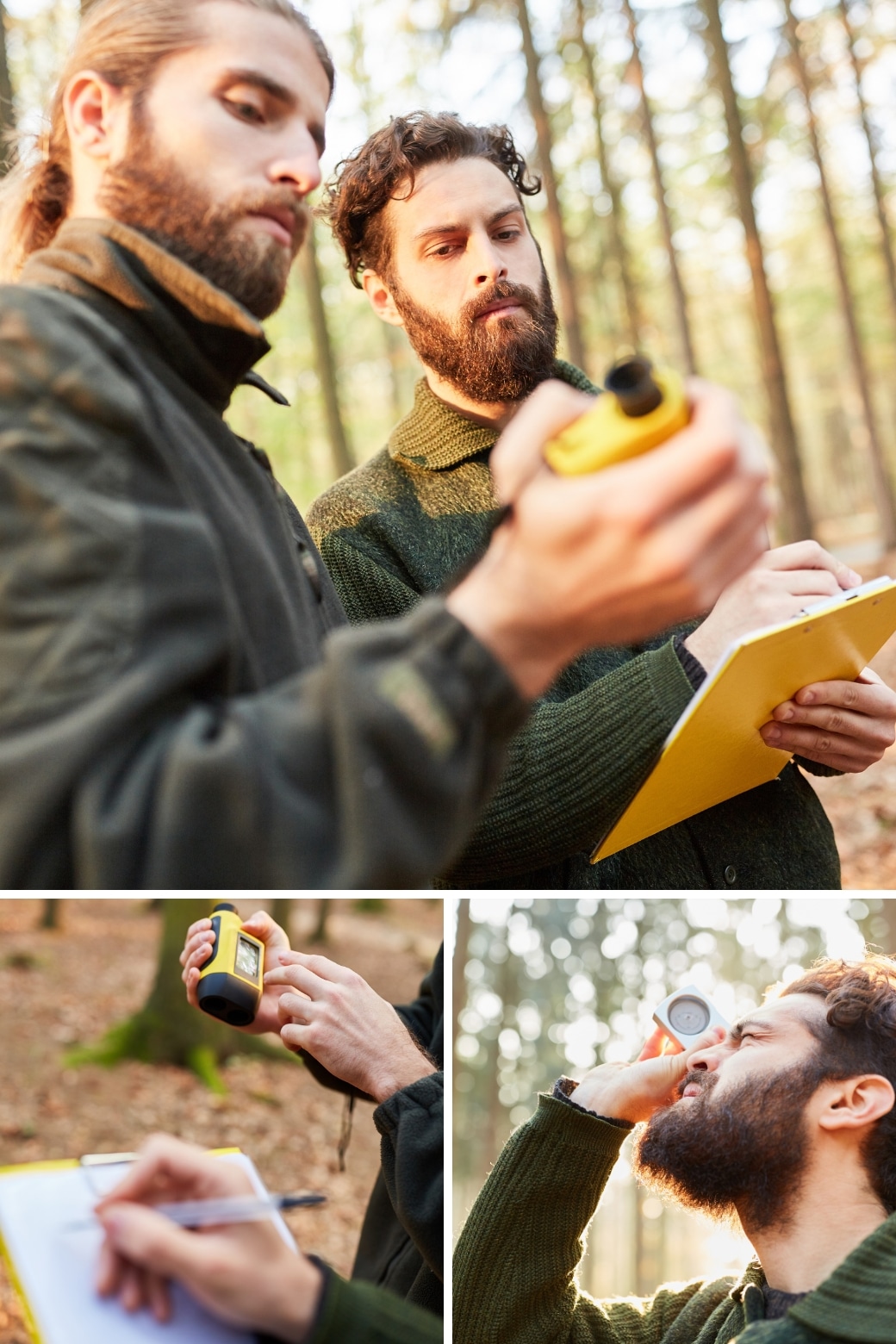 Knowing that there are a lot of questions out there about forestry lasers, hypsometers, rangefinders, and their features, we have compiled the top inquiries to provide answers for in this guide.
What's the difference between a hypsometer and a rangefinder?
A hypsometer is an instrument that measures the height of an object and will measure the elevation of an area.
The difference between that and a laser rangefinder is that the latter has the ability to measure more angles and locations.
What instrument measures height?
If you are looking to measure height, finding a laser hypsometer will allow you to get the accurate results you are looking for in your monitoring and recording.
These tools function to measure vertically, allowing you to get a precise measurement of height. You can also use a forestry laser rangefinder, which measures from various directions, including vertical.
Can you use a rangefinder to measure the height of a tree?
With the many different features and capabilities of a rangefinder, you can measure the height of a tree as well as many other angles and lengths.
A hypsometer forestry tool will also fulfill this task, but a forestry laser rangefinder may provide more accurate results due to its more advanced features and technology.
Can you use the same rangefinder for golf and hunting?
While you can use a laser rangefinder for golf and hunting, they may have shortcomings in hunting.
The clarity in hunting lasers is of higher quality and allows you to focus when seeing wildlife. The rangefinders have a more considerable frame that will be better suited for both tasks.
Is using a hypsometer difficult?
There are many different models of a hypsometer, which will make instructions for obtaining heights vary.
However, most styles are easy to use, with the ability to point the device at the object and instantly receive the hypsometer tree height. You may need to push a button and focus the crosshairs to get a reading, but the results will come immediately when it finishes computing.
How accurate are forestry lasers?
As long as your forestry laser is routinely maintained, correctly dialed in, and focused, you have very high accuracy ratings when using one.
Additionally, as new models and technology roll out, the accuracy increases.
What's the difference between a cheap rangefinder and a pro hypsometer?
Ultimately, budget options of anything typically come with lower-quality materials and technology.
However, a rangefinder often comes with more modes and measuring options to choose from, so it's wise to compare and contrast the features between the two before making a decision.
How To Measure Tree Height Without A Laser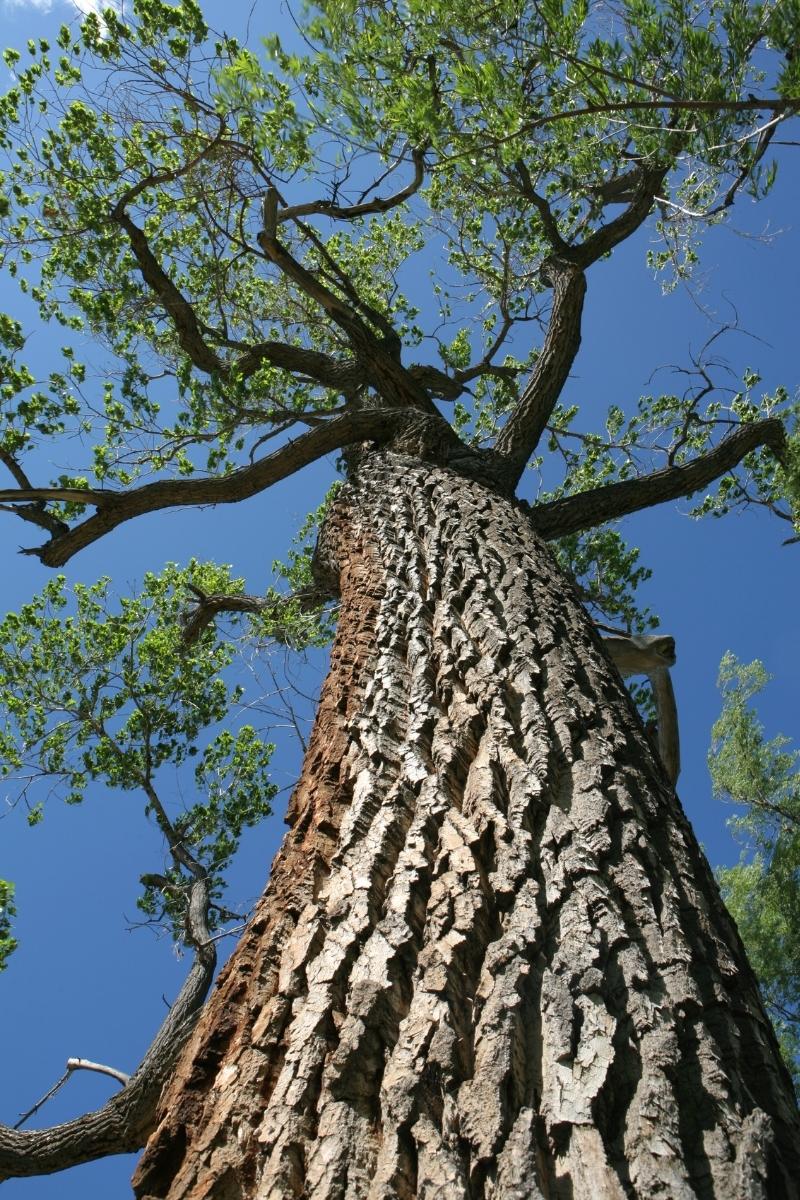 There are several routes you can take to measure a tree's height without using a rangefinder or hypsometer laser.
While you may need to tap into your long-forgotten math skills for some, others only require pulling your phone out of your pocket. Learn how to find the height of an object through the methods below.
Math
If you want to brush off your old trigonometry and algebra skills, you can compute the height of a tree.
Depending on the layout of the tree, whether it is on an angle or not, the type and breed, and eye height, you can utilize a TAN algorithm to obtain the measurements.
Don't be afraid to bust out a calculator or Google to find this answer. We will understand!
Yardstick
It's impossible to take an ordinary yardstick and scale the tree to get a measurement.
Not only is that complicated, but it's time-consuming and inaccurate.
However, you can take the yardstick and account for how many steps back you take before the stick covers the entire height of the tree. Multiply the yardstick by the number of steps taken to estimate the tree's size.
Crown Spread
Foresters will often measure the height of a tree by utilizing a technique referred to as Crown Spread.
With this, you will take the spread and measure from the outermost spots. You will then measure the narrowest points.
Once you add them together, you will divide that number by two to get your result.
Mobile App
In one of the most technologically savvy ways to measure a tree without using physical forms of measurement, you can now utilize an application on your cell phone to get the height.
Some phones, like those from Apple, have a measurement program built into their operating system that you can hold up to the item. For others, you can explore the designated app store to find a suitable option.
Forestry Rangefinder
When you are looking for the best forestry lasers on the market, you want to consider the features that you feel are critical to getting accurate results.
For some individuals, having one with fewer options is sufficient, whereas there are other situations that require high-end technology.
After finding the forestry laser that meets all your needs, you will be able to efficiently and accurately record the necessary measurements of the outdoor elements, trees, and others, you monitor.
At this stage there aren't any lasers being put out by the top logging chainsaw brands, but who knows, perhaps one day there will be a Stihl foresty laser?