Tree work is dangerous at the best of times, so it's vital to buy the proper equipment for the job.
Finding the right arborist helmet can be tricky as there are so many good brands and versions to choose from.
Whether you want a basic model or one with all the bells and whistles, it can be challenging to narrow down the choices.
To make it easier for you, here are seven of the best arborist helmets, their pros and cons, and a buying guide to help you find the right one for you.
Best Arborist Helmet
Pfanner Protos Arborist Helmet

An extremely high quality climber's helmet
Includes helmet, earmuffs, and visor - safety glasses, coms, purchased seperately
26 dB protection, ANSI Z133 Compliant & certified

View On Amazon

KASK SUPERPLASMA HD

The next most popular arborial helmet
Good ventilation, fast drying, comfortable padding
Many attachments available, comes in a range of colors

View On Amazon

Petzl Climbing Helmet

A comfortable well-ventilated climbing helmet
Attachments for muffs and visor available
A slightly cheaper alternative that is still very good

View On Amazon
Working in trees all day is hard enough, but the last thing you want is to be hit in the hard with a branch.
Unfortunately, most arborists will face this at some point in their careers. Using good safety equipment is vital to minimizing risk.
These are seven of the best tree helmets for arborists on the market.
While there are two or three brands that are most popular, like Protos, KASK, and Petzl, there isn't a single BEST helmet. You'll find people who have used all helmet brands extensively and who then come to different conclusions.
That's life!
For the most popular choices, I'll share comments from the arborist community so that you can hear what people like about a helmet, as well as what they hate.
1. Pfanner Protos Integral Arborist Helmet
VIEW ON AMAZON →
*On Amazon, the Protos does not come with comms. You can buy a Sena system seperately here. Installation isn't difficult, and you'll likely save a lot of money compared to buying it with comms installed.
The Pfanner Protos Integral Arborist Helmet is a favorite of many.
This versatile arborist climbing helmet provides full coverage and protection against falling limbs, scratchy branches, and saw kickback.
With a removable mesh shield and earmuffs, this helmet comes with everything. Not only is this helmet ANSI certified according to EN 397 and EN 12492 standards, but it will also keep you safe in all positions.
The snug fit and sleek design keep your head, face, and ears protected whether you're working overhead, in front, or upside-down.
The tight fit prevents branches from snagging, and the vented design will keep you cool while you work. Need to adjust it while working? No problem. The Pfanner arborist helmet can be adjusted with just two fingers, and the earmuffs and face shield are fully removable.
Additionally, the design comes in a huge range of colors, so feel free to get funky.
Pros:
Removable earmuffs and face shield
Perfect snug fit
Many colors to choose from
Cons:
Mesh shield allows dust through
Mics can be hard to fit in
Comments from the arborist community on the Protos helmet:
Protos are expensive but they're also fully washable and the only helmet for the arb industry that's rated for side impact. Also, the mesh visor is 100x better than the cheap ones for visibility.
If you get the Protos with coms there's nothing bad to say, mate. It's practically seamless to run and to wear – well, it's as comfy as a helmet can be in my opinion. 100% if you're thinking about it, just do it, the best gear.
Comfiest helmet I have ever worn. No snagging my ear defenders anymore or crap dropping behind my face shield.
Just do it mate. It's easily the best and most comfortable helmet I've had. My mate was wearing a Protos helmet when he fell 11 meters. He banged his head and came out of it with no brain injuries.
I have the Sena 30k mounted on my Protos. Works well except the ear muffs on the Protos are not as good at noise reduction compared to my old Peltor 105 bread boxes. To be expected in such a low-pro muff. Just food for thought.
Just gone from Petzel to Protos. When you get the sizing right they are great. Nice wide visor and the holes are a lot smaller so very few small chips in the face and neck.
Just get a protos and get used to the weight. Best bang for your buck. Best helmet on the market.
And the best review of the Pfanner I came across was in the Arborist Equipment Reviews FB group.
Ashley shared:
Pfanner Protos Integral Arborist

I've been in the industry for just over a year now.

I started with a Petzl Vertex Vent. It did the job, nothing fancy but nothing massively wrong with it. My gripes with it were that the mesh visor fell apart easily and on hot days I constantly had sweat running down my face.

I recently took the plunge and bought a Protos as I wanted to join the power ranger squad. Albeit we've not had any really hot days since getting it, I'm over the moon.

Due to having a random, but recurring eye condition, the additional in-built glasses are fantastic. I've tried wearing safety glasses but they always fog up as they sit too close to my clammy face.

I've tried the mesh goggles as well which do work but I either forget to use them or get frustrated with them.

The pads in the helmet seem to retain the sweat making it not to pleasant put back on after lunch, but I am ok with this as the sweat no longer runs down my face.

I have also installed my Sena into the helmet and with the ear muffs folding inside, it helps to keep the wiring clean and less likely to have issues ripping wires out if they catch on branches.

Positives

Very comfortable
Not as hot
In-built safety glasses (extra purchase)
Soaks up sweat well
Very good adjustment
Clean install of a sena
Visor is robust
Streamlined for clambering through small gaps

Negatives

Retains sweat in the pads
Very expensive compared to other helmets and technically does the same job
The new style chin strap buckle is a bit fiddly, especially if wearing gloves

Loads of people don't like these helmets but I'm very glad I bought mine. Would buy another in a heartbeat.
It's a glowing review for the Pfanner Protos Helmet.
---
2. Kask Safety Helmet
VIEW ON AMAZON →
For those looking for a simpler, less expensive design, the Kask Safety Helmet is the way to go.
This rugged tree-work hard-hat is everything you need without the bells and whistles.
With an ABS and polystyrene shell and soft PA nylon interior, this helmet is both comfortable and strong. The nylon wicks away sweat efficiently and dries quickly to keep you cool during grueling work.
The helmet is fully adjustable with two side straps and one across the back of the head to ensure a secure fit. It also comes in six vibrant colors.
Customers love the soft chinstrap and are impressed with how sturdy, yet thin the design is. You can also buy a visor separately that fits this helmet.
Pros:
Very high-quality
Easy to adjust
Comfortable
Cons:
Doesn't fit large heads
Chinstrap is fixed
Reviews from real arborists on KASK helmets:
In my opinion, the Kask super plasma is the lightest, coolest, and most comfortable helmet on the market. However, once you add ear protection, visors, and coms all helmets get heavy.
I have the Protos and Kask Super Plasma. Have to say that Kask seemed a right flap trying to get spare parts and there's no getting rid of the smell – but super comfortable. Protos is lighter but less comfortable. Parts are easily accessible but so expensive in comparison to other helmets.
You can't beat a vented Kask for comfort, weight, and affordability.
I've just gone the Kask route after having Protos. Protos is way better, especially with Sena coms.
Protos if you're getting Sena. If not using Sena, then go with a Kask Super Plasma.
I finally bought a Kask a few months ago and absolutely love it. Very comfortable, lightweight, and vented for the scorchers.
We are not on the Protos bandwagon… we swear by Kask Super Plasma Helmets… we live in our helmets 5 to 6 days a week.
Kask probably doesn't have as many fans as the Protos, but there are still more than a few people who prefer them over Protos.
---
3. Petzl Vertex Vent ANSI Helmet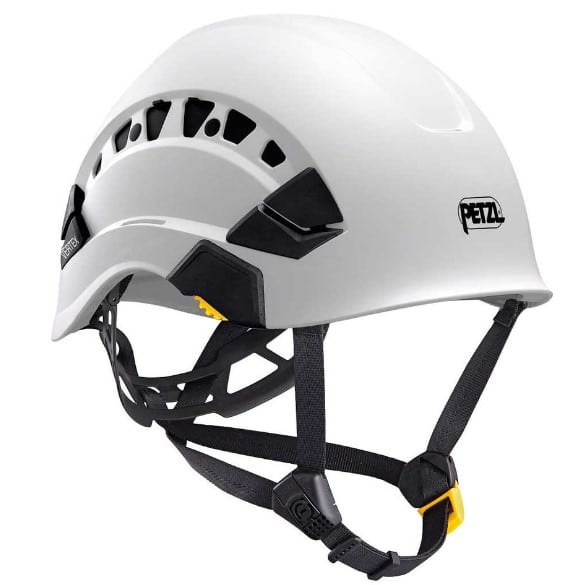 VIEW ON AMAZON →
Everyone loves a good Petzl arborist helmet.
Petzl is a reliable brand that makes some of the best arborist hard hats, and the Petzl Vertex Vent ANSI Helmet is no exception.
Modified from the popular Vertex ANSI helmet, this version sports an even better ventilation system. The helmet features a practical center-fit design and uses a flip-and-fit system to ensure security and safety all day long.
The durable design has a fully adjustable chinstrap, shuttered vents, and a modular design. You can attach any Petzl fixture to it easily, including hearing protection, headlamp, and eye protection with the easy-clip side attachment.
The helmet comes in five fun colors and protects during work at height and groundwork. You can buy the helmet as is or get it with SENA 3M muffs installed.
Pros:
Modular design
Height and ground safe
Shuttered vents
Cons:
All extras are sold separately
Chinstrap can chafe
Pros and cons from the community:
I bought a Kask to replace my Petzl and I've regretted it since. The Kask mesh holds sweat overnight, ehhhh.
Used to have Petzl Vertex, replaced by Protos instead. Retractable ear protection is built inside the helmet with adjustable pressure to secure the best fit on the ear, and less trouble with the face protection mesh. I will choose Protos every day compared to Petzl Vertex. A tiny bit better ventilation on Petzl Vertex, but overall not sturdy enough.
The mesh attachment is probably a better choice than the visor. I bought the visor and after 6 months I can't see out of it.
I got a Petzl over Protos as I need to save some money – I've got no regrets.
Overall, Petzl helmets aren't as highly recommended as the previous two, but they're still perfectly good for many.
The next helmets, from Stihl and Husqvarna, are both Petzl helmets design in collaboration with these two chainsaw brands.
---
4. Special Vent Plus Arborist Helmet Set
No helmet stands out among tree service helmets quite like the Stihl Vent Plus Arborist Helmet Set.
This bad boy sports a functional design with an adjustable venting system to stay cool all day. With five vents per side and a three-point strap system, you can fix the setup to exactly your liking and work in perfect comfort.
This helmet also features removable earmuffs and a mesh face shield. You can also buy the helmet as a standalone or the earmuff and shield separately.
It's rated for tree and rope work and isn't suitable to use at ground level. It has an expected service life of ten years.
If you're looking for the most well-vented helmet on the market, this is it.
Pros:
Great ventilation system
Safe and durable
Face shield and earmuffs
Cons:
There's a large gap between the top of the face shield and the helmet
Only comes in one color
Because this Stihl helmet is just a Petzl with the Stihl logo, the same pros and cons apply as with the hat above.
For interest's sake, check out this review of a Stihl KASK Super Plasma Helmet!
---
5. Husqvarna Technical Arborist Helmet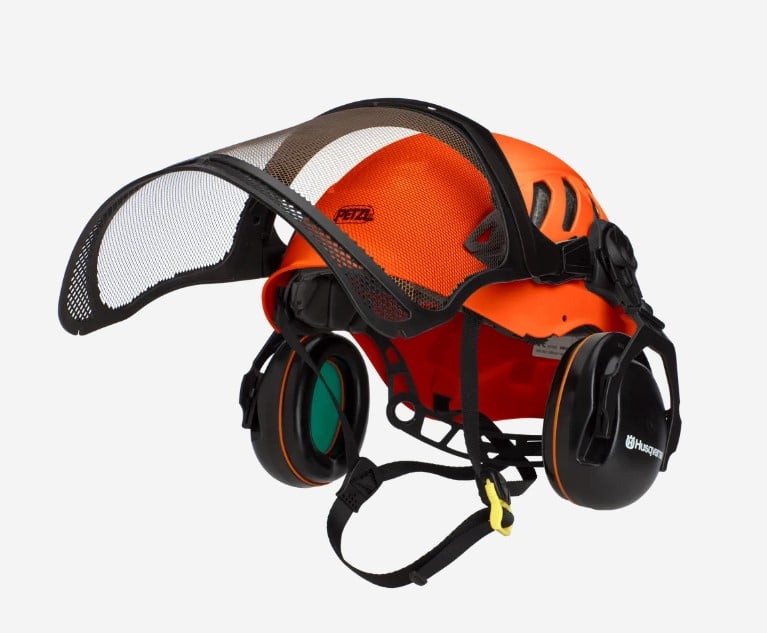 Another in the line of simple tree climbing helmets, the Arborist Helmet Technical is a basic model fit for those looking for something practical.
The barebones design is lightweight and well-ventilated. With a unique two-wheel center adjustment, the fit of this helmet is entirely customizable.
Though the helmet comes with a removable face shield and earmuffs, it's still one of the lightest designs on the market.
This tree helmet has a hard shell and soft foam interior that protects against branches from a height.
The pads on the inside are also replaceable to keep them clean and comfortable. The chinstrap and neckband are fully adjustable, as well, to help sit the hat in the perfect place on your head.
Pros:
Lightweight
Fully adjustable
Replaceable interior pads
Cons:
Overly large vent holes
There's a large gap between the face shield and helmet
This is just a Petzl helmet with a Husky logo, so all of the comments regarding Petzl can be applied to this helmet as well.
Check out this video from Survival Dispatch for a good overview of Husqvarna Arborist Helmets.
---
6. Climbing Technology X Arbor Helmet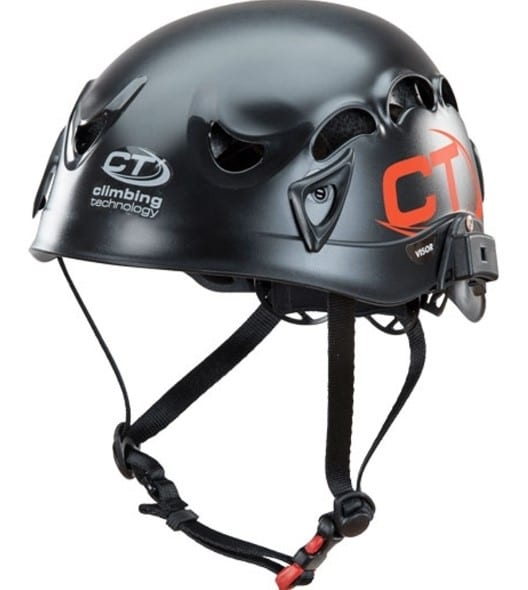 Arborist hats often look very similar and can honestly be a bit dorky, but the Climbing Technology X Arbor Helmet gives them a new spin with a design more akin to an old army-style motorcycle helmet.
This sleek hat features a lightweight and compact design. It's modular with clips for ear protection and a face shield and comes with an optional SENA 3M muffs option.
The outer part of the helmet is ABS with large, contoured vents. The interior is foam with an absorbent and washable fabric cover.
The helmet comes in black, white, green, orange, and red. It has an adjustable chin strap and neck strap, as well.
Pros:
Stylish
Well vented
Modular
Cons:
Not ANSI rated
Price varies considerably
---
7. Klein Safety Helmet Combo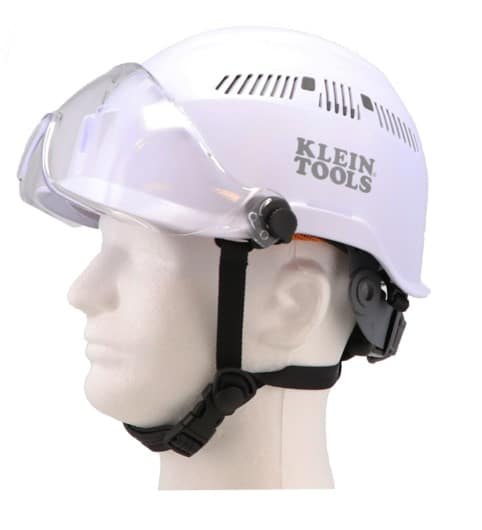 The final item on this list is an arborist helmet with a visor.
The Klein Safety Helmet Combo is an affordable climbing hard hat for those looking for something in the middle.
This helmet comes with a visor, but no ear protection. The visor only covers the upper half of the face but doesn't have any gapping.
The helmet is lightweight and only comes in one color. It has slits for venting and a low-profile bill. Unlike other helmets, the chinstrap is replaceable. Both the chin strap and neck strap are fully adjustable, too.
This helmet is practical for heights and confined spaces. The vents are also adjustable.
Pros:
Comes with visor
Removable chinstrap
Adjustable vents
Cons:
One color
Visor only covers the upper half of the face
---
Arborist Helmet Buying Guide
Now that you've seen seven of the best arborist helmets available, it's time to break down what you should look for when buying one.
Some things come down to preference, but others, like the level of protection, shouldn't be ignored.
Weight
While you might initially think that an arborist helmet needs to be thick and heavy to be strong, with modern materials a good helmet can be extremely lightweight.
Not only is a light helmet just as strong if not stronger than a heavy one, but it's also a lot easier on your neck. If you're going to be wearing hard hats for tree work all day, you don't want to give yourself a headache with unnecessary pressure.
Lighter helmets also stay on your head better as there is less weight to pull them off.
Breathability
While it's essential to cover your whole head to defend against falling tree limbs, it's also necessary to be able to work comfortably.
Breathability is a critical facet of helmet comfort as venting hot air and wicking away sweat will keep you cooler and prevent overheating. Overheating can be dangerous at the best of times, but you especially don't want to contend with it while hanging off a tree.
Sweat-absorbing fabrics and vent holes are a great way to keep your head cool yet protected. Adjustable vents are even better if you need to work in both hot and cold climates.
Comfort
Wearing a helmet all day doesn't have to be uncomfortable.
From the chinstrap to the inner padding, you want to make sure that you can work and operate in comfort.
Soft straps and lots of padding are great for comfort. You also want to find a helmet that is snug without being tight.
Built-in ear protection is also better than trying to strap your own over top.
Durability
One of the most significant factors when choosing a tree-climbing helmet is how well it will hold up.
You want a helmet that will last years without cracking, drying out, scuffing, or warping. Just because you might not be getting hit in the head daily doesn't mean your helmet isn't contending with other forces.
Direct sunlight, rain, wind, dust, debris, and dropping at the end of a shift will all wear it down over time, so be sure to find a helmet that can take a daily beating.
Protection
First and foremost, helmets are meant to protect your head.
You wear a tree-cutting helmet precisely because tree-cutting is dangerous, and stuff can fall on you.
While hardly any helmet will save you if an entire tree falls on you or you drop 40 feet onto your head, it will protect against branches and tree limbs and keep you from knocking your head against tree trunks if you slip. They also have the bonus of eye, ear, and face protection.
While preventing injuries entirely would be ideal, some are unavoidable, and it's best to have the best helmet possible to lessen the blow.
Features And Attachments
A basic helmet is good, but adding extra features makes them even better.
While standard helmets come with face shields and earmuffs or at least have space to add them, there are even more features that can help you in the field.
Adding communication systems like SENA, microphones, and extra eye protection will make your job easier.
Getting an arborist helmet with Bluetooth is vital for teamwork and ease of communication, especially if you're contending with the sounds of chainsaws and power tools.
Vision
An often overlooked aspect of buying an arborist helmet is the field of vision.
Many people forget that between a visor and face shield, your view is already limited. When working such a dangerous job, you need to see what you're doing. Buying a helmet that further limits your vision isn't ideal.
Some helmets come with larger bills to add an amount of sunshade, but they can also limit your view upwards. Some other helmets come down far on the side or have overly large earmuffs.
Both of these things can prevent you from seeing something coming at you from your peripherals until it's too late.
Arborist Climbing Helmet Vs Chainsaw Helmet
While most forestry helmets are relatively similar, there are a few fundamental differences between groundwork helmets and arborist climbing helmets.
Generally speaking, the two helmets aren't interchangeable as ground helmets are meant to protect from chainsaw kickback and falling debris, while arborist helmets are made to guard against tree limbs and branches.
Make sure to check out the specific safety measures of each helmet before trying to switch them. Some arborist helmets are also suitable for groundwork, but not all.
Additionally, a considerable difference is that arborist helmets tend to be a lot more comfortable. The snug, well-shaped fit, and built-in protection make them easier to use and customize. Chainsaw helmets look more like regular hard hats and have much larger face shields.
Some ground workers choose to use arborist helmets just for added comfort.
Best Tree Climbing Helmet
While there are many arborist helmets out there, choosing the right one for you comes down to:
the type of work you need it for
the features you want,
budget
and your style
The Pfanner Protos Helmet is the one most people recommend. The biggest complaint is the weight (with all the gear).
The KASK Super Plasma is the next most highly recommended, and many people prefer it to the Protos.
It might be a case of trying one, and if it really doesn't suit you, next time get the other.
So long as you find one with a high safety rating, you should have no problem working comfortably and securely.
Next up, find out what not to do when working in this arborist accident – or for more, these barber chair tree examples are good too!