The Power King Stump Grinder is a powerful tool for eliminating unsightly stumps.
This tree stump grinder comes with extra safety features to prevent accidents and is reasonably efficient for a machine in its price range. Its strong grinding teeth and Kohler engine combine for an efficient product with few issues.
The company specializes in outdoor equipment and is well-rated online. They often receive 5-star reviews and the company is said to provide good customer service – more on that below!
The Power King Stump Grinder
The Power King Stump Grinder is an affordable machine for totally removing old tree stumps and roots. These machines rival Dr Stump Grinders and are less expensive.
They are not designed for full-time commercial use but can make a good addition to any tree service business that gets tree stump removal requests from time to time.
It's often used by:
Homeowners
Hobby farms
Other people with bigger-than-usual properties
Buying a stump grinder is a balance between power, safety, and cost. You need an effective machine to get rid of the stump but not at the cost of safety. Like any product, you want to find a good price that still delivers a quality product.
The Power King stump grinder comes in two versions, with the only difference being an electric start versus a traditional start. There is a significant price difference so opting for the traditional start is cost-efficient for someone looking to save money.
Be aware that the grinder requires some assembly after purchase. Reviews on the product describe the assembly process as unclear in its instructions but simple in execution. If you want to avoid any assembly, you can purchase stump grinders with no assembly required for a higher price.
Depending on the seller, sometimes accessory packages come with the grinder and include a tow bar, cover, replacement green teeth, and more. These are things to factor into the price of the grinder.
This is a great product for someone focused on safety. The Power King stump grinder will demolish stumps while providing you with the extra features to keep your mind at ease when using it.
At an average price for the market, the Power King stump grinder is a great option for a customer looking to grind stumps at home infrequently without creating a dangerous environment or breaking the bank. Check out our Stump Grinder FAQs here to get some more answers to general questions about these machines.
Power King Stump Grinder Reviews
Due to the emphasis on safety and power, the Power King stump grinder is the perfect choice for someone looking to grind stumps at home and not very often.
If you are looking for a professional stump grinder for consistent grinding and long-term, frequent use, commercial grinders are better suited to your needs, rather than these residential stump grinders.
That being said, many people do use this for infrequent commercial work or they rent them out to make a little extra money on the side.
Here are typical comments from the Home Depot reviews.
Andy0816 gave it 5 stars and said:
Used this 3 times so far on 10 stumps. Stumps have been from 6 inches to 28 inches and the grinder has work as good, if not better, than expected. Would definitely recommend purchasing this if you're in the market for a stump grinder.
Dave gave it 5 stars are said:
Great machine well built came fast process was smooth and easy with Home Depot assembled fast and fired up first try every time. knocks out stumps fast, I did my research and this is the best bang for the buck. I had a more detailed review but it wouldn't let me post because it was too big I guess so I'll just say buy this one you won't be disappointed.
TMINDY gave it 5 stars and said:
After I received this grinder and knowing it had to be put together, I also discovered that nearly all bolts already on it had to be properly tightened. Once done, this stump grinder is awesome at its work. Be sure and put oil in it though.
But Drew gave it 1 star and shared:
Tool worked well for the first few jobs. Then it had a catastrophic failure. The steel tube the axel pins are inserted into sheared. This caused the cutting head to drop breaking off a tooth & throwing the shaft out of alignment. Manufacture offered to sell me a new frame. The frame it's self is not really a good design. The axel pins do not extend under the weld where the tube is connected to the frame. This causes a stress point where the 14g tube is simply not strong enough.
Pros:
Safety features
Can be bought with extra teeth
Electric start option
Reasonable price
Cons:
Assembly required
Mediocre construction
Focus on appearance rather than functionality
Specifications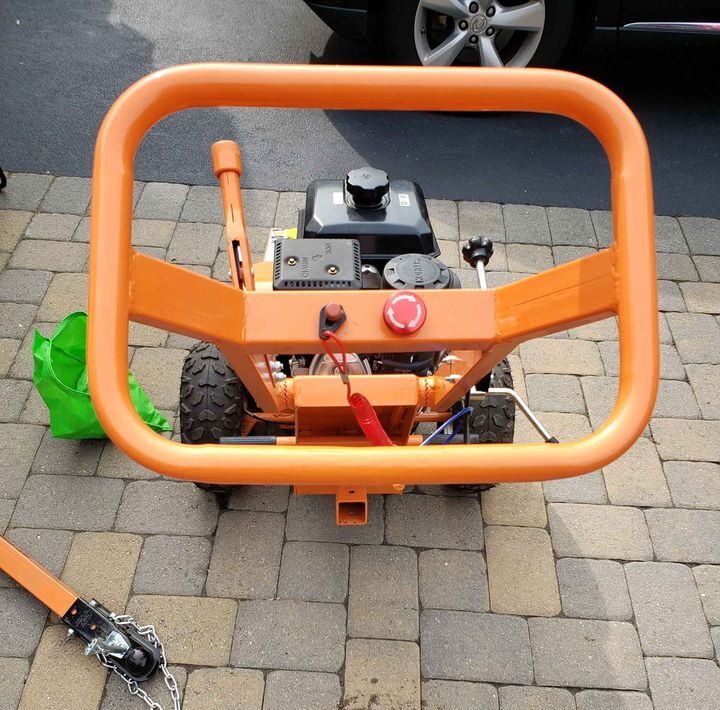 The Power King stump grinder's specifications are on par with many other stump grinders on the market.
Specs include:
The blade dimensions are 12 inches in diameter and 3.5 inches in width
A 14 HP 429cc Kohler Command Pro Commercial Engine equipped with dual V belts
9-inch grinding depth
11-inch grinding height
CARB Compliant
429 Engine Displacement (cc)
7 Engine Torque
85-gallon fuel tank capacity
Gas engine
3600 RPM Grinding Speed
14 horsepower
Gas Log Splitter
Option for recoil start or electric start
Note that specs can vary slightly depending on the year of manufacture.
Features And Benefits
The Power King has all the standard features of a stump grinder in its price range. Its most notable add-ons are the extra set of Power King green teeth and safety features for emergencies.
Centrifugal Clutch
A simple and safe clutch that makes operating easy and hassle-free. This clutch type can cause power loss in engines, giving less force to the grinder, making it slightly less effective.
Adjustable Handle
The adjustable, bow-shaped handle provides a comfortable grip and easy steering. The handle folds down to offer compact storage. Grinders that lack an adjustable handle can be awkward to use for some people.
Manual Brake System
This system gives the user more control over steering and helps when pivoting. This isn't ideal in cars, but for a stump grinder, the manual brakes allow the user to have more power over the machine.
Dual Safety Shutoff
The grinder includes a palm switch and safety pull, so there are two options to stop the grinder if necessary. You don't need to worry about keys in an emergency as you do with many other stump grinders, adding more stress to the situation.
Welded Lift Handles
The grinder has four welded lift handles, making this stump grinder is easy to carry to trucks and transport as needed. As this product is best for personal use and should not travel often.
Cutting Range
The grinder has enough power to tear through stumps 11 inches above the ground and 9 inches below ground which is in line with most stump grinder cutting ranges.
Many grinders with similar cutting ranges are significantly more expensive. Opting for a grinder with a smaller cutting range is risky if dealing with a big stump.
1-Year Limited Warranty
The manufacturer's warranty lasts for up to a year.
They are quick to send replacements if there are manufacturing issues. The product reviews mainly state that the manufacturer is helpful and ready to send Power King stump grinder parts if needed
3-Year Kohler Engine Warranty
Kohler will replace the engine for up to 3 years due to any manufacturing issues and most accidents. This warranty comes with any stump grinder that utilizes a Kohler engine.
There was a recall of these engines many years ago (early 2018), but the issue has now been long sorted. If buying a used model that might have been bought at this time make sure you look into this.
Greenteeth 500 Series Lo-Pro
These teeth are the most popular on the market and are compatible with the grinding wheel on the Power King stump grinder. There is an extra set of Power King green teeth for faster grinding. The teeth branch out in three directions for a wider grinding path.
Price Comparison And Replacement Parts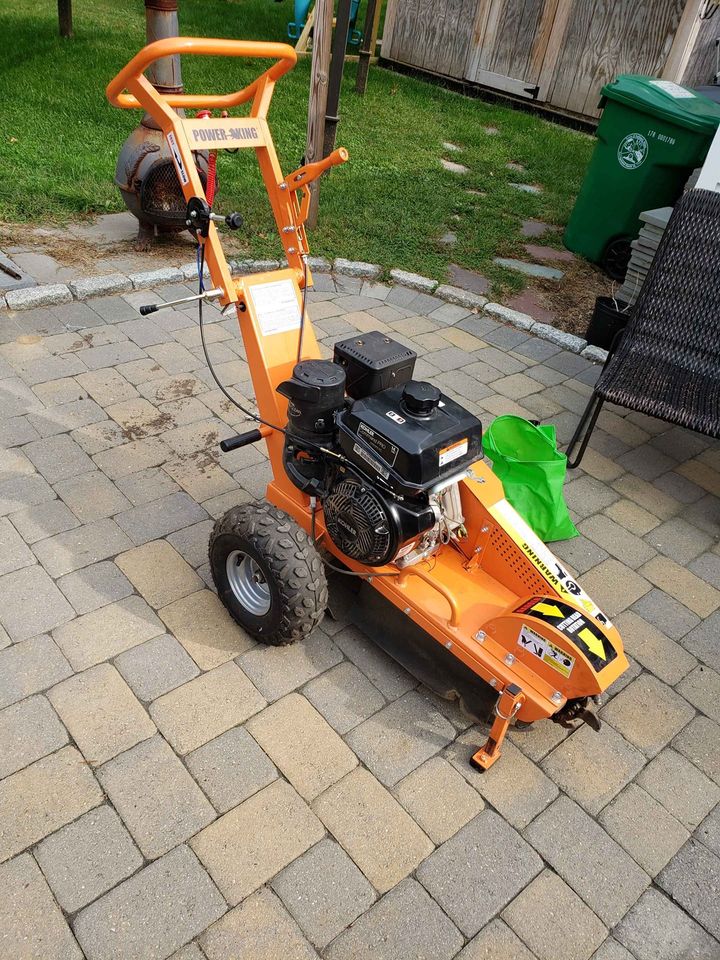 Brand new Power King Stump Grinders can range in price from $1,500 up to $2,100. The deciding factor in the pricing is whether it is an electric start or not.
This price is on the lower end for a stump grinder with other brands charging up to $5,000, but grinders for under $1,500 are few and far between.
Compare prices and get the best deal from these retailers:
Parts are also pretty easy to get ahold of – check out the links above on eBay and Home Depot.
Buying a stump grinder can be a cheap way to start a business, though for professional use it's best to invest in a tougher model. If you are wondering how to invest 10k, purchasing a commercial stump grinder can result in good returns over time.
Best Alternatives

The Power King stump grinder is a good option, but it's not the only one.
1. DK2 Commercial Stump Grinder
Another Kohler product, the DK2 Commercial Stump Grinder, is a much better option for someone looking for a stump grinder for commercial use.
The Power King is not for commercial use and would likely break down if overused. For a commercial grinder, the DK2 grinder is well-priced at $2,500. It is also lightweight and portable, perfect for commercial jobs.
2. Husqvarna Stump Grinder
The Husqvarna SG13 Stump Grinder is another option to consider when researching. This grinder offers a lot of the same features as the Power King, such as an adjustable handle, lift handles, and a powerful engine.
Once again, the difference here is the price. For almost $5,000, the Husqvarna stump grinder is much more expensive.
3. Generac Stump Grinder
The Generac Pro Stump Grinder is similar to the Power King in cutting range and power.
The place where they differ largely is their price. The Power King is under or around $2,000, while the Generac grinder is about $5,000. The price difference is staggering and makes the Power King look very attractive to financially savvy customers.
Power King Stump Grinder Reviews
Dealing with an ugly tree stump on your property takes some serious power. You don't want to purchase a weak stump grinder that can't get the job done.
The Power King stump grinder accounts for safety and power, making it a favorable balance of the two. The extra teeth and dual safety shutoff are bonus features of the product that make it stand out against some of its competitors.
It is also significantly cheaper than many of its competitors. In some cases, it's over a thousand dollars cheaper. If you need an effective but safe stump grinder at a reasonable price, this stump grinder is a respectable choice to take care of your unwanted stumps.
Once you've got them removed, here's how to grow grass after tree stump removal.