As the weather gets colder, having a reliable source of heat is essential through the winter.
While central air units can be more efficient around a larger home, wood stoves and fireplaces are excellent heat sources and remain a popular alternative.
Century Heating offers several wood stoves and fireplace inserts that work efficiently to provide heat to your home and give the warm ambiance that makes a home feel cozy during the holidays.
Century Wood Stoves And Inserts
Century Heating S250 Wood Stove

Small size firebox, ideal for tight spaces
For 250 - 1,200 ft², 45,000 BTU/h (13.19 kW) output
Cast iron door and ceramic glass

View On Fire Pit Surplus

Century Heating CW2900 Wood Insert

Large-size fireplace insert perfect for any type of hearth
For 500 - 2,100 ft², 75,000 BTU/h output
Reinforced appliance top with a stainless steel heat shield

View On Fire Pit Surplus

Century Heating FW3500 Wood Stove

Extra-large firebox, ideal for large spaces and cold climates
For 1,000 - 2,700 ft², 110,000 BTU/h (32.2 kW) output
Firebox lined with refractory bricks for better heat distribution

View On Fire Pit Surplus
Century Heating is well-known for its sleek wood-burning stoves and inserts that bring your fireplaces back to life.
These are Canadian-made wood stoves – made in Quebec, to be specific. The company has been around since 1980, designing and manufacturing "efficient heating devices at an affordable price."
Here are there top three products reviewed.
1. Century Heating S250 Wood Stove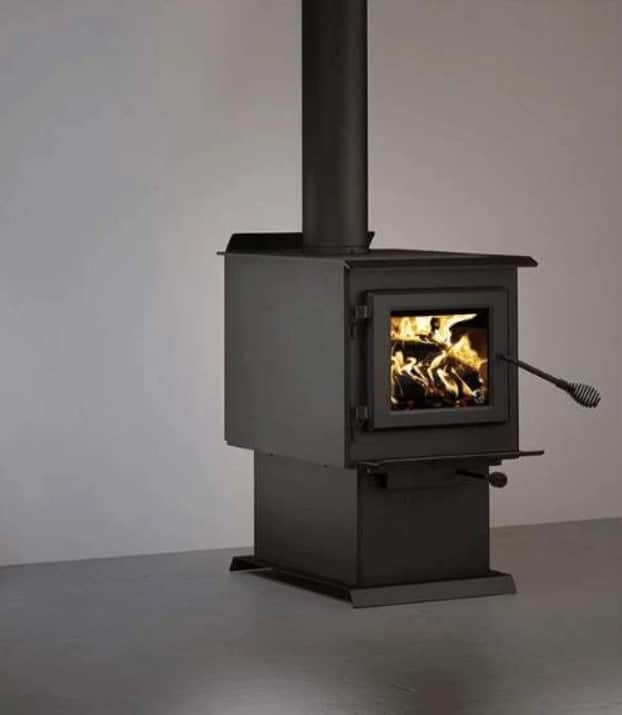 250 – 1,200 ft² heating area
45,000 BTU/h (13.19 kW) output
EPA-certified at 1.8 g/h
5-hour max burn time
Mobile home approved with fresh air intake
The Century Heating S250 Wood Stove is the cheapest item on our list without any accessory add-ons, yet just as valuable as the others.
It's smaller in size but comes with all the essentials and has similar qualities that make it a top-of-the-line wood stove.
The perks of purchasing this Century Heating Stove are the extra accessories that excel in function, safety, and efficiency.
With add-ons like a fresh air intake kit and register, you can ensure your stove isn't allowing any potentially dangerous chemicals into the fire.

Alongside a durable screen that protects you and others from the flames, this wood stove is built to be safe in your home.
Additionally, you can add a blower assembly, a quick connect Thermodisc to start your fire easily, and a vortex stainless steel liner for more flexibility.
The downside is the price that keeps stacking up each time you want to add an item for safety or function, and this stove has no customer reviews yet because it's on pre-order.
---
2. Century Heating CW2900 Wood Insert
500 – 2,100 ft² heating area
75,000 BTU/h output
EPA-certified at 1.54 g/h
20″ (16″ recommended) log length
Non-catalytic combustion
The Century Heating CW2900 Wood Insert With Faceplate and Blower comes with all the add-ons the S250 wood stove came with, but the difference is that this wood stove is a fireplace insert that comes with a faceplate and blower.
This means that this wood-burning stove goes into your fireplace, and to make it even more cohesive in your home, the faceplate goes against the wall or pre-existing fireplace brick to tie it all together.
With an all-black matte look, this fireplace insert and faceplate are easy to match.
The blower is already included in the initial price which is an essential part of a wood stove.
Without a blower, your fireplace insert won't blow the warm air around your house. Your chimney will be warm and the area directly in front of the insert, but nowhere else.
The blower spreads the warm air around the vicinity as a central air system would. The add-ons would make a difference, but this insert has the key elements.
This item is also pre-order, leaving no customer reviews to look over.
---
3. Century Heating FW3500 Wood Stove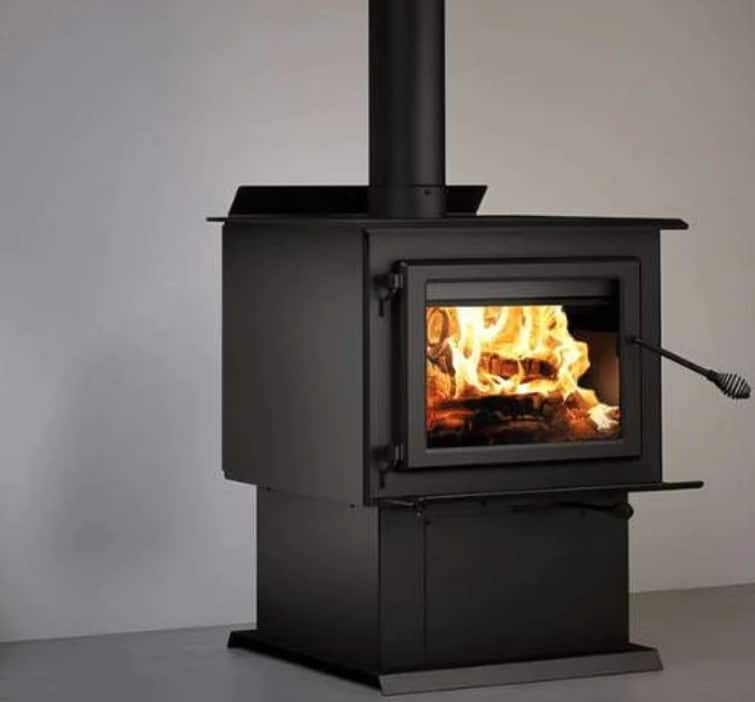 1,000 – 2,700 ft² heating area
110,000 BTU/h (32.2 kW) output
EPA-certified at 1.32 g/h
10-hour max burn time
Mobile home approved with fresh air intake
The Century Heating FW3500 Wood Stove is a slightly bigger version of the S250 wood stove.
It likewise has multiple add-on accessories that make the stove more efficient and safer to keep in your home. Its starting price is higher because this wood stove offers more heat to larger areas.
This Century Heating wood burning stove also offers similar accessories to add-on but improved materials and overall more options. These items include an ash drawer and a tempered glass floor protector. The other accessories are the same as the S250.
This wood stove is not pre-order. With a much higher starting price but the only difference being the size, this stove may not be worth the price compared to the S250 wood stove.
---
Fireplace Insert Vs Wood Stove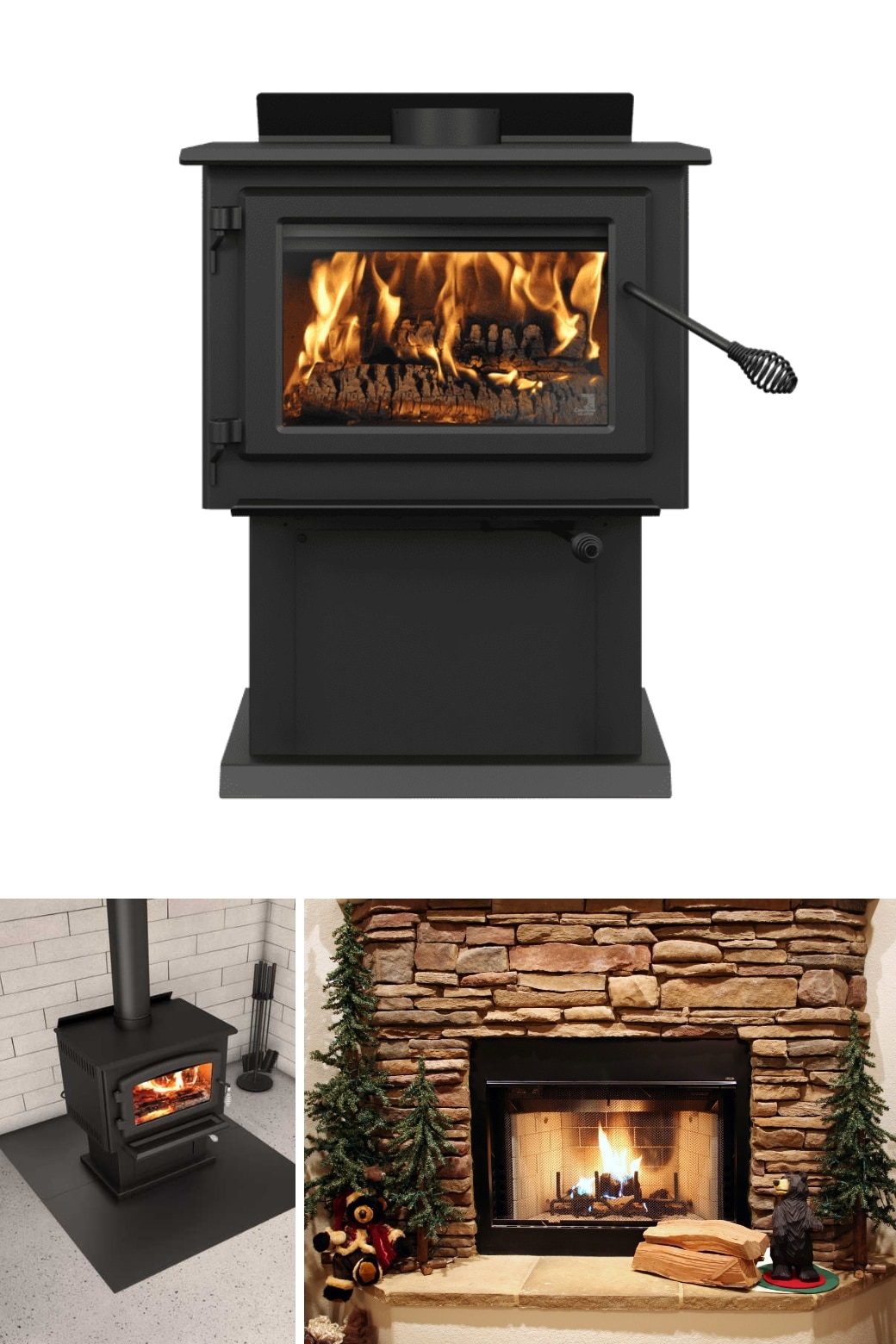 Century fireplace inserts and wood stoves are very similar in function, but they vary in multiple aspects like efficiency, location, and aesthetics.
A wood stove stands alone as a heater. It can be placed anywhere practical in your home and heat that area, whereas a fireplace insert goes inside your fireplace and essentially takes on the responsibilities of one.
The pre-existing chimney offers an air vent, and the overall look is cozier than a wood stove in your home.
Fireplaces add aesthetics and can make a house, a home. They are also a more expensive option, although Century Heating's option comes with a blower at the initial price.
Century Heating wood stoves, with the proper accessories, can be a worthy investment and not nearly as random or unflatteringly placed in your home with the sleek black matte style they go with.
Compare wood stove vs fireplace insert and see what would best suit the space you have available.
Century Wood Stove FAQS
Here are the most frequently asked questions regarding Century Wood Stoves.
Where Are Century Heating Wood Stoves Made?
Century Heating wood stoves are all made in North America.
More specifically, their wood stoves and fireplace inserts are made in Quebec, a providence of Canada where cold weather can be severe.
Who Makes Century Heating?
Century Heating was founded in 1980 by Gord Cook, but somewhere between 1997 and 2008, a new owner took over Century Heating.
SBI specializes in wood-burning appliances, making it the perfect company to oversee Century Heating and make it one of the top brands today.
SBI makes Century Heating, but it's their workers who specialize in these specific appliances that make them the efficient wood stoves sold today.
What is the Smallest Century Heating Wood Stove?
The S244 Small EPA Wood Stove is the smallest available wood stove offered by Century Heating.
It also happens to be one of the smallest wood stoves available from all brands, although it's just as efficient as others.
With tiny legs, a light gray exterior, and a size made for small areas, this wood stove can be placed anywhere and fit an aesthetic. It also has a heating area of anywhere from 250 to 1,000 square feet. It's tiny but powerful and efficient.
What is the Biggest Century Heating Wood Stove?
The FW3500 Wood Stove is the largest wood stove Century Heating has to offer currently.
It is a massive wood stove best for large open spaces where the air is very cold and intense. The heating area should be anywhere from 1,000 to 2,700 square feet.
This is for efficiency as well as safety. Any smaller area will create too much heat and pose a risk to those around it. The heat output of this wood stove is high because it's big enough for a lot of wood and blowers as big as the stove needs.
Can You Cook on a Century Heating Stove?
Yes. Although these stoves are more commonly used as heaters for our homes, they are technically capable of heating a meal or cooking food on top of wood and coals.
Cooking inside a wood stove, however, is not worth trying. Usually, the area is too small and hot to do so effectively. It's best to just use the top as a stovetop and get a wood-burning cook stove if you want an oven.
It takes experience and practice to cook on a wood stove. The most important thing is that it's not too hot, otherwise it's easy to quickly burn food (as I also discovered cooking on my Biolite FirePit recently).
Using wood stoves to cook food saves you money and can certainly be done in a Century Heating wood stove, it's just crucial that you use the right cookware and know what you're doing for your safety.
What is a good Century Wood Stove alternative?
One of the brands that can be considered an alternative to Century Heating is Drolet.
Drolet is a company originally from Quebec, Canada, founded in 1875 by François Xavier-Drolet.
In 1988, Drolet innovated by producing low-emission products. Compare Drolet Wood Stoves vs Century wood stove characteristics to find out which brand would be the best for you.
Should I Get a Fireplace Insert or Wood Burning Stove?
Whether you should get one depends on your home's space and the type of heat and aesthetic you want.
If you have an empty fireplace, then a fireplace insert might be the better option for a few reasons. It slides easily into the fireplace so it doesn't take up space in your home.
Fireplace inserts also come with faceplates to make it even more cohesive in style and look like a fireplace, adding warmth to your home just on looks.
If you don't have a fireplace, a wood stove is the only option. However, if your home is large and you have a fireplace, you may just want to let your fireplace be a fireplace and use a wood stove on the other end of your home for additional warmth.
Based on budget, wood stoves tend to be cheaper than fireplace inserts, which is also something to consider.
It all comes down to the level of heat you desire, the aesthetic you care about, and whether or not you want to invest in one or the other. Both products have pros and cons, so it's up to you what you want for your home.
Century Heating
Century Heating is a well-known brand that makes top-tier wood stoves and fireplace inserts.
Whether you want to purchase the main heat source for your home or an additional heat source for a specific area, you can find a wood stove perfect for you with Century Heating.
An alternative for those living in very cold climates is a wood-burning furnace or boiler – this is for those wanting to take their home heating to the next level!